After a thorough national search, Northeastern Illinois University has named Dr. Terry Mena as its new Vice President for Student Affairs/Dean of Students. He will start on Feb. 22.
Dr. Mena comes to Northeastern Illinois University from Lamar University in Beaumont, Texas, where he had served as Associate Vice President and Dean of Students since 2015. Dr. Mena lists many accomplishments from his time at Lamar. Among them are:
He was the principal investigator for a $500,000 grant awarded by the U.S. Department of Education Emergency Assistance to Institutions of Higher Education program.
He oversaw the student union's $28 million construction of a new, innovative, sustainable facility to promote faculty, staff and student engagement and interaction as the living room of the campus community.
He partnered with faculty colleagues to earn a $1.15 million grant from Rebuild Texas Fund and Qatar Harvey Fund and a $50,000 grant from the Texas Higher Education Coordinating Board.
Last week, the NASPA organization for Student Affairs administrators honored Dr. Mena with its AVP/Senior-Level Student Affairs Professional Award.
Prior to Lamar, Dr. Mena spent 15 years at Florida Atlantic University, where he advanced through the roles of Coordinator for Housing and Resident Life, Associate Director for Student Affairs (Broward Campuses), Interim Associate Vice President and Dean of Students, and Associate Dean of Students. He also held leadership roles in student affairs at Columbia University-Barnard College, Hofstra University and Northeastern University in Boston.
Dr. Mena is a native of Miami who was a first-generation college student. He earned a Ph.D. in Education with a specialization in Higher Education Leadership from Florida Atlantic University, a master's degree in Student Personnel Administration from Columbia University and a bachelor's degree in Criminal Justice from Northeastern University.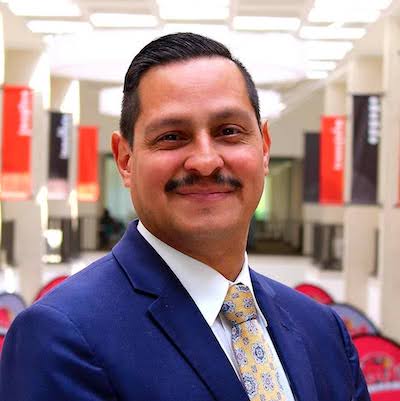 Dr. Terry Mena