The Northeastern Illinois University Board of Trustees announced today that it has named Dr. Gloria J. Gibson the new president of the University. Gibson has been serving as Provost and Senior Vice President for Academic Affairs at Morgan State University.
"I am truly honored to be named President at Northeastern Illinois University, a place I have developed a strong and heartfelt appreciation for since setting foot on campus," said Gibson, who will take the helm at Northeastern, starting June 1. "Among the things I found most impressive about Northeastern are its resiliency during the past 150 years and its diverse community. I am so honored to be a part of Northeastern's history and to be following the footsteps of strong leaders who preceded me."
Gibson will be the seventh president of Northeastern and has been appointed to a three-year term. She succeeds Dr. Sharon Hahs, who served as University President from 2007 to 2016, and Dr. Richard Helldobler, who stepped in as Interim President for the past 18 months. Throughout the University's international search process, which began last summer, Gibson's leadership and professional credentials stood out.
A native of East St. Louis, Illinois, Gibson's academic career began with both a master's and bachelor's degree in music education from Southern Illinois University at Edwardsville. She then earned a Ph.D. in Folklore with a concentration in ethnomusicology from Indiana University at Bloomington. At Indiana University, starting in 1995, she served as an associate professor in a variety of departments, including Afro-American Studies, Communications and Culture, and Folklore and Ethnomusicology. She also served as IU's Director of the Archives of Traditional Music as well as Associate Vice Chancellor for the Office of Multicultural Affairs.
In 2004, she went to Arkansas State University, where she was the Dean of the College of Humanities and Social Sciences. In 2009, she accepted the role of Executive Vice President and Provost at the University of Northern Iowa, where she was also a Professor (with tenure) in the Department of Communication Studies.
More recently, she moved to Baltimore in 2015 to serve as Senior Vice President and Provost at Morgan State University, which is one of the largest federally designated Historically Black Colleges and Universities (HBCU) and the largest HBCU in Maryland. At Morgan State, Gibson led the development and approval of several online programs, established their Center for Excellence in Teaching & Learning, provided leadership in the university's pursuit of reaccreditation, and built strong relationships with shared governance bodies, among other things.
"As an administrator, I believe in visionary, transformative leadership utilizing an approach that is inclusive and mission-driven," Gibson said. "Leaders should understand diverse constituencies and envision fruitful relationships that will net dynamic plans and actions for the future. I seek ways to bring faculty, staff, administrators and various communities together to strategically approach and successfully accomplish our collective mission and goals."
Board Chair Carlos Azcoitia, who was co-chair of the Presidential Search Advisory Committee, said: "Dr. Gibson has the strategic vision, strong academic background and dedication to students—the qualities that we were looking for—that will enhance our institution's reputation as a leader in higher education. Given her experience, we look forward to seeing her set a high standard of quality for student success with positive results. Coming from an historically black university, she knows a lot about diversity and will have a lot to bring to our Hispanic serving institution."
Others on the Board also wish her success during this leadership transition at the University.
"I look forward to welcoming Dr. Gibson to the University when she begins in June, and I wish to thank Dr. Richard Helldobler, for his dedication to Northeastern, his strong leadership and for serving as Interim President during the past year and a half," said Trustee and PSAC Co-chair Jonathan Stein. "The University is a better place since Dr. Helldobler arrived as Provost. He has stabilized the University during a very challenging period and has enhanced Northeastern's brand and strong reputation for excellence."
Stein noted a number of University accomplishments during the past few years, including the opening of the new El Centro location in 2014 and The Nest residence hall in 2016, the creation of the Center for College Access and Success, a successful marketing and recruitment campaign that helped bring in the largest number of new freshmen during the past four years, meeting a $10 million fundraising goal one year early, and strong fiscal management during a prolonged state budget crisis. Additionally, the University enjoyed recent distinctions that include third safest campus in the nation, reaffirmation of its accreditation for the next 10 years, top ranking in Illinois for graduating the largest number of students with the least amount of debt, and most diverse among regional universities in the Midwest.
Helldobler, the University's Provost who was unanimously named Interim President by the Board in 2016, was named last week President of William Paterson University in Wayne, N.J. He will start on July 1.
Dr. Gibson has two adult sons, Antonio and Kristopher, and close relatives living in the Metro-East Illinois area.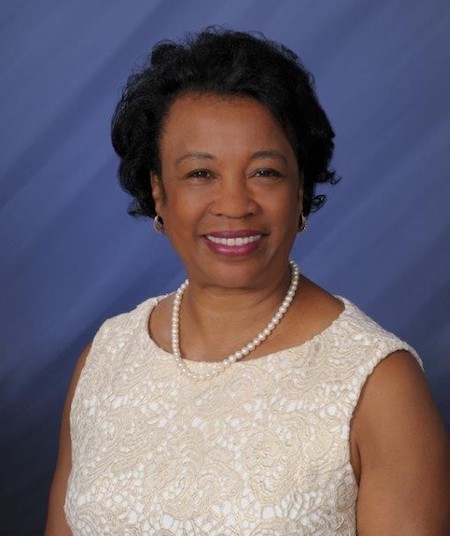 Gloria Gibson