Katrina Bell-Jordan has been appointed dean of Northeastern Illinois University's College of Arts and Sciences.
Bell-Jordan came to Northeastern Illinois University as an assistant professor in 1997, joining the Department of Communication, Media and Theatre. She later served as chair from 2007 to 2014, before joining the College of Arts and Sciences as associate dean in 2015. Bell-Jordan has served as interim dean of the college since July 2017.
In her 23 years at NEIU, Bell-Jordan has served in leadership roles on various advisory, curriculum and hiring committees, including the Higher Learning Commission Team for NEIU's 2017 accreditation visit, the NEIU Baccalaureate Goals Working Group, and NEIU's first Writing Intensive Faculty Advisory Committee as co-chair. She also co-led the two-year NEIU Economic Inequality Initiative, a partnership between the College of Arts and Sciences and the Division of Student Affairs. Bell-Jordan was recently appointed to the Alumni Advisory Council in the School of Communication Studies at Ohio University. She has also served since 2011 as an elected member of the Skokie, Ill., District 68 Board of Education.
Her research falls within the areas of cultural studies, media studies and rhetorical studies. More specific emphasis is on race and representation in the media; intersections of gender and race; Black feminist thought and African-American women's communicative experiences; identity and performance in media; and the rhetoric of popular culture. Specific attention has been given to humor in stand-up comedy, political cartooning and film/television parody.
Bell-Jordan earned a Ph.D. in Rhetorical Studies and Media Studies and an M.A. in Rhetorical Studies at the Ohio University School of Interpersonal Communication, and an B.S.J. in News Editorial Journalism at the Ohio University E.W. Scripps School of Journalism.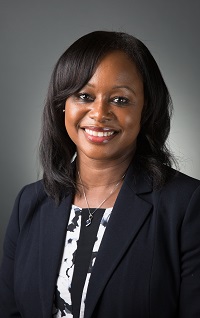 Katrina Bell-Jordan