Emory University Associate Professor of Philosophy and Women's Gender and Sexuality Studies Falguni Sheth will speak on "Race, Vulnerability and Violence" at the fourth annual Inspiring TriVia: The Sarah L. Hoagland Speaker Series at 3:15 p.m. Feb. 9 in Alumni Hall South on the Main Campus, 3701 W. Bryn Mawr Ave. The event is free and open to the public.
Sheth earned her B.A. in Rhetoric from UC Berkeley, and
her M.A. and Ph.D. in Philosophy at the New School for Social Research. Her research is in the areas of continental and political philosophy, legal and critical race theory and philosophy of race, post-colonial theory, and sub-altern and gender studies. She has published numerous articles and two books: "Race, Liberalism, and Economics," (co-edited, U. Michigan Press, 2004) and "Toward a Political Philosophy of Race," (SUNY Press, 2009). Her latest book considers how racial divisions preserve state power.
Sheth's current book project is on interstitiality, which is a rethinking of how group antagonisms and alliances emerge. Her research also includes work on interstitiality as a counterpart to intersectionality; Foucault's biopolitics in the context of legal subjectivity; the emergence and legal construction of Punjabi-Mexicans at the turn of the 20th century; and the metaphysics of misrecognition.
A columnist at Salon.com, Sheth writes about National Security, race and politics. She also has written for Alternet, Z-magazine, Truthout and Common Dreams, among other sites. Sheth is an associate editor at Hypatia, and served on the Executive Committee of the Society for Phenomenology and Existentialist Philosophy. She has served on the Immigrant Rights Commission of San Francisco and is an organizer of the California Roundtable for Philosophy and Race.
Sarah L. Hoagland is Professor Emerita of Philosophy, Women's and Gender Studies, Latino and Latin American Studies, and African and African American Studies and recipient of the Bernard Brommel Award. Her work has been recognized for advancing intersectional discourses, and the speaker series is meant to continue that legacy at Northeastern. Hosted by the Department of Philosophy, the series is made possible by an endowment that Hoagland set up upon her retirement in 2012.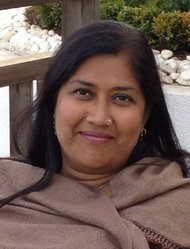 Falguni Sheth