Each year, Associate Professor of Literacy, Leadership and Development Gabriel Cortez challenges his Human Relations and Leadership class to create a group activity that results in learning and real-world impact. Each year, his class delivers over a tight, six-week time span with outstanding final projects such as creating a guide to Hispanic-Serving Institutions or organizing an event to empower undergraduate student success.
This year's class not only organized an event to raise awareness about undocumented students—they also made it a fundraiser that pulled in more than $9,600 in pledges and contributions to support scholarships and resources for undocumented students at Northeastern Illinois University.
The Dec. 1 event, titled Sueños Enlazados, was organized entirely by students who are part of the Educational Leadership-Higher Education graduate program with the assistance of the ENLACE scholarship.
Sueños Enlazados, which means "linked dreams," featured a silent auction, dancers, spoken word, and speakers who addressed the importance of supporting undocumented students.
"The strength of this cohort of ENLACE students is its diversity," ENLACE Leadership Institute Director Francisco Gaytán said. "They were able to draw from their collective networks, knowledge and expertise, and resources to make this event a huge success."
Tickets to the event sold out well in advance, and communities both inside and outside of Northeastern have already asked about how they might participate in potential future events, Gaytán said.
"I was amazed by the amount of support we received for this fundraiser from Northeastern students, administrators, ENLACE alumni, members of the community, our donors and sponsors, and those who even came in from out of town to attend the event," said ENLACE student Billie Kersh, who also works in Northeastern's office for the Chicago Cancer Health Equity Collaborative. "One of the most compelling outcomes of this was that it opened up the conversation, providing people with the information and resources needed to become effective allies for our undocumented students and mixed-status families."
ENLACE is an acronym for ENgaging LAtino Communities for Education. Translated from Spanish, the word "enlace" means "link." When the grant was first awarded to Northeastern in 2000, the idea was to create a pipeline for Latinos from K-12 education, to college, to graduate school, and to leadership positions on college campuses, linking students in a continuous chain of support.
The program has since grown and has taken on the charge of being inclusive of all underrepresented groups and first-generation college students who face similar and interrelated challenges.
Gaytán sees another "link" to the event's name.
"This fundraiser was focused on raising scholarship money for undocumented students in college, who are often ineligible for many forms of financial assistance, especially federal and state funds," he said. "These students are not only Latino students. They come from many backgrounds, yet they share the dream of higher education and the opportunities it provides—linked dreams."
While ENLACE Higher Education graduate students will likely organize large events again in the future, Gaytán offered a reminder that their impact goes far beyond the final projects.
"It is not only the big events that matter," Gaytán said. "Graduates of our program are making differences every day at K-12 and higher education institutions across Illinois and in other states."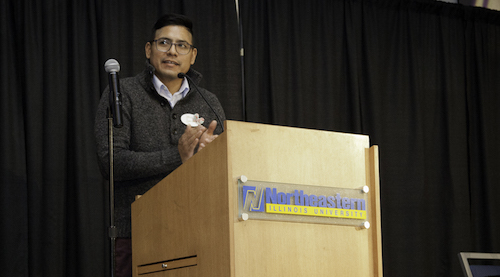 Top photo: Dancers (from left) Elena Rivera, Nube Vinansaca, Sharon Diaz, Star Agus and Mashal Ali perform to a song titled "He Maha Lakshmi" during Sueños Enlazados. (photo by Jacob M. Yeung)
Above photo: ENLACE Cohort 7 alumnus Jesús "Azteca" Sánchez performs spoken word art. (photo by Carmen Hernandez)