Northeastern Illinois University President Gloria J. Gibson announced today that she has named Dr. Dennis Rome the new Provost and Vice President for Academic Affairs. Rome has been serving as the Dean of the College of Letters and Sciences at Columbus State University in Columbus, Georgia. On July 1 Rome will take over for Acting Provost Wamucii Njogu, who will retire at the end of June.
"Dr. Rome has the academic experience, the leadership skills and the unwavering commitment to student success that make him a fantastic fit at Northeastern Illinois University," Gibson said. "Much like my own journey when I was appointed president last year, Dr. Rome is coming home to make a difference for Chicago and the State of Illinois. I am eager to work with Dr. Rome as we collaborate with the University community to prepare our current and future students for leadership and service in a dynamic multicultural world."
A graduate of Lane Tech College Prep High School, Rome is a product of Chicago Public Schools. He earned his bachelor's degree from Bradley University, his master's degree from Howard University and his Ph.D. from Washington State University. All of his degrees were in Sociology.
Throughout the University's national search process, which began in late 2018, Rome's leadership, service and professional accomplishments stood out.
Rome's professional journey started in 1990 at Wilmington College in Wilmington, Ohio, where he taught in the Department of Sociology for three years. He moved on to Indiana University to teach in the Department of Afro-American Studies from 1993 through 2002 and then the Department of Sociology though 2004. Rome became Professor and Chair of the Department of Criminal Justice at the University of Wisconsin – Parkside in 2004. He was named Associate Provost and Associate Vice Chancellor for Academic Affairs at Wisconsin – Parkside before moving on to Columbus State in 2014 to serve as Dean and Professor. Rome has published three books and has another in progress. His most recent book, "Black Demons: Mass Media's Depiction of the African American Male Criminal Stereotype," was published in 2004 by Praeger Press. He also has published numerous book chapters and research articles.
"It is an absolute honor and privilege to serve as the next Provost and Vice President for Academic Affairs at NEIU," Rome said. "I look forward to working with everyone to continue the good work of promoting the success of our students and to achieve their full academic and career potential."
Faculty Senate Chair Vicki Byard said faculty members look forward to working with the new provost.
"Like most public universities in Illinois, we are still suffering from poor state-level funding of higher education under former Gov. Rauner, but with a new governor now, Dr. Gibson's leadership as our university president, and now the hiring of Provost Rome, we are enthusiastic about the future direction and growth of Northeastern," she said. "It's a very exciting time for faculty."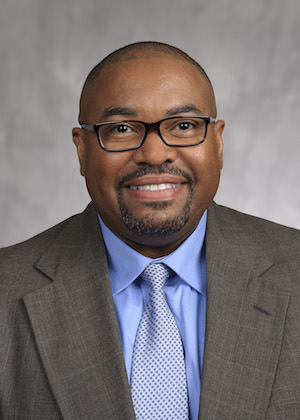 Dennis Rome