With a grant of $1 million, plus up to $1.5 million for an additional matching challenge over the next three years, Daniel L. Goodwin has provided an unprecedented commitment to Northeastern Illinois University.
Mr. Goodwin, a former Chicago public school science teacher, is a graduate of Northeastern Illinois University and holds a number of firsts. He was a member of the first freshman class to attend Northeastern at the St. Louis Avenue campus. He was also the first president of the Northeastern student government. He was the first alumnus to be awarded an honorary doctorate by Northeastern. He was the first and only alumnus to serve on the Board of Governors of Illinois State Colleges and Universities. He was the first person to commit to a multimillion-dollar gift to the University. Mr. Goodwin was also the first chairman of the Northeastern Board of Trustees. He served as chairman for 10 years from 1996 to 2006. He is now also the first person to have a Northeastern college named in his honor.
In recognition of Mr. Goodwin's extraordinary philanthropic support and leadership, Northeastern Illinois University will name a college after an alumnus and donor for the first time in its 148-year history. The Daniel L. Goodwin College of Education will be dedicated during a ceremony and fundraising kickoff event in January 2016. Northeastern Illinois University was founded in 1867 in Blue Island, Illinois, as the Normal School, Cook County's first teacher training institution. Over the years, the name, location and mission of the University have changed, but the commitment to learning and teaching has continued from generation to generation.
"This is a transformative moment in the University's history," Northeastern Illinois University President Sharon Hahs said. "The University is growing to meet the demand for diverse, civic-minded citizens and thought leaders. Mr. Goodwin's generous commitment will expand our capacity to meet this need."
Mr. Goodwin made an initial $1 million grant to the NEIU Foundation in December of 2014. The remainder of the gift comes in the form of the Goodwin Gift Challenge, which launches on January 1, 2016. In order to inspire other alumni and friends to continue the forward momentum of philanthropic support, Mr. Goodwin has issued this challenge: For the next three years, he will encourage others to contribute to the NEIU Foundation by matching gifts up to a total of $500,000 annually. The challenge will culminate in 2018 with the sesquicentennial celebration of the founding of the University. Donors must indicate that they are participating in the Goodwin Gift Challenge in order for their gifts to be counted toward the challenge.
Donors will have an opportunity to identify their gifts, no matter the designation or size within the NEIU Foundation, as counting toward the Goodwin Gift Challenge in the annual race to reach $500,000. Mr. Goodwin's total commitment of $2.5 million will be distributed three ways:
To endow the Daniel L. Goodwin College of Education Scholarship Fund to benefit undergraduate and graduate students.
To endow the Daniel L. Goodwin Dean's Program Fund to purchase teaching materials and other resources to enhance student learning, support faculty development, establish graduate fellowships and graduate assistantships, and to enhance the Daniel L. Goodwin College of Education's programs.
To establish the Daniel L. Goodwin Distinguished Lecture Series Fund to provide expendable support to hire well-respected individuals to deliver instruction in conferences, seminars and major lectures.
"I am greatly honored that Northeastern Illinois University will name its College of Education after me," Mr. Goodwin said. "This challenge is an opportunity to honor my core values in partnership with a university that has been an important part of my own life and a symbol of hope, success and excellence for families in Chicago and beyond."
Mr. Goodwin's wife, Carol Goodwin, also is a graduate of Northeastern Illinois University. She earned her Bachelor of Arts in Elementary Education – Psychology. Dan and Carol live in Oak Brook, Illinois.
Dan Goodwin is Chairman and CEO of The Inland Real Estate Group of Companies, a multimillion-dollar real estate and financial organization headquartered on a 13-acre campus in Oak Brook, Illinois. With 40 years of experience in real estate investing, development and banking, Inland is one of the nation's largest commercial real estate and finance groups. Mr. Goodwin has formed a number of private and public companies, four of which trade on the New York Stock Exchange.
Mr. Goodwin has developed thousands of housing units in the Midwest, New England, Florida and the Southwest. He is also the author of two nationally recognized real estate reference books for the management of multi-family residential properties. Mr. Goodwin served for 10 years on the Board of the Illinois Housing Development Authority Trust Fund. He was an adviser for the Office of Housing Coordination Services of the State of Illinois and was a founding member of the Illinois State Affordable Housing Conference. He also completed the definitive DuPage County Affordable Housing Study as Chairman of the DuPage County Affordable Housing Task Force. Mr. Goodwin founded New Directions Housing Corporation, a not-for-profit developer of affordable housing for low-income residents throughout Illinois.
"This remarkable gift is an investment in our ability to provide a reflective, collaborative and transformative education for our diverse student body," Daniel L. Goodwin College of Education Dean Maureen Gillette said. "Mr. Goodwin's generosity will have a lasting impact on our students and the communities we serve."
Northeastern Illinois University is regarded as one of the most diverse public universities in the nation and is designated by the U.S. Department of Education as a Hispanic-Serving Institution. The University has an enrollment of almost 10,000 students. Located on the Northwest Side of Chicago, Northeastern Illinois University offers more than 80 undergraduate and graduate programs in the arts, sciences, education and business. The University has four additional locations in the Chicago area: the Jacob H. Carruthers Center for Inner City Studies, El Centro, the Center for College Access and Success and the University Center of Lake County.
Established in 1969, the NEIU Foundation functions as an independent Illinois not-for-profit foundation whose corporate mission is to advance the interests and welfare of the University. The Foundation is the official fundraising and private gift-receiving agency for Northeastern. The primary functions of the Foundation are to develop private support on behalf of the University, to promote the University's mission and to receive and administer contributions. In this way, the Foundation plays a vital role in ensuring that the University remains highly affordable, while retaining the highest academic standards. Private contributions, when added to state resources, add an extra dimension of support that otherwise would not be possible.
When asked why he chose to make this commitment to his alma mater, the first of its kind for Northeastern, Mr. Goodwin was reflective.
"Today, we measure the success of this challenge in dollars and cents," he said. "In one or two decades, we will measure this challenge in the number of lives transformed."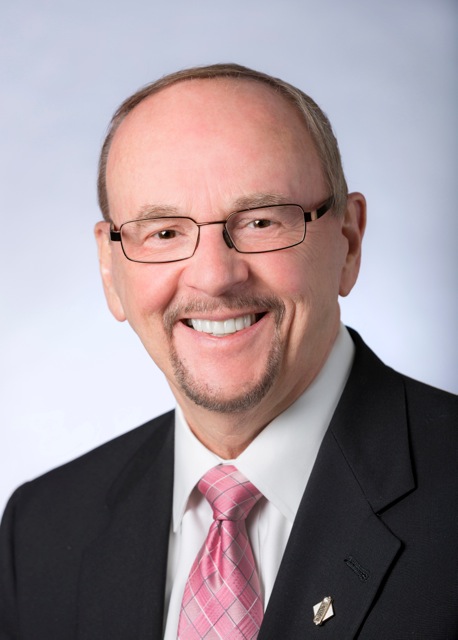 Daniel L. Goodwin