Northeastern Illinois University has selected Computer Science major Obsmara Ulloa as its 2020 Lincoln Academy Student Laureate. Every fall semester, The Lincoln Academy of Illinois honors one graduating senior from each university in the state who demonstrates leadership and service contributions on campus and beyond, academic success, and extracurricular achievements.
While Ulloa and other student laureates from around the state are unable to be recognized in-person this year, she and the other recipients were honored with a virtual program on Nov. 10. Each will still be awarded the Lincoln Academy Student Laureate Medallion, a certificate of achievement and a $500 stipend. Additionally, this year, The Lincoln Academy of Illinois is issuing a Challenge Coin to each recipient as a continual reminder to be a leader who inspires and transforms communities through integrity, courage, honesty and empathy.
"I think there are really great people, like Abraham Lincoln, who dedicate their entire lives to fighting for the greater good," Ulloa said. "I know that just getting this award doesn't mean that. It means any good thing you do, no matter how small, can help someone else feel supported and welcomed into a community. It doesn't have to be a grand gesture. It's about offering support, which I think is really important in a university community. If people have the support system they need then they're going to thrive and it's going to help the entire community prosper."
Ulloa is a senior at Northeastern who transferred to NEIU from the City Colleges of Chicago.
She is a McNair Scholar, and is part of the Theta Chi Omega sorority, the president of the NEIU Computer Science Society and a Computer Science Peer Leader, through which she leads a weekly session with other computer science students to understand fundamental topics in the field. She was also able to present some of her research on cyberbullying at the 2019 SACNAS National Conference and Northeastern's 2019 Student Center for Science Engagement (SCSE) symposium.
"I just knew I could do this and I wanted to do this. Everything that I've learned since just feels like a great fit," Ulloa said. "I've learned that women and minorities are really underrepresented in computer science and I want to help change that."
Ulloa said her professors—especially Akkady Tchaba and Rachel Trana, who nominated her for the Lincoln Laureate award, and Ken Voglesonger of the SCSE—have been a great source of encouragement for her to pursue a career in computer science. Not only does the field have many different facets, but with the current underrepresentation of women and minorities in science, technology, engineering and mathematics (STEM) there is room for the field to grow.
"Obsmara distinguished herself not only through the dedication that she invested in her academics, but also in the way in which she collaborated with other students by integrating her optimism and cultural background to create a supportive student network in computer science," said Trana, who is Ulloa's mentor and former instructor. "With each opportunity at NEIU, Obsmara took the initiative to merge her learning experiences and develop a unique educational path, such as joining the McNair Scholars Program, receiving an internship at the National Center for Atmospheric Research, presenting at the UCLA National McNair Conference, and ultimately applying to a variety of computer science doctoral programs. The Lincoln Student Laureates are leaders in their communities, helping to drive civic-minded change, and as an underrepresented minority and a woman in STEM, Obsmara is at the forefront of this challenge by successfully breaking barriers in computer science and leading the way for other students."
Ulloa comes from a big family and is the oldest of six siblings. After high school, she decided to attend City Colleges of Chicago because, as an undocumented student, she found it challenging to figure out how to continue her education.
"No one in my family had gone to college," Ulloa said. "When I finished high school, undocumented students didn't have as much support with financial aid."
Ulloa began working full-time and going to school part-time. Upon completing her two-year degree, she applied for TheDream.US scholarship, the nation's largest college access and success program for "DREAMers," undocumented immigrants who were brought to the United States as children and are ineligible for federal financial aid. Students who receive TheDream.US scholarships are eligible to attend one of their partner institutions with the full amount of tuition and fees covered by the scholarship. The scholarship has enabled Ulloa, who's originally from Mexico but has lived in Chicago most of her life, to participate in as many activities as she does without the worry of going to school and working now, which gives her the time to have a fuller college experience.
"NEIU is really great about welcoming undocumented students," Ulloa said. "The scholarship made me get acquainted with Luvia Moreno right away. She was a lot of help with letting me know where to go for tutoring or other support. I soon discovered that as long as I ask for help, it's going to be there at NEIU. I've also learned so much from others who share their status. It motivates those of us who are not as comfortable talking about it because it helps to know that we're not alone."
Northeastern has been a partner of TheDream.US since 2015. Assistant Dean of Students and Director of Undocumented Student Resources Luvia Moreno said there are currently 29 TheDream.US scholars enrolled at Northeastern. In addition to the monetary support, TheDream.US offers career development and other resources so that students can be successful beyond graduation.
"I am so proud of Obsmara and everything she has accomplished in the short period of time we have been able to have her as a student and a TheDream.US scholar at Northeastern," Moreno said. "Do not let Obsmara's reserved and shy demeanor fool you. Obsmara is bright, intelligent and determined. I am so glad she decided to join the McNair Scholars Program as they have worked with her on planning for graduate school. I look forward to what Obsmara will accomplish in the future and to see her contributions to this country that needs more people like her."
Ulloa is planning to graduate in May 2021. Whether she continues on to graduate school or begins to work in her field full-time, she knows she wants to use computer science to help others.
"Wherever I go, I know I want to have a positive impact, support myself and support others," Ulloa said. "I owe it to the people who believe in me to be successful. If I go to graduate school, I'd like to study something interdisciplinary, where I can apply computer science to another field like cognitive science or environmental science. I feel really lucky that I get to work with my professors and peers, which has shown me how important mentorship is. When they share what they know, I can take what I learn from them and share it with other students and, hopefully, those students will share what they learn with other students."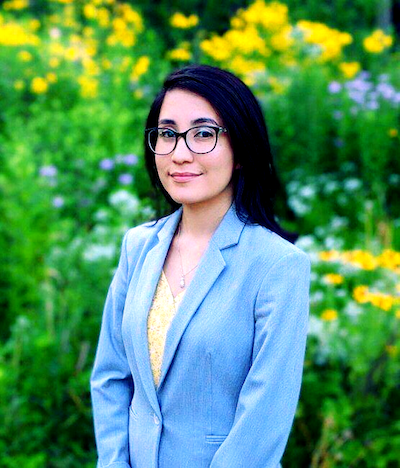 Obsmara Ulloa