Eskimo-Kalaallit elder Angaangaq Angakkorsuaq will visit Northeastern Illinois University on Oct. 15 to conduct a Peace Fire ceremony.
The free event will take place from 6:30-9 p.m. at Northeastern's Peace Fire Circle, located north of the Physical Education building. Led by Angaangaq, the event will include a gathering around the Fire.
Angaangaq, whose name means "The Man Who Looks Like His Uncle," belongs to the traditional healers of the Far North from Kalaallit Nunaat, Greenland. Uncle, as he is frequently called, bridges the boundaries of cultures and faiths in people young and old. His work has taken him to five continents and more than 50 countries.
Over the years, many renowned spiritual leaders and peacekeepers have visited Northeastern and participated in ceremonies on campus at its Peace Fire Circle, Peace Pole, Peace Labyrinth and 1.8 billion-year-old feldspar crystals that rest near the Peace Fire Circle.
The first Peace Fire was lit on campus on Feb. 16, 1996. The NEIU Foundation has annually awarded a Peace Scholarship to an undergraduate or graduate student in honor of the school's efforts to promote peace.
Bring lawn chairs and blankets for outdoor seating. In case of inclement weather, the event will be held inside the gym at the Physical Education building. Parking will be available in Lot L with a daily parking pass.
For more information, contact Professor Emeritus Dan Creely Jr. at d-creely@neiu.edu.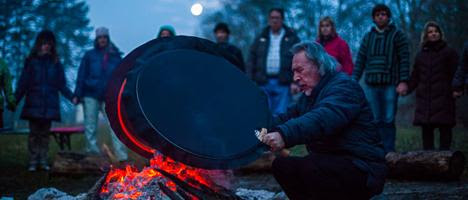 Angaangaq Angakkorsuaq