Northeastern Illinois University Assistant Professor of Social Work Aimee Hilado has been selected by ZERO TO THREE, the leading nonprofit dedicated to ensuring babies and toddlers have a strong start in life, for its 2018-2020 Fellowship Class.
ZERO TO THREE Fellows are a network of diverse leaders spanning professions and sectors who have the knowledge and passion to be change agents for infants, toddlers and their families.
"Through her passion, will and vision, Dr. Hilado has made a marked impact of the lives of babies and toddlers around the world," said Matthew Melmed, Executive Director of ZERO TO THREE. "ZERO TO THREE is excited to welcome her among the 15 accomplished early childhood development professionals into the prestigious fellowship program. The fellowship provides a vast array of experiences to deepen knowledge and skills, expand networks, and enhance the capacity of these changemakers to transform systems and policies to improve the health and well-being of our youngest children."
Hilado shared her excitement in being selected as a Fellow with a clear vision of how the Fellowship will support her work in the field.
"My goal is to increase understanding around the importance of infant-early childhood mental health among trauma-experienced refugee and immigrant families, and the diverse systems and professionals that touch these communities," she said. "And for the infants and toddlers of these families, I want to ensure they have a strong start to life and every opportunity to thrive by increasing access to culturally-sensitive services that promote development and infant-early childhood mental health—not just in my home city of Chicago, but across Illinois and our country. I am confident this Fellowship will help me achieve this."
In April 2017, Hilado has co-wrote and co-edited her first book, "Models for Practice With Immigrants and Refugees: Collaboration, Cultural Awareness and Integrative Theory." The book, from Sage Publishing, brings together leaders in the field to share information about culturally sensitive approaches to providing therapy to trauma-exposed populations.
For more than three decades, the ZERO TO THREE Fellowship has been the premier leadership experience for professionals who work to be champions in the lives of infants, toddlers and their families.
The 2018-2020 Fellowship Class was chosen from the largest application pool to date. The goal of the rigorous review process is to select an exemplary class that represents a wide array of disciplines, sectors, geographic locations and perspectives.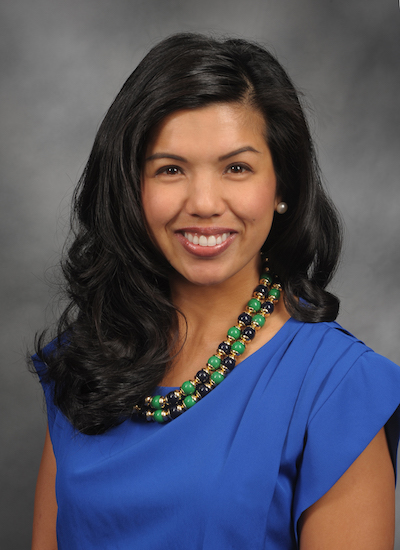 Aimee Hilado