Northeastern Illinois University begins December Break tomorrow. With the holiday season upon us, check out the latest books by NEIU alumni! Also, don't forget to spread the word about the NEIU For You scholarship. Read about all this and more in the latest edition of Noteworthy at Northeastern.
Around the Commons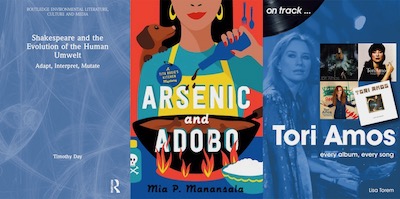 New reads by alumni authors
If you're looking to do some leisurely reading over December Break, or still looking for a gift for an avid reader you might know, check out these new books by Northeastern alumni!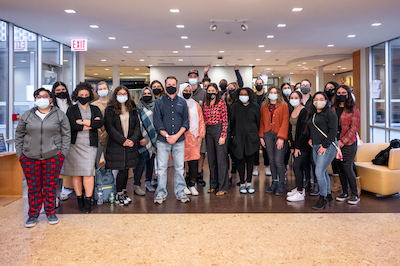 Future Teachers Power Hour connects students with educational leaders
The College of Arts and Sciences Education Program (CASEP) Future Teachers Power Hour was established in Fall 2017 and continues to provide this space as a monthly guest speaker series that welcomes all NEIU students who are interested in the art of teaching. "Future Teachers Power Hour was inspired by students who desired a monthly opportunity to connect with other future teachers as well as hear from luminaries in the field of education," said Jeremy Babcock, CASEP director and Future Teachers Power Hour facilitator. In November, the program welcomed Alderman Samantha Nugent and her Chief of Staff Erika Wozniak (pictured above with students).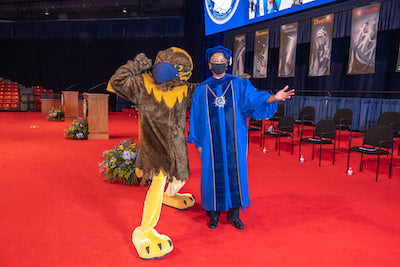 2021 Commencement recap 2.0
Northeastern Illinois University held its first in-person Commencement ceremonies in nearly two years on Dec. 12 at Credit Union 1 Arena in Chicago. Check out some of the ceremonies' highlights on Facebook.
Use #NEIUgrad on social media to share Commencement photos, NEIU stories and send congratulatory messages to our class of 2021! 
NEIU Foundation
The NEIU Foundation sends its sincere appreciation to all who have contributed to funds this year to support Northeastern students. If you'd like to make a donation before the end of the year, please visit neiu.edu/give. Contributions of any amount make a significant impact. Watch the video above to hear how NEIU scholarships made a difference in the lives of alumni and current students. 

NEIU For You
Beginning in Fall 2022, Northeastern Illinois University will cover the cost of four years of tuition for eligible students through the NEIU For You scholarship. "As a university dedicated to serving those who are commonly underserved, we have a responsibility to ensure every student who wants a college degree has the opportunity to earn one," President Gloria J. Gibson said. NEIU For You launched in Spring 2021 and covered the cost of one year of tuition for first-year, full-time incoming freshmen. It is now expanding to support students financially through the first four years of a bachelor's degree. More than 300 new freshmen took advantage of NEIU For You in Fall 2021. One of those students, Ashley Garcia, said the scholarship is allowing her to pursue a degree in Computer Science. "With my tuition covered by the NEIU For You scholarship, I am focused on getting good grades, not working full-time to pay off student debt," Garcia said. "Success, to me, is having financial freedom. Northeastern is giving me all the resources I need to be able to succeed in college and beyond." 
And there's more!
All Northeastern Illinois University locations will be closed for December Break beginning Friday, Dec. 24, 2021, and will reopen Tuesday, Jan. 4, 2022.
Winter Session classes resume Jan. 4.
Registration for Spring 2022 is now open. Classes begin Jan. 18.
El Centro published its latest newsletter. 
The Genocide and Human Rights Research in Africa and the Diaspora (GHRAD) Center has extended its call for papers for its 2022 Conference until Jan. 15.
The NEIU Student Recreation & Wellness Center will be closed through Jan. 4. From Jan. 4-14, they will have adjusted hours of 8 a.m.-5 p.m. They will also be closed Jan. 15-17.
The NEIU community is invited to submit nominations for the 2022 Black Heritage Awards scheduled for 6-9 p.m. Friday, Feb. 25 in Alumni Hall. Nominations will be accepted until Monday, Jan. 24. 
Chicago Cancer Health Equity Collaborative (ChicagoCHEC) is accepting applications for the 2022 ChicagoCHEC Fellows program through Feb. 28. 
Show your Golden Eagle pride with a free NEIU lawn sign! Signs are available at the NEIU Welcome Desk on the Main Campus on a first come, first served basis.
In the Media
Northeastern's COVID-19 testing clinic on WGN
Student Health Services Registered Nurse Jennie Lasko was interviewed by WGN about Northeastern's COVID-19 testing site. During the week of Dec. 20, more than 1,000 people were tested for COVID-19 at Northeastern through the University's partnership with SHIELD Illinois. 
COVID-19 update
During the week of Dec. 15, 2021, two students and six employees reported positive COVID-19 tests. One student and five employees were on campus. Since March 2020, a total of 81 employees and 358 students have self-reported to the University that they tested positive for COVID-19. Employees and students who feel sick should stay home. If a student tests positive for COVID-19, they should immediately notify Student Health Services. If an employee tests positive for COVID-19 over December Break, they should immediately notify Student Health Services. When someone who has been on campus tests positive, Northeastern works with the Chicago Department of Public Health to determine the appropriate response, which differs greatly depending on the situation. We continue to follow Chicago Department of Public Health and Centers for Disease Control and Prevention (CDC) guidelines as we ensure proper protocols and preventative measures are in place for the health and safety of our students and employees. 
As of Dec. 15, 2021, 90% of currently enrolled students and 99% of active employees at Northeastern Illinois University are vaccinated against COVID-19. 
Other COVID-19 updates
Stay up to date on everything regarding COVID-19 by visiting the Return to Campus website. 
Follow Northeastern on Instagram, Facebook, YouTube and Twitter! Do you have a story tip? Let the Office of Public Relations know at public-relations@neiu.edu.