What do Shakespeare, a Filipino restaurant and a rock star have in common? They are the topics of new books by Northeastern Illinois University alumni Timothy Ryan Day, Mia P. Manansala and Lisa Torem respectively.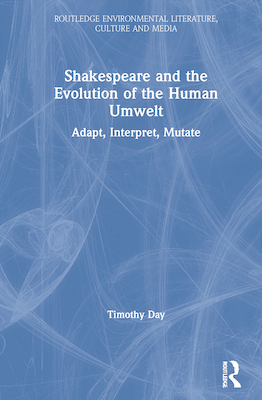 "Shakespeare and the Evolution of the Human Umwelt: Adapt. Interpret. Mutate." (Routledge) was published in February. The book stemmed from Day's dissertation and is an environmental approach to Shakespeare, looking at ecocritical and biosemiotic readings of plays while examining the body of Shakespeare's work in relation to the world of today.
"It might be a bit far-fetched to say Shakespeare has an effect on the environment but his works are some of the crucial, most well-known works of all time," Day said. "After the Bible and the Koran, 'The Complete Works of William Shakespeare' is pretty up there. So the book looks at how his plays have been able to take on meaning, move through so many ideologies and discusses how we can read them now to get something out of them."
Day, who is a professor of English at St. Louis University-Madrid, published his first novel, "Big Sky" (Adelaide Books) in late 2020. It tells the story of two families—one Black, one white—tied together by the race massacre that took place in Tulsa, Okla., in 1921. 
"The race massacres there were something that had been on my radar my whole life," Day said. "It's something people talk a lot about in Tulsa, but they talk about it in kind of a veiled way. They're not very open about it."
Day, who was born in Tulsa, said the book took him about 10 years to write, but not consistently. He wrote the bulk of it quickly after visiting a museum in Greenwood, Okla., dedicated to the history of the massacre. He noted the TV shows "Watchmen" and "Lovecraft County," as well as the discovery of mass graves in Tulsa, brought this tragic chapter of American history back into the public eye in ways that were hard to ignore. 
"A lot of things have changed in the last 100 years, but a lot hasn't as well," Day said. "That's kind of the focus of the book, looking at how we've developed as a society and how our attitudes toward race have shifted. Nonetheless, the tensions and political incapacity to deal with some of these long standing issues is sort of the same. The reality is still pretty grim."
Day earned his B.A. in English and minor in Philosophy from Northeastern in 2006. His first published book, "Green and Grey" (Lemon Street Press), is a collection of his poetry. Day is currently working on another novel and another scholarly work. 
"The teachers at Northeastern were great and very encouraging and introduced me to literary theory in a way I hadn't been aware existed before," Day said. "Seeing the way literary theory borrowed from philosophy and used some of its language and traditions helped me transition into looking at literature as something that could be a career path for me."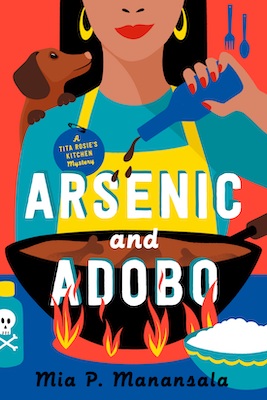 Manansala's (B.A. '10 English) debut novel, "Arsenic and Adobo" (Penguin Random House) was published in May. It is the first of a three book deal of cozy culinary mysteries. 
"Cozy mysteries aren't as dark," Manansala said. "They tend to be a little bit funny. There's no sex, violence, bad language or graphic descriptions of any kind. I literally wrote a book that my mom could read. This is her favorite genre. For more modern readers, I tend to call them Hallmark movies with dead bodies."
The book centers on a young Filipino woman, Lila, who moves back to her hometown—a fictional city outside of Chicago—after college. As she's getting back into the swing of her old life, her ex-boyfriend dies after eating at her aunt's restaurant and Lila becomes the main suspect in the investigation of his death. 
"The death itself isn't funny, but the tropes are," Manansala said. "Lila thought she was going to go to college and take over the world. She had poor taste in men and she ends up having to move back home to lick her wounds and this muder mystery happens as she's trying to get her life together."
Similar to her character, Manansala ventured out on her own in search of something different. While at Northeastern, Manansala studied Korean and became part of an exchange program to teach English in South Korea. After graduating from Northeastern, she went back to South Korea and taught there for three years. 
"Being abroad really opened my eyes," Manansala said. "It helped me grow up a lot. The main character in my book is 25. I was around that age when I was in South Korea."
Though Manansala said the similarities between her and Lila are purely coincidental, she also believes that some of her choices subconsciously matched up with her personal journey.
"That age, post-grad, was such a pivotal time for me," Manansala said. "I learned so much about the world that I felt I needed a character that reflected that. At 25 you think you know everything and there's still so much to learn. I needed that sort of confidence and naivete in a character."
For as much as Manansala enjoys culinary cozy mysteries, she didn't think she'd write one of her own. However, with the lack of cultures explored in the genre and a little inspiration, Manansala saw an opportunity. 
"I was on my way to work at my previous job and was riding the Blue Line when the first line of the book came to me, fully formed in my head," Manansala said. "I took out my phone and started writing and the second line came to me. In those two lines I knew what my story was going to be about. Food and mysteries are two of my favorite things. As much as I love this genre, it's not particularly diverse. It's gotten better in the past few years and I could name some really wonderful books out there, but when my mom and I first started reading them we didn't really find anything that really reflected our experiences, our interests, our lives. So I wanted to put my own spin on the genre."
Manansala's second book, "Homicide and Halo-Halo," is scheduled to be released in February. 
"Filipino food figures very heavily into my series," Manansala said. "All of the books are an alliteration of a crime word and a Filipino food. Halo-Halo is like our national dessert. It's a shaved ice kind of dessert, similar to a lot of shaved ice desserts in Asia. I say it's like a cross between shaved ice and an ice cream sundae. The story is set in the summertime and involves a murder at a beauty pageant." 
At the end of each book, Manansala also includes recipes.
"It's been really fun," Manansala said. "People will share photos on Instagram of what they've made and it's great to see them actually try it." 
Her advice to writers: Find your community and mentors. 
"Traditional publishing is so opaque," Manansala said. "You don't know what you don't know. Having a great support system is so important. Having people around you who know nothing about writing to give you perspective and having people who are writers because no one will understand it the way they do. It's also nice to have people who are ahead of you to show you what you don't know." 
Torem's latest book dives deep into the catalog of singer-songwriter Tori Amos. "Tori Amos: Every Album, Every Song" is part of Sonicbond Publishing's "On Track" series.
"I became a big fan of Tori Amos after hearing 'Little Earthquakes,' her debut album," Torem said. "It was a very personal, very heartfelt album. I grew up in a house with a piano. My dad was a gigging musician before he became a high school English lit/drama teacher. So I was always attracted to different styles of piano music."
While the book is not meant to be a scholarly work, it pulls from a wide range of sources to give readers a broad scope of Amos' music. Torem spoke with arrangers, a producer and another journalist who's interviewed Amos a number of times to gain a better understanding of her work. Although Amos wasn't interviewed for the book, Torem has met her twice.
"Tori is a very present woman," Torem said. "When she talks to you, you feel like you're the only person in the world. When the project came up, I was very excited. It was an opportunity to look through her entire discography, discover things perhaps I had missed. I was not completely aware of the nuances of all her work. There are certain albums I knew more about than others. It was a great opportunity to look at the inside and outside of this artist that I really admire."
Torem noted that aside from Amos' music, she greatly respects her humanitarian work. Amos is a National Leadership Council member for Rape, Abuse & Incest National Network (RAINN). She was also RAINN's first spokesperson. Amos, who's part Cherokee, has also used her music to educate people about Native American communities. 
"Her albums are really educational, aside from being great music," Torem said. "Her music is so personal and the instrumentation—both solo and with her band members—is captivating. Her topics are very heartfelt." 
While at Northeastern, Torem (B.A. '79 Elementary Education-Music; M.A. '84 Applied Linguistics) took a History of Popular Culture class, which opened her eyes to the field as a course of study. 
"It was a groundbreaking class," Torem said. "It really legitimized that area as something that I loved and all of a sudden could study. There are people who get graduate degrees now for studying Tori Amos. That wasn't something I was aware of and I was really thrilled to hear about it."
Torem's first memoir collaboration was Jim Peterik's "Through the Eye of the Tiger: The Rock 'N' Roll Life of Survivor's Founding Member" (BenBella Books). The book recalls the early days of Peterik—a Berwyn native—with The Ides of March, the formation of Survivor and the recording of one of the most iconic songs ever recorded. Torem had been a North Side reporter for a Chicago publication, and had written concert reviews and interviewed musicians for a British publication when Peterik was starting to write his book.
"It was his story," Torem said. "We talked about what to include, what not to include, what the themes were. Shaping the book was a big deal. It can be a bit of a daunting experience for an artist to share memories with someone they don't know very well, so we had to develop a rapport." 
Torem is currently working on two more books: "All that Glitters," a memoir with singer and model Ava Cherry, which is due to be released by Aquarius Press in early 2022; and another contribution to the "On Track" series, this time focusing on the works of Billy Joel. 
Torem believes the keys to being a successful freelance writer are being open to new media like podcasts, becoming confident in your skills, and staying passionate about the work, even when it may be difficult.
"There's a lot of freedom in being a freelancer," Torem said. "To be successful, I think one has to diversify more. For me, becoming an author has opened a lot of doors and I'm still exploring what that means. It's not a get-rich-quick kind of thing. There was a time when journalists had carte blanche access to artists, but with security being the way it is now, that's gone. It's harder, but there's more of an opportunity to create your own opportunities."
Looking for more great reads? Here are the latest titles from other NEIU alumni!
Top photo (from left): Timothy Ryan Day, Mia P. Manansala, Lisa Torem