As we enter a season of reflection and gratitude, Northeastern Illinois University's Student Government Association wants to express appreciation for those who make NEIU such a special place to learn and work. CCICS is hosting a Family Night and Open House for current and prospective students to check out Northeastern's historic Bronzeville location and all it has to offer. Plus, events continue for Native American and Indigenous Peoples Heritage Month and more updates from around the University can be found in this week's Noteworthy at Northeastern.
Around the Commons
NEIU Appreciation Day
Northeastern students: Has someone at NEIU made you feel welcomed and supported? Has a professor or counselor helped guide you when you might have felt uncertain about your future? On Tuesday, Nov. 16, the Student Government Association (SGA) invites you to pause and reflect on the people who've helped you become a proud Golden Eagle! SGA will host NEIU Appreciation Day in Village Square from 10 a.m.-3 p.m. There will be music, snacks and an opportunity for the University community to write messages of appreciation to faculty, staff and/or administration. SGA will distribute the messages to individuals at a later date. If you cannot attend the event in person but would like to have a message of appreciation delivered to someone on campus, you may complete the NEIU Appreciation Day Form and the message will be shared. SGA hopes NEIU Appreciation Day will exemplify what NEIU is supposed to be: a healthy community in which students, faculty and administration feel at home. Questions or concerns can be directed to the SGA at sga@neiu.edu or (773) 442-4673.
Family Night and Open House at CCICS
If you've ever wondered what the Jacob H. Carruthers Center for Inner City Studies (CCICS) is all about, you have a chance to find out! CCICS is hosting a Family Night and Open House from 4:30-6:30 p.m. Wednesday, Nov. 17 at CCICS, 700 E. Oakwood Blvd. During the evening, prospective students and students who normally take classes at the Main Campus or El Centro will have the opportunity to learn more about academic programs (both at NEIU and those offered specifically at CCICS), financial aid, scholarship opportunities and student housing, and take a tour of the historic Carruthers Center, formerly known as the Lincoln Center, designed in part by architect Frank Lloyd Wright. There will also be a CCICS Resource Fair. Family members are also welcome to learn more! RSVP online or by calling Akua Cason at (773) 256-2131.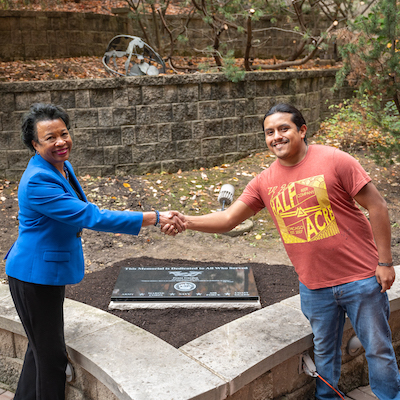 Honoring Veterans
President Gloria J. Gibson and U.S. veteran Gabriel Can (current student, Psychology) unveiled a plaque dedicated to veterans of the U.S. Armed Forces in the Peace Garden on the Main Campus. A video of the unveiling will be shared with the student veterans at NEIU.
And there's more!
Associate Professor of Psychology Lisa Hollis-Sawyer had an article about the impact of COVID-19 on an aging workforce published in the Journal of Elder Policy.
Professor of Biology Aaron Schirmer co-authored an article on bioinformatic teaching resources for educators in Frontiers in Education.
Coordinator of Learning Innovations for the Center for Teaching and Learning Elizabeth Rodriguez (B.A. English and History '09) participated in a virtual Newberry Library roundtable titled "Looking Forward to Attending Premodern Women" on Oct. 1. Rodriguez's comments emphasized the importance of resisting surveillance and profiteering in the classroom to foster student-centered pedagogical practices.
Chicago Cancer Health Equity Collaborative (ChicagoCHEC) is accepting applications for the 2022 ChicagoCHEC Fellows program through Feb. 28. 
Show your Golden Eagle pride with a free NEIU lawn sign! Signs are available at the NEIU Welcome Desk on the Main Campus on a first come, first served basis. 
To do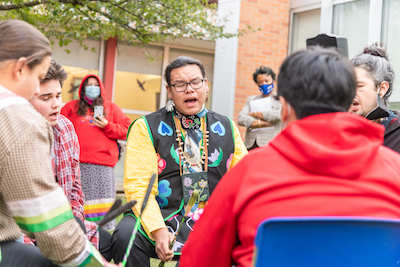 Native American and Indigenous Peoples Heritage Month
The Angelina Pedroso Center for Diversity and Intercultural Affairs has planned a series of events in celebration of Native American and Indigenous Peoples Heritage Month. Native American drum and dance group Shki Bmaadzi (pictured above) performed specially curated selection of songs at NEIU on Nov. 3. November 14-20 is the Rock Your Mocs week! Other events include: 
For a complete list of events, please visit the Pedroso Center webpage. 
TRIO Student Support Services Virtual Information Session
TRIO Student Support Services (TRIO SSS) will host a virtual information session from 3-4 p.m. Nov. 18 for NEIU students. TRIO SSS programs are free academic and professional development programs for students who are income-eligible, first-generation, and/or who have disabilities. TRIO SSS members benefit from academic support and advising, TRIO scholarships, career planning, test preparation, and scholarship and financial aid guidance. Also, 93% of TRIO SSS members are in good academic standing, and 90% stick with TRIO SSS. Sign up for the information session and/or apply to TRIO SSS online. Questions can be directed to triosss@neiu.edu. 
"Water by the Spoonful"
The Department of Communication, Media and Theatre's (CMT) Stage Center Theatre (SCT) presents, by special arrangement with Dramatists Play Service, Inc., New York, "Water by the Spoonful" Nov. 11-13, 17-19, directed by Associate Professor Adam Goldstein. Penned by Quiara Alegría Hudes, the Pulitzer and Tony award-winning playwright and screenwriter of the film "In the Heights," "Water by the Spoonful" is the second in a trilogy of plays about Elliot, a Puerto Rican soldier from Philadelphia, as he returns to everyday life following his deployment to Iraq. The winner of the 2012 Pulitzer Prize for Drama, "Water by the Spoonful" paints an intimate portrait of both a family and the eclectic, yearning, members of an online addiction recovery community in an unflinchingly honest, beautiful, and touching look at the quest for redemption and connection as we live life day by day and spoonful by spoonful. Please view current COVID-19 protocols on the Stage Center Theatre webpage and reserve your tickets in advance. Only 45 people are allowed in the audience per performance and no same day walk-up tickets will be available. Questions about performances and COVID-19 procedures should be sent to both SCT Managing Director Sarah Fabian at sj-fabian@neiu.edu and SCT Artistic Director Adam Goldstein at a-goldstein@neiu.edu. 
Coming next week
View the NEIU events calendar for additional information on all upcoming events. 
COVID-19 update
During the week of Nov. 3, 2021, two students and one employee reported a positive COVID-19 test. One of the students was on campus. Since March 2020, a total of 66 employees and 316 students have self-reported to the University that they tested positive for COVID-19. Employees and students who feel sick should stay home. If you test positive for COVID-19, students should immediately notify Student Health Services, and employees should notify their supervisors and the Office of Human Resources. Additionally, faculty and staff are required to report positive and presumptive student COVID-19 cases and exposures to Student Health Services. When someone who has been on campus tests positive, Northeastern works with the Chicago Department of Public Health to determine the appropriate response, which differs greatly depending on the situation. We continue to follow Chicago Department of Public Health and CDC guidelines as we ensure proper protocols and preventative measures are in place for the health and safety of our students and employees. As of Nov. 10, 2021, 88% of currently enrolled students and 92% of active employees at Northeastern Illinois University are vaccinated against COVID-19. 
Vaccine clinics
Northeastern has partnered with the Illinois Department of Public Health to provide on-campus COVID-19 vaccine clinics through Dec. 9. The clinics are free and open to everyone age 12 and older for first or second doses of the COVID-19 vaccine. Those under 18 must be accompanied by a parent or guardian to be vaccinated. Pfizer, Moderna and Janssen (J&J) vaccines will be available. Boosters will be available to eligible recipients who completed their initial Pfizer series at least six months ago. Please bring your vaccination card. Advance sign-up is recommended.
Other COVID-19 updates
SHIELD Illinois COVID-19 testing is available for NEIU students, employees and community members on the Main Campus. Testing is also currently available for NEIU students and employees at the Jacob H. Carruthers Center for Inner City Studies and El Centro.
As part of Northeastern's Vaccine Incentive Program (VIP), all students and employees who have completed and submitted their COVID-19 attestation or exemption forms can stop by Village Square to pick up a free NEIU keychain and a $5 gift certificate to Fooda or Café Descartes from 2-4 p.m. Tuesdays-Thursdays through Nov. 23. Prizes can also be claimed at Student Health Services 8:30 a.m.-4:30 p.m. Monday through Friday. 
The winners of the VIP full tuition scholarship will be notified via Nmail on Monday, Nov. 15. Eligible students: Be sure to check your NEIU email to see if you've won! 
COVID-19 attestation or exemption forms and COVID-19 Vaccination Requirements for Students and COVID-19 Vaccination Requirements for Employees can be found on the University website.
Stay up-to-date on everything regarding COVID-19 updates by visiting the Return to Campus website. 
Follow Northeastern on Instagram, Facebook, YouTube and Twitter! Do you have a story tip? Let the Office of Public Relations know at public-relations@neiu.edu.