In this week's edition of Noteworthy at Northeastern, Professor Chielozona Eze discusses his new book, "Justice and Human Rights in the African Imagination: We, Too, Are Humans." Asian Pacific Islander Desi American (APIDA) Heritage Month and Stress-Free Zone activities continue throughout April. Plus, learn about forest bathing as a form of self-care and a great way to celebrate Arbor Day.  
Around the Commons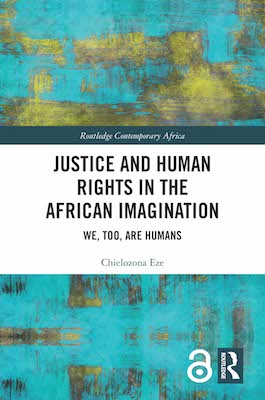 Professor Chielozona Eze publishes fifth book
Northeastern Illinois University Professor of English and African and African American Studies Chielozona Eze has published his fifth book, "Justice and Human Rights in the African Imagination: We, Too, Are Humans." The book, which was released April 15 and is available to read online, centers on the works of African writers, scholars, artists and activists and their pursuits for justice in various forms, namely environmental, social, intimate, and restorative. He particularly examines the idea of restorative justice as a core value of a functional democracy. Eze expressed that human dignity and a better appreciation of justice are central themes of the book, and themes that are of particular importance today. "Sadly, the incidents of police brutality against the Black body are living testimony that America is yet to accept the full humanity of the people of color, especially Black people," Eze said. "But we know that Martin Luther King Jr.'s notion of the Beloved Community is designed to achieve restorative justice in America. We keep working toward that community."
FALL 2021
On March 11,  President Gloria J. Gibson issued a statement regarding return to campus plans for Fall 2021. More information will be shared as plans are finalized. Students and employees are encouraged to continue to read the COVID-19 Task Force updates and monitor the Coronavirus Response webpage for the most up-to-date information.
And there's more!
The University has extended the Spring 2021 withdrawal deadline to 11:59 p.m. Saturday, May 8. 
Registration for Summer 2021 and Fall 2021 is now open. 
Online voting for the 2021-2022 Student Government Association Elections will be held through 4 p.m. April 1. Students are encouraged to read the candidate bios and cast their votes. 
To do
APIDA Heritage Month
The Angelina Pedroso Center for Diversity and Intercultural Affairs invites the University community to celebrate Asian Pacific Islander Desi American (APIDA) Heritage Month 2021 by participating in a series of virtual events. This week's events include:
To view the complete schedule and sign up for more events, visit the 2021 APIDA Heritage Month website.
Sexual Assault Awareness Month
Over the past 20 years, Sexual Assault Awareness Month has advanced awareness and prevention of sexual violence. This April, Northeastern's K(NO)W More project is promoting new efforts to offer support for survivors of sexual violence and students in distress, including the creation of a new online resource, the Red Folder. The goal of this resource is to help individuals recognize indicators of distress, respond appropriately and refer the student for assistance. The Red Folder has a directory of counseling and support resources available to students who are in distress, including a 24-hour emergency hotline.
Upcoming Events
In the Media 
Student Support Spotlight
Stress-Free Zone
Northeastern students and employees are invited to enjoy Stress-Free Zone activities from 3-4 p.m. every Tuesday in April via Zoom. El Centro, in collaboration with Student Health Services, Student Counseling Services, Campus Recreation and Student Leadership Development, will offer a variety of ways to relax as we come to the end of the semester. This week, participants explored Zumba. 
Upcoming workshops:
April 20: Chair Yoga
April 27: Self-Care Corner: Pause for Play
Students who attend will have a chance to win prizes at each session and can pick up a self-care package at a later date. 
Self Care: Forest Bathing
Spring into self-care by embracing the changing season by spending more time outdoors. Learn about forest bathing and more spring self-care ideas in the following articles recommended by Student Counseling Services: 
Student Counseling Services has also provided some tips for helping individuals manage anxiety and worry they may be feeling, and listed some important resources. Students are welcome to contact Student Counseling Services to set up an appointment to talk either by phone or their online platform for teletherapy. To access NEIU's Student Counseling Services, call (773) 442-4650 or send an email to counsect@neiu.edu between 9 a.m.-5 p.m. Monday through Friday. After hours, students may also reach a counselor for more urgent consultation by calling the main number and pressing "2" during the outgoing message.
More resources for students can be found on the Keep Learning website and the COVID-19 Student FAQ page. 
Follow Northeastern on Instagram, Facebook, YouTube and Twitter! Do you have a story tip? Let the Office of Public Relations know at public-relations@neiu.edu.
Top photo: Northeastern community members take a walk around campus in celebration of Arbor Day, Spring 2017.