Northeastern Illinois University Professor of English and African and African American Studies Chielozona Eze has published his fifth book, "Justice and Human Rights in the African Imagination: We, Too, Are Humans." 
The book, which was released April 15 and is available to read online, centers on the works of African writers, scholars, artists and activists and their pursuits for justice in various forms, namely environmental, social, intimate, and restorative. He particularly examines the idea of restorative justice as a core value of a functional democracy. 
"Restorative justice, as opposed to retributive justice, seeks to rehabilitate and reconcile perpetrators of crime with the community," Eze said. "It does not seek to punish the offenders; rather its goal is to make the offender realize his or her crime and recommit to being part of the community."
Eze expressed that human dignity and a better appreciation of justice are central themes of the book, and themes that are of particular importance today. 
"Sadly, the incidents of police brutality against the Black body are living testimony that America is yet to accept the full humanity of the people of color, especially Black people," Eze said. "But we know that Martin Luther King Jr.'s notion of the Beloved Community is designed to achieve restorative justice in America. We keep working toward that community."
Eze notes the book is well-suited to be used in courses on human rights, homophobia, albinism, and feminism around the globe, as his research argues that various forms of justice are interconnected and critical to a thriving society.
"My research has been driven by the centrality of ethics, which is broadly conceived as how we relate to one another," Eze said. "I am particularly interested in the quality of our relations to one another. For example, in most African countries people with alternative sexualities are seen as abnormal. In some cases, people are killed for being gay."
Eze is thankful to President Gloria J. Gibson and Northeastern's Board of Trustees for granting him a yearlong sabbatical, the first two months of which were used to complete this book. Eze has been teaching at Northeastern for 15 years and earned the 2020 Bernard J. Brommel Distinguished Research Professor award. 
"I have been doing research on justice and human rights in Africa for many years," Eze said. "I felt it was a moral duty to write about these issues to highlight society's responsibility to protect all lives." 
Eze is currently working on another book that traces the feminist influence of Zora Neale Hurston on major black women writers such as Toni Morrison, Alice Walker, Toni Cade Bambara, and Tracy K. Smith, among others. The book is tentatively titled, "The Radicalness of Desire: Zora Neale Hurston, Black Women, and the Pursuit of Happiness."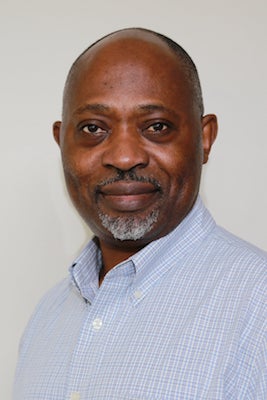 Chielozona Eze