Professor of English Chielozona Eze has been honored with Northeastern Illinois University's 2020 Bernard J. Brommel Distinguished Research Professor award.
The late Bernard J. Brommel, Professor Emeritus, established the award to be given annually to the tenured or tenure-track member of the Northeastern faculty who best demonstrates excellence in research and scholarship.
Eze's research interests include literature and ethics, globalization and cultures, and feminism in global contexts. He is the author of numerous journal articles and four books: "Race, Decolonization, and Global Citizenship in South Africa" (Rochester, New York: The University of Rochester Press, 2018); "Ethics and Human Rights in Anglophone African Women's Literature - Feminist Empathy" (2016); "Postcolonial Imagination and Moral Representations in African Literature and Culture" (2011); and "The Dilemma of Ethnic Identity: Alain Locke's Vision of Transcultural Societies" (2005). Eze also is the recipient of fellowship awards from the Stellenbosch Institute of Advanced Study (2015) and the Carnegie African Diaspora Fellowship Program (2016), and Extraordinary Professor, Stellenbosch University, South Africa (2019-2021).
Of this year's nominees, the committee selected three finalists after careful consideration of a bibliography of their works and nomination letters submitted by their colleagues.
The finalists were Drs. Chielozona Eze, English; Sangmin Bae, Political Science; and Jon Hageman, Anthropology.
The committee and a group of external peer reviewers evaluated the finalists' scholarly research and creative works. The committee then recommended Eze as this year's recipient of the award. 
As the Brommel Distinguished Research Professor, Dr. Eze will receive a cash award of $5,000. He will make a presentation about his research and creative activities to the NEIU community sometime in the future.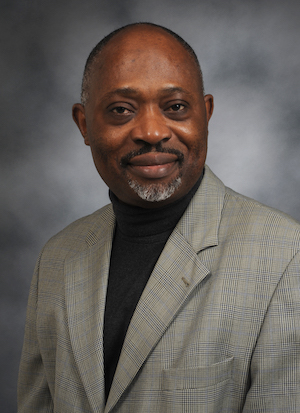 Chielozona Eze