The Northeastern Illinois University Foundation hosted its 49th annual Chuck Kane Scholarship Golf Event on Aug. 2 and it was a great success! If you missed it, you can check out the event photos and contribute to scholarship funds. Graduate student-at-large and undergraduate applications are open through Aug. 15, NEIU For You is also still taking applicants and this week's self-care tips focus on tech breaks. Read about all this and more in this week's Noteworthy at Northeastern.
Around the Commons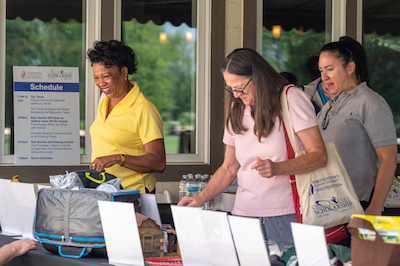 49th Annual Chuck Kane Scholarship Golf Event
The NEIU Foundation held the 49th annual Chuck Kane Scholarship Golf Event at Chevy Chase Country Club in Wheeling, Ill., on Monday, Aug. 2. Photos from the event can be viewed on Northeastern's Facebook page. Great summertime weather allowed golfers and participants to have a wonderful time on the green while raising more than $33,000 to support Northeastern student scholarships! Kane scholarships have provided support to more than 200 NEIU students in every college of the University. The event is named in honor of Northeastern's late athletic director Charles "Chuck" Kane. Scholarship contributions can still be made to the Northeastern Illinois University Foundation in support of this year's event. Next year marks the 50th anniversary of the Kane Scholarship Golf Event! If you're interested in helping plan this golden anniversary celebration, contact Sylvia Daniels, Director of Development, at s-daniels4@neiu.edu.   
Return to Campus
Northeastern Illinois University is preparing to have all students, faculty and staff return to campus for the Fall 2021 term, with the majority of classes being held in person! The University will continue to follow guidelines that meet or exceed the standards set forth by the Centers for Disease Control and Prevention and the City of Chicago. Northeastern has also adopted an Interim COVID-19 Return to Campus Policy. Everyone who is coming to campus this fall is encouraged to read the weekly COVID-19 Task Force update for information on how Facilities Management is sanitizing facilities, face covering requirements and COVID-19 vaccination and testing options. Anyone with questions about the interim return to campus policy is encouraged to reach out to the COVID-19 Task Force at coronavirus@neiu.edu.   
NEIU For You
If you haven't applied to NEIU yet, there's still time to do so and take advantage of NEIU For You, a one-time scholarship that covers tuition and mandatory fees for a full year for incoming first-year, full-time undergraduates! NEIU For You also covers the cost of three credit hours for new undergraduate transfer students who register for six credit hours or more for Fall 2021. All prospective students who apply to Northeastern and are admitted as first-year students will automatically qualify for this initiative so long as they meet the eligibility requirements. 
And there's more!
The application deadline for Fall 2021 for undergraduates and students-at-large has been extended to Aug. 15. 
Registration for Fall 2021 is currently open for all admitted students. 
Move-in day for The Nest is Thursday, Aug. 12 for international students and Thursday, Aug. 19 for domestic students.
To do
Next Steps for Admitted Transfer Students: Time to Enroll
Newly admitted NEIU transfer students are invited to attend a virtual session from 3-4 p.m. Aug. 12 to learn how to complete their registration, as well as learn about financial aid, NEIU resources and how to connect with their academic advisor. Sign up online. Questions can be directed to Associate Director of Transfer Enrollment Patricia Rodriguez at (773) 442-4139 or p-rodriguez@neiu.edu.  
In the media
Student support spotlight
self-Care: Tech breaks
While technology can be helpful in a lot of ways, it can also be stressful (and not just because it doesn't always work the way we'd like it to). Social media in particular can sometimes lead or add to depression or anxiety because the fear of missing out can set unrealistic expectations. So, before the fall semester starts and you feel the need to be online all the time, Student Counseling Services (SCS) invites you to take a mindful tech break. Here are two articles with resources to help you unplug: 
SCS has also provided some tips for helping individuals manage anxiety and worry they may be feeling, and listed some important resources. Students are welcome to contact SCS to set up an appointment to talk either by phone or their online platform for teletherapy. To access NEIU's SCS, call (773) 442-4650 or send an email to counsect@neiu.edu between 9 a.m.-5 p.m. Monday through Friday. After hours, students may also reach a counselor for more urgent consultation by calling the main number and pressing "2" during the outgoing message.
More resources for students can be found on the Keep Learning website and the COVID-19 Student FAQ page. General information about Northeastern's response to the pandemic and the latest University updates regarding COVID-19 can be found on the NEIU Coronavirus Response page. 
Follow Northeastern on Instagram, Facebook, YouTube and Twitter! Do you have a story tip? Let the Office of Public Relations know at public-relations@neiu.edu.