Though our Thanksgiving holiday may look and feel a little different, Northeastern Illinois University has much to be thankful for this year. This week, we're grateful to share news of an outstanding student who was named Northeastern's 2020 Lincoln Academy Student Laureate. The University also was awarded a $275,000 grant from the U.S. Department of Agriculture National Institute of Food and Agriculture. Also, don't forget to mark your calendar to join the NEIU Foundation on Dec. 1 to celebrate Giving Tuesday. Read these stories and more in this week's edition of Noteworthy at Northeastern.
Around the Commons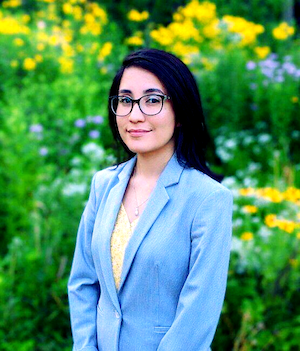 2020 Lincoln Academy Student Laureate
Northeastern has selected Computer Science major Obsmara Ulloa as its 2020 Lincoln Academy Student Laureate. Every fall semester, The Lincoln Academy of Illinois honors one graduating senior from each university in the state who demonstrates leadership and service contributions on campus and beyond, academic success, and extracurricular achievements. Ulloa is planning to graduate in May 2021. Whether she continues on to graduate school or begins to work in her field full-time, she knows she wants to use computer science to help others. "Wherever I go, I know I want to have a positive impact, support myself and support others," Ulloa said. "I owe it to the people who believe in me to be successful."
$275,000 grant for agricultural science
The U.S. Department of Agriculture National Institute of Food and Agriculture (USDA-NIFA) has awarded Northeastern a $275,000 grant to support its agriculture science engagement at Hispanic-Serving Institutions (HSI). Northeastern is one of 26 institutions in the United States—and the only institution in Illinois—to receive this grant. It is Northeastern's fourth USDA-NIFA grant and its fifth USDA grant overall.This grant will fund a new four-year research initiative, "A Bridge to USDA Research for H.S.I. STEM Undergraduates," through summer 2024. Associate Professor of Biology and Environmental Science Pamela Geddes will be the lead investigator with co-principal investigators Associate Professor of Earth Science Ken Voglesonger and Associate Professor and Department Chair of Chemistry Ken Nicholson.
Virtual Commencement
Northeastern will honor the May, August and December 2020 graduates with a series of six virtual Commencement ceremonies, providing a fun, innovative and safe platform to celebrate the achievements of the graduates. The ceremonies will launch concurrently at 2 p.m. on Sunday, Dec. 13. Graduates should pay close attention to their NEIU email accounts during the coming weeks for more information regarding the ceremony and what they need to submit in order to participate.
Undocumented Cookbook
Undocumented Student Resources, in collaboration with Undocumented, Resilient and Organized, continues to invite Northeastern immigrants of any generation and any status as well as allies to share cultural recipes and memories of what makes the dish special on a personal level. Selected recipes will be added to a digital "Undocumented Cookbook by NEIU Immigrants." The Undocumented Cookbook is a borrowed idea from the national immigrant advocacy organization United We Dream. Just like this organization, the idea is to celebrate immigrants through one of the things that brings people close together: food. Northeastern students, faculty and staff are all encouraged to submit recipes and memories. Questions can be directed to Luvia Moreno, lu-moreno@neiu.edu. 
And there's more!
The University will be closed Nov. 26-28 in observance of Thanksgiving.
Three of the deadlines to apply for Spring 2021 enrollment have been extended to Dec. 1. The new deadline applies to undergraduate, undergraduate student-at-large and graduate student-at-large. Graduate and International deadlines are not changing.
ChicagoCHEC Summer Research Fellows Rebekah Monroe (current student, Psychology), Magdalene Thebaud (B.S. '20 Social Work) and Mariama Bounds (of St. Xavier University) presented their research "Effects of Current Healthcare System to Accessing Pap Smears for Black Women in Chicago" at DePaul University's Health Equity and Social Justice Conference, which took place virtually on Nov. 6.
Associate Professor of Political Science William D. Adler published an article for NBC News about the 2020 presidential election and the future of the Republican party.
Northeastern's library is seeking student submissions for "Sheltering in Place: NEIU Archives COVID-19 Documentation Project." All current Northeastern students as well as alumni who were students during the Spring and Summer 2020 terms are encouraged to submit pieces to the archive.
Northeastern's student media organizations are currently recruiting students. Any students interested in participating can fill out the NEIU Student Media Interest Form or contact Student Media Coordinator Dennis Sagel at drsagel@neiu.edu for more information.
Ensemble Español continues to offer virtual dance classes for all levels and ages. The Ensemble is also offering several Flamenco master classes in November and December.
To Do
Giving Tuesday
Giving Tuesday is a global movement that inspires people to celebrate generosity. That's why the NEIU Foundation is asking you to join the University community on Dec. 1 to raise funds and perform acts of kindness. View the Giving Tuesday page to learn about ways you can get involved, participate in the Kindness Challenge and share your #NEIUBreakBarriers story!
Uplift Me NEIU
Undocumented Student Resources, in partnership with Undocumented, Resilient and Organized student club, has worked with undocumented students and allies to create a Uplift ME NEIU, a collaborative Spotify playlist to help the Northeastern community get through these stressful times. The playlist has a wide range of genres, but is full of feel-good tracks. Students and allies can continue to add songs to the playlist. Tracks can be in any language, any genre and do not have to be about immigration. They should, however, be uplifting and help spread the message that "you are not alone, you matter, and you belong." Questions can be directed to Luvia Moreno, lu-moreno@neiu.edu. 
Scavenger Hunt
Coming next week!
In the media
President Gloria J. Gibson was a featured speaker for the City Club of Chicago's virtual "COVID on Campus: How Higher Ed is Adapting" on Nov. 17, which was featured on WGN Radio.
Patch reported that Jorge Torres (B.S. '82 Business and Management, Computer Science) has been appointed as the new Building and Life Safety Director for the Village of Arlington Heights.
Associate Professor of Psychology Lisa Hollis-Sawyer was cited in the article "A Guide to Caring for an Aging Parent: Honoring Your Father & Mother" in the September/October 2020 issue of Vibrant Life magazine.
Student Support Spotlight
Virtual Study Halls
The NEIU Center of Health is hosting free Virtual Study Halls via Zoom from 3-5 p.m. each Tuesday and Thursday for all NEIU students. The sessions will utilize the Pomodoro Technique for time management, which breaks up work periods into intervals. These sessions will also allow students to "work together" even though they aren't in the same room or working on a project as a group. Knowing you will check in about your progress—and that support is there if you are stuck—can make a difference.
Study Spaces
For the Fall 2020 semester, the Student Union and Ronald Williams Library offer students study spaces by reservation only. These spaces provide access to Wi-Fi, computers and copiers/scanner/printers. A color copier/scanner/printer is available in the Ronald Williams Library only. Students may reserve a two-hour block for use of either the Student Union or Ronald Williams Library. Please note that there are limited spaces available in each building. The Ronald Williams Library continues to offer Grab & Go services for physical library items.
Student Counseling Services
Students are welcome to contact NEIU's Student Counseling Services to set up an appointment to talk either by phone or their online platform for teletherapy. To access NEIU's Student Counseling Services, call (773) 442-4650 or send an email to counsect@neiu.edu. The hours are 9 a.m.-5 p.m. Monday through Friday. After hours, students may also reach a counselor for more urgent consultation by calling the main number and pressing "2" during the outgoing message.
Follow Northeastern on Instagram, Facebook, YouTube and Twitter! Do you have a story tip? Let the Office of Public Relations know at public-relations@neiu.edu.