As we pause to reflect on the past year, Northeastern Illinois University has a lot to be thankful for. We're proud to have students and employees learning and working safely on campus. We're appreciative of all who have worked so hard throughout the COVID-19 pandemic to get us to this point. We're thankful for an optimistic outlook for the next generation of NEIU scholars, especially with the expansion of the NEIU For You scholarship. Read about this and more in the latest edition of Noteworthy at Northeastern. 
Around the Commons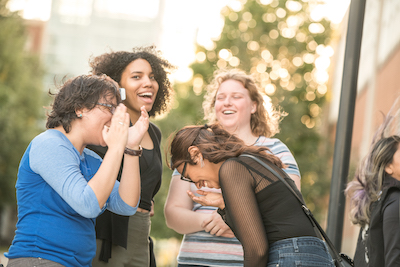 NEIU For You
Beginning in Fall 2022, Northeastern Illinois University will cover the cost of four years of tuition for eligible students through the NEIU For You scholarship. "As a university dedicated to serving those who are commonly underserved, we have a responsibility to ensure every student who wants a college degree has the opportunity to earn one," President Gloria J. Gibson said. NEIU For You launched in Spring 2021 and covered the cost of one year of tuition for first-year, full-time incoming freshmen. It is now expanding to support students financially through the first four years of a bachelor's degree. More than 300 new freshmen took advantage of NEIU For You in Fall 2021. One of those students, Ashley Garcia, said the scholarship is allowing her to pursue a degree in Computer Science. "With my tuition covered by the NEIU For You scholarship, I am focused on getting good grades, not working full-time to pay off student debt," Garcia said. "Success, to me, is having financial freedom. Northeastern is giving me all the resources I need to be able to succeed in college and beyond." 
Giving Tuesday
Giving Tuesday is a global movement to inspire giving to worthy causes. On Nov. 30, join the NEIU Foundation and support NEIU's Giving Tuesday Champions as they raise funds for scholarships and programs! Use the hashtags #Giving2NEIU and #NEIUBreakBarriers to amplify messages on social media platforms and, if you're able, donate to a scholarship or program to support the University and our students. Northeastern students benefit from 190 different NEIU Foundation scholarships. Donations of any amount are greatly appreciated.
And there's more!
The University will be closed on Nov. 25-26 in observance of Thanksgiving. In addition, no classes will take place on Saturday, Nov. 27.
Chicago Cancer Health Equity Collaborative (ChicagoCHEC) is accepting applications for the 2022 ChicagoCHEC Fellows program through Feb. 28. 
Show your Golden Eagle pride with a free NEIU lawn sign! Signs are available at the NEIU Welcome Desk on the Main Campus on a first come, first served basis. 
To do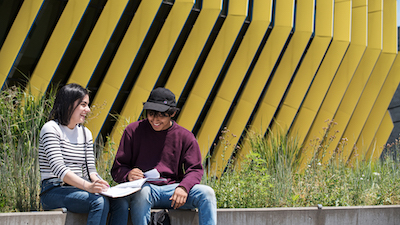 El Centro Open House
Northeastern's El Centro was founded to provide access and equitable education opportunities for the Latinx community. Over the years, it has evolved into a comprehensive academic center serving students from all walks of life. El Centro invites all current and prospective Northeastern students to attend their Open House from 5-7 p.m. Dec. 1. Representatives from El Centro, the College of Arts and Sciences, Goodwin College of Education, College of Business and Technology, and Financial Aid Office, as well as success programs and other important student support areas will be available. Please sign up to attend.
Native American and Indigenous Peoples Heritage Month
The Angelina Pedroso Center for Diversity and Intercultural Affairs has planned a series of events in celebration of Native American and Indigenous Peoples Heritage Month. Upcoming events include: 
For a complete list of events, please visit the Pedroso Center webpage. 
Coming next week
View the NEIU events calendar for additional information on all upcoming events. 
In the media
NEIU For You
Freshman Admissions Counselor Daniela Torres was interviewed by Univision Chicago discussing the NEIU For You scholarship and how students can apply to Northeastern. 
Alum making a difference in the lives of youth
Northeastern alumna Mary Santana (B.A. Interdisciplinary Studies '11) was on The Kelly Clarkson Show with "tick, tick… BOOM!" director Lin-Manuel Miranda discussing Santana's nonprofit organization, The Miracle Center, and the importance of arts education for youth. 
Also in the media
Former Chairman of the Northeastern Board of Trustees and alumnus Daniel L. Goodwin was featured in an article in the Daily Herald as a business, community and philanthropic leader. 
COVID-19 update
During the week of Nov. 17, 2021, four students and one employee reported a positive COVID-19 test. One of the students and the employee were on campus. Since March 2020, a total of 69 employees and 326 students have self-reported to the University that they tested positive for COVID-19. Employees and students who feel sick should stay home. If you test positive for COVID-19, students should immediately notify Student Health Services, and employees should notify their supervisors and the Office of Human Resources. Additionally, faculty and staff are required to report positive and presumptive student COVID-19 cases and exposures to Student Health Services. When someone who has been on campus tests positive, Northeastern works with the Chicago Department of Public Health to determine the appropriate response, which differs greatly depending on the situation. We continue to follow Chicago Department of Public Health and CDC guidelines as we ensure proper protocols and preventative measures are in place for the health and safety of our students and employees. As of Nov. 24, 2021, 89% of currently enrolled students and 97% of active employees at Northeastern Illinois University are vaccinated against COVID-19. 
Vaccine clinics
Northeastern has partnered with the Illinois Department of Public Health to provide on-campus COVID-19 vaccine clinics through Dec. 9. The clinics are free and open to everyone age 12 and older for first or second doses of the COVID-19 vaccine. Those under 18 must be accompanied by a parent or guardian to be vaccinated. Pfizer, Moderna and Janssen (J&J) vaccines will be available. Boosters will be available to eligible recipients who completed their initial Pfizer series at least six months ago. Please bring your vaccination card. Advance sign-up is recommended. The clinic will be closed over the Thanksgiving holiday.
Other COVID-19 updates
Stay up to date on everything regarding COVID-19 by visiting the Return to Campus website. 
Follow Northeastern on Instagram, Facebook, YouTube and Twitter! Do you have a story tip? Let the Office of Public Relations know at public-relations@neiu.edu.