It may be summer, but it's not too early to think about fall registration! Earlier this week Northeastern held a registration event on Main Campus for incoming freshmen. If you or someone you know is thinking about applying to NEIU, there's still time to do so and take advantage of NEIU For You, a one-time scholarship that covers tuition and mandatory fees for first-year, full-time undergraduates. Plus, Student Counseling Services has tips for journaling to relieve stress. Read about all this and more in this week's edition of Noteworthy at Northeastern! 
Around the Commons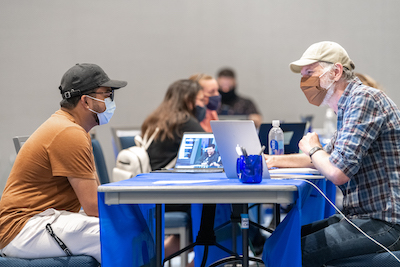 NEIU For You: Fall Registration
Northeastern staff members were on hand at Main Campus June 28 to help new Golden Eagles register for Fall 2021 classes. If you haven't applied to NEIU yet, there's still time to do so and take advantage of NEIU For You, a one-time scholarship that covers tuition and mandatory fees for a full year for incoming first-year, full-time undergraduates! NEIU For You also covers the cost of three credit hours for new undergraduate transfer students who register for six credit hours or more for Fall 2021. All prospective students who apply to Northeastern and are admitted as first-year students will automatically qualify for this initiative so long as they meet the eligibility requirements. Admitted students can plan to register for classes in person July 14 at El Centro and July 15 at the Carruthers Center for Inner City Studies. More information about these events will be shared soon! 
Return to Campus
Northeastern Illinois University is preparing to have all students, faculty and staff return to campus for the Fall 2021 term, with the majority of classes being held in person! The University will continue to follow guidelines that meet or exceed the standards set forth by the Centers for Disease Control and Prevention and the City of Chicago. Northeastern has also adopted an Interim COVID-19 Return to Campus Policy. Anyone with questions about this temporary policy is encouraged to reach out to the COVID-19 Task Force at coronavirus@neiu.edu.   
And there's more!
To do
Reimagine Aunt Jemima
Sherry Williams (B.A. '17 University Without Walls), founder of the Bronzeville Historical Society, collaborated with Bronzeville community members to create a website and exhibit at Chicago's Woodson Regional Library titled "ReIMAGINE Aunt Jemima." The exhibit, which explores the history of three Chicagoans who portrayed Aunt Jemima: Nancy Green, Edith Wilson and Lou Blanchard, runs through July 9.
Illinois Writing Project Summer Workshops
The Illinois Writing Project is offering its Basic 30-Hour Writing Workshop in a two-week, online format via Zoom. For a total of 20 hours online together, teachers will create a writing community by engaging in group discussions and interactive writing activities. An additional 10 hours will be spent working, writing and thinking offline, and participating in small group and one-on-one conferences. Participants will develop knowledge of how a writing workshop works, as well as strategies to implement in their classrooms. Sessions begin July 6. There is a fee of $300. Sign-up online. Questions can be sent to illinoiswritingproject@neiu.edu. 
NEIU Literacy Education Summer Professional Development Series
The Department of Literacy, Leadership, and Development will host a virtual professional development series on a number of topics in education beginning June 29. These workshops are open to the public with a fee of $25 per session or $75 for all four. CPDUs are awarded for each session. Read complete descriptions and sign up online. Questions can be directed to Jill Hallett at jm-hallett@neiu.edu. 
In the media
Professor of Urban Community Studies Lance Williams was interviewed by The Trace regarding Chicago's Violence Reduction Committee. 
Sherry Williams (B.A. '17 University Without Walls) was featured in Crain's Chicago Business for her efforts to save historic Black homes, including the former residences of Emmett Till and Muddy Waters. 
Student Support Spotlight
Self-Care: Journaling
Writing can be a useful tool to unwind your thoughts by helping to relieve stress and bring awareness to your day-to-day emotions and activities to allow for self-reflection. Student Counseling Services (SCS) recommends the following articles to learn more about the benefits of journaling:
SCS has also provided some tips for helping individuals manage anxiety and worry they may be feeling, and listed some important resources. Students are welcome to contact SCS to set up an appointment to talk either by phone or their online platform for teletherapy. To access NEIU's SCS, call (773) 442-4650 or send an email to counsect@neiu.edu between 9 a.m.-5 p.m. Monday through Friday. After hours, students may also reach a counselor for more urgent consultation by calling the main number and pressing "2" during the outgoing message.
Chicago Coalition for the Homeless Mutual Aid Fund
The Chicago Coalition for the Homeless Mutual Aid Fund opened July 1. The fund's goal is to provide one-time emergency grants of $500 to 200 individuals and families experiencing homelessness. Applications can be submitted online or by calling (312) 641-4148. The online application is available in Spanish, and Spanish-speaking phone operators can be reached at the above number. Please note that the fund will be accepting only 500 applications at this time. Once the application has closed, completed applications will be randomized via lottery and then reviewed by the Mutual Aid Fund Governance committee for eligibility. Applicants can expect to hear back within 30 days on the status of their application. Submission of an application is not a guarantee of funding.
More resources for students can be found on the Keep Learning website and the COVID-19 Student FAQ page. General information about Northeastern's response to the pandemic and the latest University updates regarding COVID-19 can be found on the NEIU Coronavirus Response page. 
Follow Northeastern on Instagram, Facebook, YouTube and Twitter! Do you have a story tip? Let the Office of Public Relations know at public-relations@neiu.edu.