Northeastern Illinois University will honor the life and legacy of Dr. Martin Luther King Jr. with a series of events next week, and in the coming months. Additionally, as Northeastern concludes its first Winter Session, Spring 2022 classes gear up to begin! If you're an admitted student, it's not too late to register for classes. Read about this and more in the latest edition of Noteworthy at Northeastern.  
Around the Commons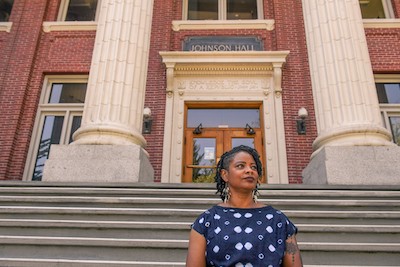 Remembering Dr. Martin Luther King Jr.
Northeastern Illinois University will remember Dr. Martin Luther King Jr. with a series of events. 
In 2021, Student Leadership Development organized a virtual Day of Service and Remembrance, sharing recordings of members of the University community reading culturally diverse children's books. These videos are available to watch as a way to honor Dr. King's vision of a beloved community. The Angelina Pedroso Center for Diversity and Intercultural Affairs will also be organizing "Racial Justice, Healing and Solidarity Work," a monthly series from February-April. More information will be provided about this series at a later date. 
Spring 2022
Northeastern Illinois University's Spring 2022 semester begins on Tuesday, Jan. 18. If you've already been admitted to NEIU, it's not too late to complete your registration if you haven't already done so! The University continues to make the health and safety of students, faculty and staff its top priority. Due to recent increases in COVID-19 cases, the spread of the omicron variant, and new guidelines from the Centers for Disease Control and Prevention (CDC) and Illinois Department of Public Health (IDPH), Northeastern is implementing new COVID-19 health and safety measures, which include a remote instruction and work period that is ongoing until Jan. 31, when students and employees are scheduled to return to campus. 
NEIU For You
Beginning in Fall 2022, Northeastern Illinois University will cover the cost of four years of tuition for eligible students through the NEIU For You scholarship. NEIU For You will also cover the cost of a three-credit hours class for eligible transfer students. Learn more and apply today!
And there's more!
The University will be closed on Monday, Jan. 17, in observance of the Dr. Martin Luther King Jr. Day holiday.
The NEIU P.E. Complex will be closed through Jan. 30.
Professor of Biology Emina A. Stojković co-authored "On the Role of the Conserved Histidine at the Chromophore Isomerization Site in Phytochromes," which was featured on the cover of Journal of Physical Chemistry, Vol. 125, Iss. 50. Four NEIU alumni are co-authors of the article: Melissa Carrillo (M.S. Biology '20), Juan Sanchez (M.S. Biology '19), Moraima Noda (B.S. Biology '20) and Denisse Feliz (B.S. Biology '17, M.S. Chemistry '21).
English Instructor Larry O. Dean has published a new book, "Muse, Um," which is available for pre-order through Finishing Line Press. 
The Genocide and Human Rights Research in Africa and the Diaspora (GHRAD) Center has extended its call for papers for its 2022 Conference to Jan. 15.
The NEIU community is invited to submit nominations for the 2022 Black Heritage Awards scheduled for 6-9 p.m. Friday, Feb. 25 in Alumni Hall. Nominations will be accepted until Monday, Jan. 24. 
In the Media
Professor of Anthropology Russell Zanca was interviewed by Radio Student of Ljubljan, Slovenia, on the topic of political upheaval and turmoil in Kazakhstan. 
COVID-19 update
From Jan. 5-12, six students and 12 employees reported positive COVID-19 tests. None of the students were on campus. Four of the employees were on campus. Since March 2020, a total of 116 employees and 367 students have self-reported to the University that they tested positive for COVID-19. Employees and students who feel sick should stay home. If you test positive for COVID-19, students should immediately notify Student Health Services, and employees should notify their supervisors and the Office of Human Resources. Additionally, faculty and staff are required to report positive and presumptive student COVID-19 cases and exposures to Student Health Services. When someone who has been on campus tests positive, Northeastern works with the Chicago Department of Public Health to determine the appropriate response, which differs greatly depending on the situation. We continue to follow Chicago Department of Public Health and Centers for Disease Control and Prevention (CDC) guidelines as we ensure proper protocols and preventative measures are in place for the health and safety of our students and employees. 
As of Jan. 12, 2022, 90% of currently enrolled students and 99% of active employees at Northeastern Illinois University are vaccinated against COVID-19. 
Other COVID-19 updates
Stay up to date on everything regarding COVID-19 by visiting the Return to Campus website. 
Follow Northeastern on Instagram, Facebook, YouTube and Twitter! Do you have a story tip? Let the Office of Public Relations know at public-relations@neiu.edu.