Jean Hemzacek, M.S. Senior Instructor of Earth Science. Project Coordinator.
Prof. Hemzacek always knew that the outdoors was the place for her: camping, hiking and exploring all facets of the natural world. Originally a biology major in college, she discovered a better fit, switching to geology and ultimately earning a Bachelor of Science and Master of Science in that discipline from Northern Illinois University. She worked in the mining industry for a number of years, evaluating mineral resources and developing products and applications, before pursuing studies toward a Ph.D. at Indiana University. That endeavor was interrupted, but the experience fed an interest in mentoring students to ensure they succeed, and also an interest in pursuing research questions that are relevant to real-world applications.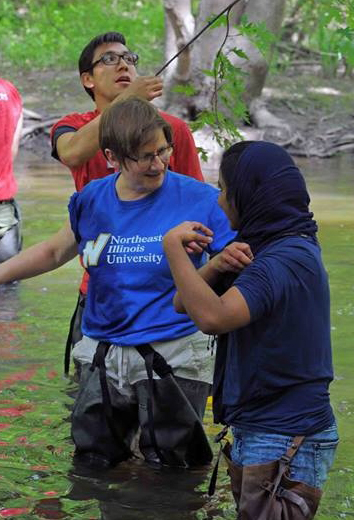 Prof. Hemzacek has mentored students, including first-year students, in summer research exploring questions related to water and soil quality. She teaches introductory Earth Science and First-Year Experience courses, with specific interests in Chicago-area aspects related to soil, the glacial history of the area, and the current environment of this region.
Prof. Hemzacek looks forward to getting to know the ACE students in her role of overseeing paperwork and financial aspects of the program.
---
Funded by National Science Foundation DUE Hispanic-Serving Institutions Program Award 1832421.