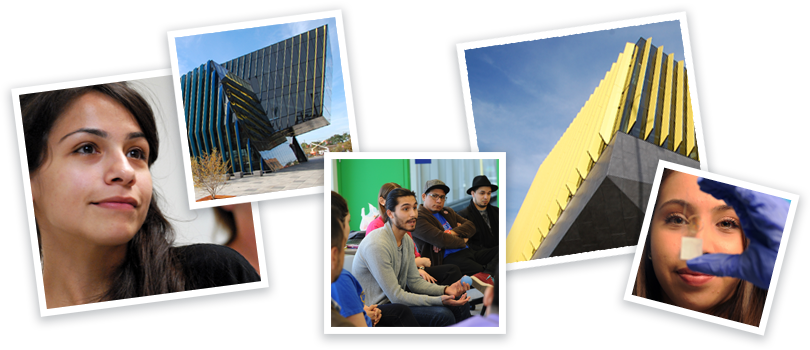 In 1973, 350 of Northeastern Illinois University's 8,000 enrolled students were of Hispanic or Latino descent, yet there was a palpable sense among many students and faculty members that not enough was being done to serve this emerging segment of the University's population.
Maximino Torres, a member of the faculty, emphatically stated that year that academic departments needed to "avail themselves of the Latin student."
"They can add more sections to the present courses at the introductory level, and those courses with no introductory courses should begin moving in this direction," Torres said. "Most of the Latin American students here are products of the Chicago Public School system. Their difficulties are not always ones of language, but of inadequate preparation and indifferent educational techniques."
By that time, the movement had quietly begun in a Humboldt Park storefront. Aqui Estoy (meaning "Here I Am") opened in March 1969 under the direction of Rosa Hernandez and with the help of the Union for Puerto Rican Students (UPRS) to serve as a field center with a focus on teaching English as a Second Language (ESL) to Puerto Rican students.
The center aided residents in the attainment of a GED, provided ESL programs for adults and taught basic business skills in order to encourage community interaction. After funding support ran out in 1972, the program went dormant for nearly a year until late in 1973. Aqui Estoy changed its name to become the Comunidad Latino Adelantando Sus Estudios Secundarios (CLASES) to promote academic and community development in Hispanic areas of the city. However, because of long-standing differences between the director and UPRS, CLASES never became operational.
In 1975, Northeastern established the El Centro de Recursos Educativos (Center for Educational Services)—El Centro for short—a community-based academic program for college credit in a satellite location in the West Town community. It served as a means of encouraging Hispanic high school graduates (or those holding a GED equivalent) to test the waters of a college education.
Northeastern appointed Jose A. Acevedo to direct and organize curriculum to provide a well-rounded, albeit introductory, learning experience intended for a maximum enrollment of 40 Latino students who had been recommended by various social service agencies and community centers. Enrollment was strictly word of mouth.
Northeastern's long-range mission to become a multi-ethnic, multi-national institution took root in those pivotal "activist" years of the mid to late 1970s. El Centro expanded its resources and moved to a new location in the Little Village neighborhood in 1991. Three major construction projects adding additional space were carried out between 1996 and 2004. By the fall of 2009, El Centro enrolled more than 1,000 students.
El Centro marked its 40th anniversary of service to the Northeastern community during the 2009-10 academic year, adding computer labs, classrooms and a resource center for the community as part of a major millennial renovation.
In 2014, El Centro added new undergraduate classes leading to bachelor's degrees in Justice Studies, Special Education, Social Work and Computer Science—all attainable completely at El Centro.
 
A bright new era in El Centro's history dawned that same year, when the new Juan Moreno-designed building opened in Avondale with a celebration attended by U.S. Sen. Dick Durbin, Congressman Luis Gutiérrez, Chicago Mayor Rahm Emanuel, State Sen. Iris Martinez and Alderman Rey Colón. The beautiful new building facing the Kennedy Expressway underscores the important and enduring mission of El Centro—to provide educational opportunity for Chicago's diverse mix of cultures, coming together in an academic setting that serves as an affirming educational bridge to the promise of the future.