In the midst of uncertainty, the Northeastern Illinois University community is doing remarkable work. Meet a student who landed a journalism internship and learn more about new initiatives that have been created to support students, faculty and staff in this edition of Noteworthy at Northeastern.
Around the Commons
Beyond borders
If Diane Bou Khalil could aspire to be like anyone, she'd choose British-Iranian journalist Christiane Amanpour. With Bou Khalil's passion for journalism, international background and education from Northeastern Illinois University, she's on her way to walking in her favorite reporter's footsteps. Bou Khalil was born in Chicago but spent most of her life in Lebanon. She's the eldest of three and was determined to attend college in the United States. Not only is she currently enrolled in four journalism courses, but Bou Khalil also became the first intern for Borderless Magazine, a nonprofit publication co-founded by Northeastern Instructor Nissa Rhee (pictured above with Bou Khalil). "The people who work at Borderless are very encouraging," Bou Khalil said. "The stories they tell are not stories you'd see in mainstream media. It's very different." Borderless aims to present alternate narratives to immigrant stories in mainstream media. For example, the magazine's coverage of COVID-19 includes highlighting six immigrant organizations that need assistance during the outbreak.  
Climate and culture survey
As part of its efforts to embrace a culture of inclusion, Northeastern is evaluating its living, learning and working environment with a climate and culture survey that runs through April 27. (See the breakdown of participation on the NEIyou site.) When the survey closes, the resulting assessment will allow NEIU to improve its campus climate by addressing the challenges and seizing the opportunities identified in the assessment. All students and employees are encouraged to take the anonymous survey and then enter an awards drawing.
Keep Learning
Northeastern has launched the Keep Learning website to support students in the University's move to remote learning for the remainder of the spring semester. The site features guidance to help students successfully complete the term, including a list of learning support services and other programs to assist students throughout this challenging time. The University wants all students to know that our staff and faculty remain committed to supporting our students and providing them with the best learning experience possible. Please visit the University's Coronavirus Response website for the Northeastern's latest updates regarding COVID-19.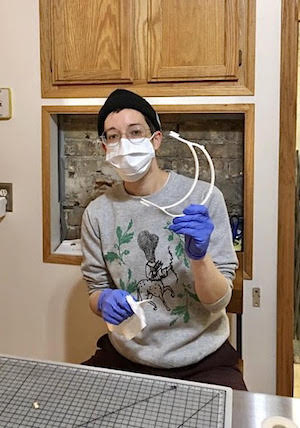 3-D printing for area hospitals
The Northeastern community has created more than 140 face shields for area medical personnel using the Art Department's 3-D printers. Art faculty members KT Duffy, Nate Mathews and Ali Seradge were joined in this effort by former NEIU Art Instructor Juan Fernandez. Earth Science Professor Laura Sanders alerted Director of Career Development Kris Pierre to the need for face shields. Pierre was able to contact Jenise Celestin, Director of Community Relations at Swedish Covenant Hospital, for the face shield specifications and Art Department Chair Kim Ambriz helped coordinate the effort. "Certainly the city faces substantial challenges in taking care of people during this pandemic," College of Arts and Sciences Acting Associate Dean Tim Libretti said. "Equipping our hospital workers properly amid equipment shortages is one of these challenges. As a College of Arts and Sciences at a regional comprehensive university, we are committed to serving the needs of this corner of our world." Those who have access to 3-D printers can find the template for the shields on the 3D Printed Face Shields for Swedish Facebook group. Those with sewing skills are also encouraged to make face masks to donate to local hospitals and emergency personnel.
Black Student Professional Member Fees Initiative 
The Black Student Success Committee has created the Black Student Professional Member Fees Initiative, which will accept applications now through Friday, April 24, or until the funds are exhausted. The goal of this initiative is to help Black-identified NEIU students receive funding to cover a year-long professional membership fee to a professional organization that supports Black-identified people. If a student is interested in applying to receive funding through this initiative, they must schedule a virtual appointment with Tim Mays at t-mays2@neiu.edu. Contributions to this initiative can also be made by contacting Mays. 
Midwest Ecology and Evolution Conference
Five students in Northeastern's Biology program presented their research at the Midwest Ecology and Evolution Conference, which took place at Western Illinois University from Feb. 28 through March 1. Cassie Ceballos (Biology master's student) presented a project conducted in coordination with the Field Museum of Natural History to characterize freshwater sponge specimens from their collection. Undergraduates Sara Crow (Biology major) examined rare microbes living on turtle shells and Bri Sochacki (Environmental Science major) quantified planktonic food sources for the sport fishery in Cook County's Busse Lake. Fellow undergraduate Biology major students Gina Tran and Terrie Barrios (pictured above) co-presented a collaborative project with the Metropolitan Water Reclamation District of Greater Chicago to investigate the use of algae to clean wastewater. The students conducted their research under the direction of Professor Jennifer Slate and were among presenters from nearly 40 institutions at the conference. 
And there's more!
In the media
Supporting small businesses
As deputy treasurer and chief investment officer at the Illinois State Treasury, Northeastern alumnus Rodrigo Garcia (B.S. '07 Finance) is playing a major role in the state's support of small businesses in response to the COVID-19 crisis. "The institutions have requested close to $100 million already," he told Negocios Now. "We've already had money going out the door since last Thursday, and it will continue to go out on an ongoing basis as soon as we get requests and as soon as we get documentation."
Also in the media …
Northeastern alumnus and retired Chicago Police Department commander of the 19th District Marc Buslik (B.A. '88 Board of Governors) was quoted in a recent A&E story regarding the 2008 Lane Bryant tragedy.  
Student Support Spotlight

Student Pantry
Northeastern's Alumni Association hosted a drive-through food drop-off on April 2 to support the University's Student Pantry. The pantry has altered its delivery of services due to COVID-19. Students will now be able to order food online. Hours of operation will remain 1-4 p.m. on Mondays and Thursdays. However, Nest residents will have their food delivered to the lobby of The Nest and commuter students will pick up their order in Parking Lot F.  Orders will be packaged in plastic bags labeled with the students' name and will be made available on Mondays and Thursdays only. Students may provide suggestions for food items generally not offered and the Student Pantry will do its best to accommodate those needs. A food donation bin has been placed at the University police station to collect needed items as other drop-off locations are now closed. Anyone wishing to make monetary contributions are encouraged to do so through the Student Emergency Fund. Student Pantry questions may be directed to Christopher Maxwell at c-maxwell2@neiu.edu.
Follow Northeastern on Instagram, Facebook, YouTube and Twitter! Do you have a story tip? Let the Office of Public Relations know at public-relations@neiu.edu.