Northeastern Illinois University's College of Business and Management is now the College of Business and Technology! Plus, NEIU For You is still accepting applications, El Centro's murals get some cleanup and Ensemble Español Spanish Dance Theater's Zafiro Flamenco Festival is next week. Plus, learn about revamping your self-care routine for the summer and more in this week's edition of Noteworthy at Northeastern.
Around the Commons
College of Business and Management becomes College of Business and Technology
Northeastern Illinois University's College of Business and Management has changed its name to the College of Business and Technology (CBT) effective June 11, 2021. The name change reflects the Computer Science Department's move from the College of Arts and Sciences to the College of Business and Management in December 2020. 
NEIU For You
Northeastern Illinois University's NEIU For You one-time scholarship that covers tuition and mandatory fees for a full year for incoming first-year, full-time undergraduates was recently featured in the Chicago Tribune. "This initiative is designed to help open the door a bit wider, which can make all the difference for first-generation students and other students and families working to make ends meet," said Vice President for Student Affairs Terry Mena. The scholarship initiative will also cover the cost of a three credit hour course for all new undergraduate transfer students who register for six credit hours or more for Fall 2021. All prospective students who apply to Northeastern and are admitted as first-year students will automatically qualify for this initiative so long as they meet the eligibility requirements.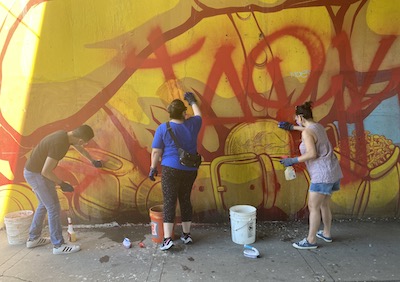 Mural cleanup
Members of the Northeastern community, as well as volunteers from the Avondale Neighborhood Association and Alderman Carlos Ramirez-Rosa's office participated in helping to clean up the Northeastern murals near El Centro on Saturday, June 5. The mural cleanup is an ongoing effort. The murals were painted in 2015 in collaboration with the National Museum of Mexican Art and the Puerto Rican Arts Alliance. They were designed by Chicago artist Nick Goettling to celebrate the opening of the University's El Centro location. 
And there's more!
Registration is open for Second Half Summer and Fall 2021. 
The Ronald Williams Library will be closed on June 12-13. 
To do
Virtual Information Session: TRIO Student Support Services
Northeastern students are invited to join TRIO Student Support Services for a virtual information session at 3 p.m. June 17. TRIO SSS programs are free academic and professional development programs for students who are income-eligible, first-generation, and/or who have disabilities. TRIO SSS members benefit from academic support and advising, TRIO scholarships, career planning, test preparation, and scholarship and financial aid guidance. Also, 93% of TRIO SSS members are in good academic standing, and 90% stick with TRIO SSS. Sign-up is required. Students can apply to TRIO SSS online without attending a session. Questions can be directed to TRIO Student Support Services at triosss@neiu.edu.
Next Steps for Admitted Transfer Students: Time to Enroll
All NEIU admitted transfer students are invited to join the Transfer Center at 3 p.m. June 17 for a one-hour virtual event. During this event, students will learn how to complete their intent to enroll, schedule appointments with a major advisor, contact Financial Aid, and activate and navigate NEIUport, the student portal. Sign-up is required. Questions can be directed to Associate Director of Transfer Enrollment Patricia Rodriguez at (773) 442-4139 or p-rodriguez@neiu.edu.
Ensemble Español Spanish Dance Theater's Zafiro Flamenco Festival
Ensemble Español Spanish Dance Company, in residence at Northeastern Illinois University, presents Zafiro Flamenco Festival June 18-20 at the North Shore Center for the Performing Arts in Skokie. The festival features live outdoor performances and activities with dancers from the Company, Ensemble Español Youth Company, and guest artists, including Grammy Award-winning Flamenco dancer Nino de los Reyes. See complete event schedule and purchase tickets online.
In the media
Professor of Urban Community Studies Lance Williams was interviewed by CBS News regarding ways to reduce gun violence in light of National Gun Violence Awareness Day, which was June 4. 
Also in the media
Ensemble Español Spanish Dance Theater's Zafiro Flamenco Festival was featured on See Chicago Dance. 
Professor Emeritus of Economics Ed Stuart was a featured speaker for ASCM Chicago Chapter's Economic Update Series on June 10, discussing activities in the supply chain that will impact the future of the U.S. economy. 
Student Support Spotlight
Self-Care: Summer Self-Care
As Illinois begins to open back up, it is important to update self-care routines to incorporate  summertime activities, including getting out into nature and the outdoors, when possible. Student Counseling Services recommends the following articles to give you some ideas for summertime self-care:
SCS has also provided some tips for helping individuals manage anxiety and worry they may be feeling, and listed some important resources. Students are welcome to contact SCS to set up an appointment to talk either by phone or their online platform for teletherapy. To access NEIU's SCS, call (773) 442-4650 or send an email to counsect@neiu.edu between 9 a.m.-5 p.m. Monday through Friday. After hours, students may also reach a counselor for more urgent consultation by calling the main number and pressing "2" during the outgoing message.
More resources for students can be found on the Keep Learning website and the COVID-19 Student FAQ page. General information about Northeastern's response to the pandemic and the latest University updates regarding COVID-19 can be found on the NEIU Coronavirus Response page. 
Follow Northeastern on Instagram, Facebook, YouTube and Twitter! Do you have a story tip? Let the Office of Public Relations know at public-relations@neiu.edu.