Northeastern Illinois University's beautiful Main Campus is located on 67 acres of land, which includes a swamp oak savanna, established to preserve native Illinois plants, trees and grasses. Join NEIU in its Arbor Day activity, read about some of our distinguished teachers and check out all our upcoming events in this week's Noteworthy at Northeastern. 
Around the Commons
Excellent Educators
The Audrey Reynolds Distinguished Teaching Award is given annually to a tenured member of the Northeastern faculty who best demonstrates distinguished teaching. The 2022 recipient of the award is Co-Associate Chair and Professor of Biology Pam Geddes. "I strongly believe in the importance and transformative power of mentoring," Geddes said. "As a first-generation, immigrant student myself, I experienced the support, mentoring and encouragement of many people along the way and I would not be where I am today without their support. I hope I can be one of those teachers that can make a difference in students' lives." Geddes will be formally presented with the award at the next Faculty Institute and will make a presentation regarding excellence in teaching in Fall 2022. The 2019 Audrey Reynolds Distinguished Teaching Award Lecture will be presented by Sarah Cordell at 3:30 p.m. April 28.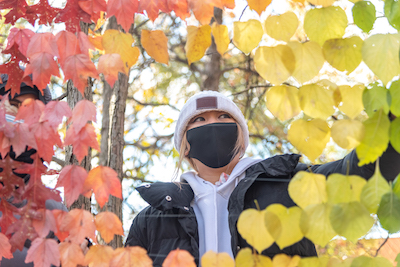 Leaves of Change
For the past six years, Northeastern Illinois University has been recognized as a Tree Campus by the Arbor Day Foundation, a nonprofit conservation and education organization with more than a million members, donors and partners dedicated to making the world greener and healthier. As part of this designation, students in Conservation Psychology design an Arbor Day activity. This year, as Northeastern prepares to commemorate National Arbor Day on April 29, the class is inviting the University community to participate in an event called "Wishing on the Leaves of Change" on April 28 from 12:15-1:30 p.m. "It's really up to all of us to ensure we do what we can to protect the beauty of our campus and cherish it," Associate Professor of Geography & Environmental Studies Melinda Storie said. "Connecting with nature provides us with the opportunity to reflect and explore its healing power, which is something many of us need right now."
Geography & Environmental Studies Virtual Graduate Open House
If you've ever wondered where a career in Geography & Environmental Studies can take you, consider participating in the department's Graduate Open House from 5:30-7 p.m. April 28 via Zoom. Learn more about the Master of Arts in Geography & Environmental Studies and the Graduate Certificate in Geographic Information Science. 
And there's more!
Vice President for Finance and Administration Manish Kumar was selected to participate in the 2022 Association of Governing Boards of Universities and Colleges (ABG) Institute for Leadership and Governance in Higher Education. The six-month program is designed for individuals who aspire to presidencies at four-year public research universities and regional comprehensive institutions. Twenty-five participants from institutions around the country will begin their experience with an in-person symposium in Washington, D.C. in September.
Applying to NEIU? Use code ALUMREF (all caps) to receive a $30 application fee waiver!
Registration for Summer and Fall 2022 classes is now open. Current and admitted students interested in taking summer classes are encouraged to talk to their academic advisor or contact the Registration Office at registration@neiu.edu or (773) 442-4040, or by visiting Enrollment Services in Room D 101.
Please note: NEIU has an COVID-19 Interim Policy in place, which requires masks to be worn on campus. 
To do

#ProudToBeNEIU Day
Who's got that Golden Eagle spirit? We do! On Thursday, April 28 get dressed up in your favorite blue and gold fashions and hit the virtual runway with #ProudToBeNEIU on social media! Got a great memory of your time at Northeastern that you want to share? We want to hear it! Want to raise funds for an NEIU department, scholarship or program? Plan now to make your donations! There will also be a Golden Eagle Scavenger Hunt, Trivia Night, and of course, an opportunity to pick up some NEIU swag. This is a day made to make you cheer "Who's got spirit? N-E-I and U!" 
Meet the Media: Que Ondee Sola - The First 50 Years
Did you know Northeastern is home to the oldest Puerto Rican and Latinx student publication in the U.S.? Que Ondee Sola's mission is simple, yet powerful: to share relevant and engaging stories that focus on Puerto Rican and Latinx people and their homelands. On April 28, join Northeastern's Student Media Board for Meet the Media, featuring a discussion with Que Ondee Sola co-founder Carlos Torre, readings from SEEDS Literary Journal, the Independent and Que Ondee Sola with WZRD setting the soundtrack. This is a great opportunity to network with other students and learn about the platforms available for student creativity and expression.
Coming next week
COVID-19 update
From April 13-20, 2022, seven students and four employees reported positive COVID-19 tests. Two employees and three students were on campus. Since March 2020, a total of 151 employees and 436 students have self-reported to the University that they tested positive for COVID-19. Employees and students who feel sick should stay home. If you test positive for COVID-19, students should immediately notify Student Health Services, and employees should notify their supervisors and the Office of Human Resources. Additionally, faculty and staff are required to report positive and presumptive student COVID-19 cases and exposures to Student Health Services. When someone who has been on campus tests positive, Northeastern works with the Chicago Department of Public Health to determine the appropriate response, which differs greatly depending on the situation. We continue to follow Chicago Department of Public Health and Centers for Disease Control and Prevention (CDC) guidelines as we ensure proper protocols and preventative measures are in place for the health and safety of our students and employees. 
As of April 4, Student Health Services verified the following COVID-19 vaccination rates for Spring 2022: 
95% of NEIU employees are vaccinated; 78% of employees have received boosters
90% of students are vaccinated; 31% of students have received boosters
It is expected that all students and employees will show proof of COVID-19 vaccination or testing in compliance with the current NEIU COVID-19 vaccination policy. Noncompliance may result in disciplinary actions.
Other COVID-19 updates
Campus vaccination clinics have closed. Please review the Guidance for Coronavirus Vaccinations page to find vaccination sites. 
SHIELD Illinois COVID-19 testing remains open and available for NEIU community members and the general public.
Face masks are still required in all indoor public spaces at all NEIU locations. 
Northeastern has free surgical, KN95 and/or N95 masks available for students and employees. Masks have been distributed to offices and classrooms and are also available at the Welcome Desk at the Main Campus, the Jacob H. Carruthers Center for Inner City Studies and El Centro. 
The NEIU COVID-19 Interim Policy will remain in effect through the Spring 2022 semester.
The federal government is offering free at-home COVID-19 tests through the U.S. Postal Service. 
Stay up to date on everything regarding COVID-19 by visiting the Return to Campus website. 
Follow Northeastern on Instagram, Facebook, YouTube and Twitter! Do you have a story tip? Let the Office of Public Relations know at public-relations@neiu.edu.