This week, Northeastern Illinois University President Gloria J. Gibson released a video to reiterate her excitement that in-person classes will resume at Northeastern in some capacity for the Fall 2021 term. Plus, Associate Professor of History and Principal of the Mossadegh Initiative Mateo Farzaneh released his second book. With the Angelina Pedroso Center for Diversity and Intercultural Affairs kicking off the celebration of Asian Pacific Islander Desi American (APIDA) Heritage Month and TRIO Student Support Services hosting Leading and Learning Week, there are lots of virtual events to take part in! Read about all this and more in this week's edition of Noteworthy at Northeastern.
Around the Commons
FALL 2021
On March 11,  President Gloria J. Gibson issued a statement regarding return to campus plans for Fall 2021. This week, President Gibson released a video restating her message. "I am very pleased to announce we plan to resume in-person classroom instruction when NEIU's fall semester begins on Aug. 23," Gibson said. More information will be shared as plans are finalized.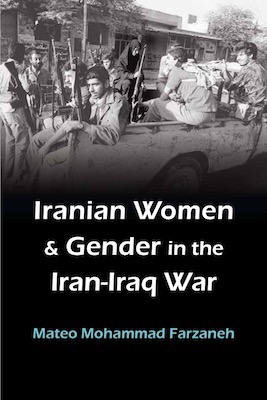 ASSOCIATE PROFESSOR RELEASES NEW BOOK
Associate Professor of History and Principal of the Mossadegh Initiative Mateo Farzaneh released his second book, "Iranian Women and Gender in the Iran-Iraq War" (Syracuse University Press). "I knew that many women took part in the war as volunteers in various capacities," Farzaneh said. "From doctors, surgeons and nurses, to women who sent their men to war, to those who donated their material life possessions, I felt they were all war participants and thus must be studied from that angle, which is what I've done in this book." 
Noteworthy Survey
In an effort to ensure the University community is able to stay up-to-date with information and events taking place at NEIU, the Division of Marketing and Communications would like you to take a brief survey about Noteworthy at Northeastern. We are particularly interested in learning when you are more likely to read these updates. Your feedback is greatly appreciated.
And there's more!
The University has extended the Spring 2021 withdrawal deadline to 11:59 p.m. Saturday, May 8. 
Advance registration for Summer 2021 is now open. 
The Fall 2021 schedule of classes is now available online. Fall 2021 registration will begin Monday, April 5.
The NEIU Libraries 8th Annual Awards for Excellence in Research submissions are open until 11:59 p.m. April 11.
The Student Government Association is seeking Senators and Council of Clubs Representatives. Students interested in these positions should complete the SGA Interest Form.
NEIU Libraries is seeking student submissions for "Sheltering in Place: NEIU Archives COVID-19 Documentation Project." All current Northeastern students as well as alumni who were students during the Spring 2020 and Summer 2020 terms are encouraged to submit pieces to the archive. 
Northeastern's student media organizations are currently recruiting students. Any students interested in participating can fill out the NEIU Student Media Interest Form. Additionally, the Northeastern Programming Board and Student Government Association are hiring student workers. Students interested in any of these opportunities can contact Student Media Coordinator Dennis Sagel at drsagel@neiu.edu for more information.
To do
APIDA Heritage Month
The Angelina Pedroso Center for Diversity and Intercultural Affairs invites the University community to celebrate Asian Pacific Islander Desi American (APIDA) Heritage Month 2021 by participating in a series of virtual events. 
Next week's events include: 
To view the complete schedule and sign up for more events, visit the 2021 APIDA Heritage Month website.
Sexual Assault Awareness Month
Over the past 20 years, Sexual Assault Awareness Month has advanced awareness and prevention of sexual violence. This April, Northeastern's K(NO)W More project is promoting new efforts to offer support for survivors of sexual violence and students in distress, including the creation of a new online resource, the Red Folder.  The goal of this resource is to help individuals recognize indicators of distress, respond appropriately and refer the student for assistance. The Red Folder has a directory of counseling and support resources available to students who are in distress, including a 24-hour emergency hotline.
TRIO Student Support Services Leading and Learning Week
TRIO Student Support Services (TRIO SSS) is hosting a virtual Leading and Learning Week from April 5-9. This five-day program is an opportunity for Northeastern students, staff, faculty and community members to share knowledge that impacts success in higher education. This spring's theme is "Thriving in a world that is continuously changing." Advance sign up is recommended as space is limited. For more information and to sign up to participate, please visit the Leading and Learning Week website. 
Upcoming Events
In the Media 
President Gloria J. Gibson was quoted in an article by WJOL regarding Northeastern and other Illinois public universities becoming part of the Common App beginning in Fall 2021. 
Vice President Emeritus Melvin C. Terrell and his mentees discussed the role of mentorship in an article for Diverse: Issues in Higher Education. Director of Scholarships Michelle Morrow was also cited in the article.   
Student Support Spotlight
Student Counseling Services
The great thing about self-care is that it can be tailored to your likings and it can be a wide range of things from stretching to caring for plants. There is a self-care routine for everyone. Need help getting started? Student Counseling Services recommends the following lists of cool ways to kick start or add to your self-care routine:
Student Counseling Services has provided some tips for helping individuals manage anxiety and worry they may be feeling, and listed some important resources. Students are welcome to contact Student Counseling Services to set up an appointment to talk either by phone or their online platform for teletherapy. To access NEIU's Student Counseling Services, call (773) 442-4650 or send an email to counsect@neiu.edu between 9 a.m.-5 p.m. Monday through Friday. After hours, students may also reach a counselor for more urgent consultation by calling the main number and pressing "2" during the outgoing message.
Student Food Pantry
The Student Food Pantry has a new partnership with the Greater Chicago Food Depository and will now be able to offer fresh fruits and vegetables in addition to canned and other non-perishable items. Due to COVID-19 regulations, the Student Food Pantry will continue its online ordering service through a new system and steps to complete orders are available on the Student Pantry website. Hours of operation are 1-4 p.m. Monday and Thursday. For questions, please contact Chris Maxwell at c-maxwell2@neiu.edu.
Follow Northeastern on Instagram, Facebook, YouTube and Twitter! Do you have a story tip? Let the Office of Public Relations know at public-relations@neiu.edu.