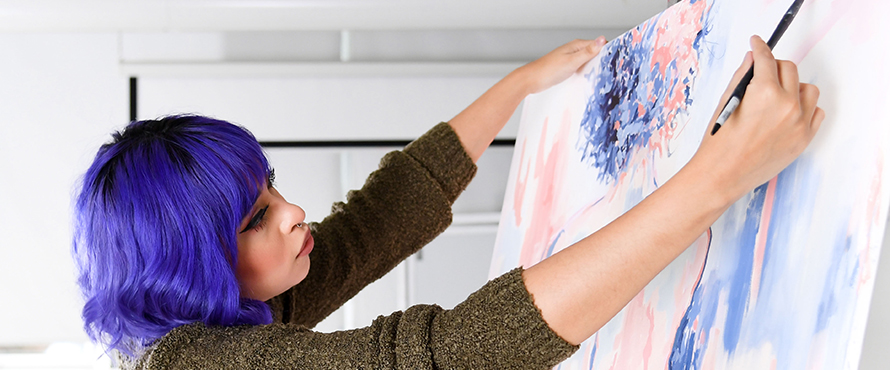 Northeastern's Art + Design Department programs work to provide and promote a knowledge and understanding of the visual arts. In order to keep and grow our mission, we are launching a giving campaign focused on supporting our students while they pursue careers in studio art, art history and graphic design. Our department's studio spaces accommodate the full range of art courses offered at Northeastern: sculpture, printmaking, interactive arts, photography, painting, letterpress, digital fabrication, drawing, ceramics and graphic design.
Thank you for your support!
To make a donation, please indicate in the dropdown which fund your donation should be allocated:
Art + Design Department Unrestricted
Your donation supports the Art + Design Department in a powerful way through an unrestricted contribution, which allows the Art + Design Department to respond to needs and opportunities as they arise throughout the year.
Harry and Bea Rotman Gallery Fund
The Harry and Bea Rotman Gallery fund allows for annual support and enhancement of the Art Gallery in the Fine Arts Center at Northeastern via income generated from this endowment, including support for exhibits and programming in the space.
Fritzman-Hallberg Art Award
The Fritzman-Hallberg Award is a monetary award granted to one Art or Design major with senior standing at Northeastern, and who is enrolled full- or part-time during the year of the award. The recipient will be an accomplished Art or Design major who has met GPA and other academic requirements while demonstrating leadership within the Art + Design Department. This award is by faculty nomination only.
*To make a donation in support of MakeSpace Fellowship or Visiting Artist Program, select "Other" and type in the designation in the "Comments" section.
MakeSpace Fellowship
The MakeSpace Fellowship is an annually funded award opportunity for declared B.A. in Art or B.F.A. in Graphic Design majors who show a dedication to the area of Art and Technology and/or declared Interaction Design minors. The fellowship will support the awardee(s) with a $500 stipend for the completion of a self-guided project created with Art and Technology resources. This fellowship will give students experience in leadership while fostering their artistic practice outside of the classroom.
Visiting Artist Program
The Visiting Artist Program invites emerging to mid-career Chicago-based artists into the Art + Design Department for one-week residencies. During this week artists have access to all Art + Design Department facilities to conduct their personal work, facilitate a workshop with a corresponding Art + Design Department course, and present an open-to-the-public lecture of their work. The NEIU Art + Design Department Visiting Artist Program strives to create visible connections between or diverse population of art and design students with working artists who embody these identities.