From the Coordinator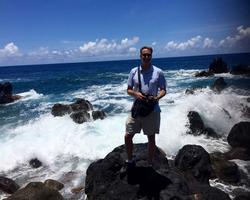 "Why take Honors? Isn't it harder? Or more work? Will it wreck my GPA?"
These are some of the most common questions I hear from bright, motivated students. 
The truth is that the foundation of the University Honors Program (UHP) is on quality rather than quantity. In other words, the amount of work in the UHP General Education/University Core Curriculum classes is similar to that in non-Honors GenEd courses. The difference is the UHP GenEd classes are small (normally 12 or fewer Honors students), limited to bright and motivated students, and taught by some of the finest professors at Northeastern. In these classes, Honors students get more personalized attention and have more opportunities to discuss and analyze subject matter in much more depth. 
Joining the UHP has many benefits. Some are very practical academic and financial benefits, both while at Northeastern and after graduation, while others are personal growth and development benefits. Practical benefits include:
Access to UHP-only scholarships
Priority registration to help you graduate on time
Personalized advising
Extended library privileges
Dedicated Honors librarian
Honors student lounge
"Honors Scholar" on your transcript and diploma
Sense of community with like-minded peers
Many students and their families have realized that it makes both academic and economic sense to participate in Honors. UHP students have an experience of attending private schools at a public school price. At Northeastern, you'll meet and learn to work with students from all walks of life, from over the world, and perhaps even live in the Honors Living-Learning Community or serve on the Honors Student Advisory Board. The UHP is a supportive academic and social community.
Your completion of a senior project (usually a thesis) shows prospective employers and graduate admissions committees that you have tackled a complex project and seen it through to completion. This proof of your capabilities helps immensely when competing for a job or for admission to a graduate/professional program. UHP students have a strong and enviable record of being accepted into some of the most prestigious programs in the country, as well as being able to choose from multiple job offers.
Ultimately, however, the most important benefits of being in the UHP are opportunities you will be presented to grow intellectually, imaginatively, and personally. Students who complete the UHP tell me they discovered qualities and reserves of strength they did not know they had. UHP graduates consistently report feeling more confident in themselves and their abilities as a direct result of their UHP experience.
We work hard to provide a supportive, yet challenging, academic environment where you interact with not only our best faculty, but also peers with whom you share academic abilities and interests.
I hope you consider the UHP! We look forward to hearing from you. 
Very best,
Jon Hageman, Ph.D., RPA
Coordinator, University Honors Program
Professor, Department of Anthropology
Access Your Excellence
As a prospective freshman with an ACT score of 25 and above, SAT score of 1200 and above, or as a current Northeastern Illinois University student or a transfer student with a cumulative grade point average of 3.5 or above, you are eligible to apply to participate in the University Honors Program (UHP). 
Join
Designed for students in all fields of study at almost every stage of degree progress, the UHP is open to eligible undergraduates who have a minimum of three remaining academic terms before graduating from Northeastern Illinois University. Join us as a freshman, a sophomore, or a junior—as a full-time or part-time student.
This flexibility makes the UHP at Northeastern uniquely accessible, making us an exceptional place for you to discover your strengths and prepare for your future.
Enjoy the Benefits
Priority registration, small classes, access to merit-based scholarships open only to UHP students, personalized academic advising, graduation with Northeastern Latin Honors, and the distinction of "Honors Scholar" on your diploma and transcript—these are just some of the benefits of the UHP. 
Excel
The UHP curriculum will help you build academic community with peers and faculty members, become a skilled researcher in your field, and devise and complete a senior project that will set you apart. Additionally, it will prepare you to achieve your professional and academic goals. 
Opportunity
Become part of an exceptionally driven and ambitious community of achievers. The UHP counted among its members Presidents of the Student Government Association, Northeastern Lincoln Laureate Scholars, McNair Scholars, MARC Scholars, Presidential Scholars, Phi Theta Kappa Scholarship recipients, NEIU commencement speakers, and multiple Study Abroad alumni and summer research interns. The majority of our current students have earned merit-based tuition scholarships from the UHP and/or their College, and many are recognized with awards from their major department.
Succeed at Northeastern and Beyond
Our students produce outstanding undergraduate research. UHP Scholars have a strong track record of presenting and winning awards at academic conferences across the country. Recent UHP graduates include the recipient of a National Science Foundation Research Scholarship, scholarship winners admitted to Ph.D. programs in Big Data Analytics, English, Epidemiology, Psychology, Social Work, and an interdisciplinary program in History and Anthropology. Our students have also started master's programs in Art Therapy, Behavioral Science, Meteorology, Public Policy, Social Work, and Urban Planning. UHP graduates are routinely accepted to their preferred medical, dental, veterinary, pharmacy, and law programs. 
Stop by our office in Room B 141 for detailed information on all aspects of the University Honors Program, or contact us at honors@neiu.edu or (773) 442-6044.