Northeastern Illinois University has seen how efforts like the Student Emergency Fund and Student Pantry help ease some of the stress COVID-19 has placed on students. Now, Northeastern is removing one more barrier: standardized test scores. Read more about this Fall 2020 admissions initiative, newly tenured faculty, virtual events and more in this edition of Noteworthy at Northeastern.
Around the Commons
Fall 2020 enrollment application change
Effective immediately, Northeastern's Fall 2020 admissions decisions will be made strictly using grade-point average and curriculum, removing the requirement for standardized test scores. "We clearly saw standardized test scores as an obstacle to a student pursuing a college degree," said Northeastern's head of enrollment, John Fraire. "High school students are under a lot of stress, and this is one way to alleviate that stress and move them toward a college degree." More than 500 existing Fall 2020 applicants who were listed as incomplete due to a missing ACT or SAT score will now have their applications for enrollment reviewed on a priority basis. 
Tenure awarded to seven faculty members
Northeastern Illinois University's Board of Trustees approved the award of tenure to seven members of the faculty during the April 16 meeting. The newly tenured faculty members are:
Elyse Bolterstein, Biology
Andrew Brake, Social Work
Nadja Insel, Earth Science
Ting Liu, Geography and Environmental Studies
Michelle Oh, Library
Isidore Udoh, Health Sciences and Physical Education
Julia Valley, Health Sciences and Physical Education
Climate and culture survey
As part of its efforts to embrace a culture of inclusion, Northeastern is evaluating its living, learning and working environment with a climate and culture survey that runs through April 27. (See the breakdown of participation on the NEIyou site.) When the survey closes, the resulting assessment will allow NEIU to improve its campus climate by addressing the challenges and seizing the opportunities identified in the assessment. All students and employees are encouraged to take the anonymous survey and then enter an awards drawing.
And there's more!
Events at home
Though its buildings are locked, Northeastern has adapted by creating remote events. Please email public-relations@neiu.edu to submit events for consideration in future editions of Noteworthy at Northeastern. 
In the media
Ensemble Español performed an  "At Home with the Auditorium" session on April 12. If you missed the live stream, the video is now up on the Auditorium Theatre's Facebook page. 
Alumni leaders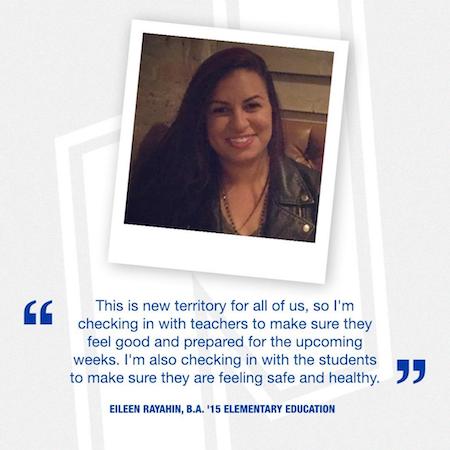 The Alumni Association has launched a webpage to share stories about the work Northeastern graduates are doing related to COVID-19. Those interested in sharing are encouraged to complete the COVID-19 Stories form. 
Student Support Spotlight
Career Development
Career Development has created a job resources webpage during COVID-19. The site includes information about essential jobs that are hiring, paid internships, unemployment benefits and other career-focused resources. Career Development has also compiled a series of upcoming webinars offered through the U.S. Office of Personnel Management for anyone interested in working for the federal government. All sessions are free. 
Writing Your Federal Résumé
This in-depth webinar provides attendees with the tips and tools needed to write a competitive federal résumé.
Navigating USAJOBS: Finding and Applying for Federal Jobs
This webinar provides a step-by-step process for navigating USAJOBS. Topics include job searching, creating your account/profile, reviewing job opportunity announcements, applying and application status.
Interviewing
This in-depth webinar on the federal government interview process explains the types of interviews, delivery methods, common questions, responding using the Situation/Task, Action, Result (STAR) method and preparing for an interview.
Career Development staff are still meeting with students and alumni remotely. Appointments can be made by emailing ocs@neiu.edu or calling (773) 442-4680.
Follow Northeastern on Instagram, Facebook, YouTube and Twitter! Do you have a story tip? Let the Office of Public Relations know at public-relations@neiu.edu.