The extended spring break is almost over, and Northeastern Illinois University will resume instruction—remotely—on Monday, March 30. As we prepare for this unexpected reality for the rest of the Spring 2020 semester, we provide academic and wellness resources for students, faculty and staff in this week's edition of Noteworthy at Northeastern.
Around the Commons
Student Emergency Fund
As COVID-19 continues to spread, Northeastern has designated the Student Emergency Fund to assist students who have suffered a financial setback due to the pandemic. Individuals may contribute to the fund or apply for assistance through the Student Emergency Fund webpage. Meanwhile, Northeastern continues to provide information and regular updates about its response to COVID-19 at neiu.edu/coronavirus. This website includes frequently asked questions, illness prevention guidance, anxiety management tips, a list of adjusted hours and services for units across the University and much more. The Task Force can be reached at coronavirus@neiu.edu for questions or comments.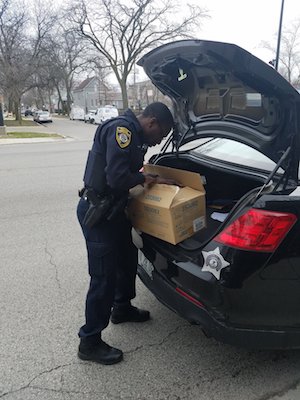 PPE Donation
Northeastern was able to donate gloves that would normally be used on campus to assist in the personal protective equipment (PPE) shortage in Chicago. A set of 1,500 gloves were donated to the Chicago Police Department's 17th District, which patrols the community surrounding the Main Campus. Another 4,000 gloves were donated to the Illinois Emergency Management Agency (IEMA). The effort was spearheaded by the Department of Biology's chair, John Kasmer, and lab manager, Kip Conwell. "It's not that we feel like we can easily afford to give away supplies that we would certainly use under normal circumstances, it's more that there seems to be a genuine moment of need, where anyone who can help feels compelled to do something for our society," Conwell said. Groups and departments across campus including Physics, Chemistry, Biology, Psychology, Environmental Science, Anthropology, Earth Science, Fine Art, Campus Recreation, El Centro, Student Health Services and the Child Care Center contributed to this effort. On another uplifting note: Though most University staff are working remotely, Campus Police remain on site and spotted a family of deer roaming Main Campus this week. 
Climate and culture survey deadline extended
Northeastern has extended the deadline to complete its campus climate and culture assessment to April 27. As part of its efforts to embrace a culture of inclusion, Northeastern is evaluating its living, learning and working environment. (See the breakdown of participation on the NEIyou site.) When the survey closes, the resulting assessment will allow NEIU to improve its campus climate by addressing the challenges and seizing the opportunities identified in the assessment. All students and employees are encouraged to take the anonymous survey and then enter an awards drawing. 
Nuevas Voces 
The winners of the 2020 Nuevas Voces playwriting competition have been announced. They are: 
1st Place, $250: Sean Carey (B.A. '17 Interdisciplinary Studies; M.A. '19 Communication, Media and Theatre) for "Departure, Initiation, Return. The Bus"
2nd Place, $200: Raeghn Draper (Communication, Media and Theatre major) for "Under Par" 
3rd Place, $150: Charles Sipps (Communication, Media and Theatre major) for "Chekov's Potato" 
Additionally, three honorable mention prizes have been announced, each with a $50 prize. These awards go to:
Emily Masó and Raúl Dorantes (NEIU Instructors of Spanish, Department of World Languages and Cultures) for "El Tres Laredos"
Michael Maura (Art major) for "Somethin' Somethin'"
Ata Younan (B.A. '19 Communication, Media and Theatre) for "The United Statesian Nightmare"
The Nuevas Voces Playwriting Contest and Festival was founded by Northeastern alumnus and former professor Jim Blair to create a platform for new playwrights at Northeastern and throughout Chicago. Submissions are now being accepted for the 5th annual Nuevas Voces playwriting contest (2021).  
2020 Jacqueline Ross TOEFL Dissertation Award
Assistant Professor of TESOL Senyung Lee won the 2020 Jacqueline Ross TOEFL Dissertation Award by Educational Testing Service (ETS) for her doctoral dissertation titled "Examining the underlying constructs of L2 lexical collocation knowledge." The award recognizes a doctoral dissertation that "makes a significant and original contribution to knowledge about second or foreign-language tests and testing and/or the use and development of such tests and testing." Additionally, Lee is a finalist for the 2020 American Association of Applied Linguistics Dissertation Award, which "demonstrates research excellence, transcends narrow disciplinary fields, and has broad impact on and implications for the field of applied linguistics as a whole." 
And there's more!
In the media
Follow Northeastern on Instagram, Facebook, YouTube and Twitter! Do you have a story tip? Let the Office of Public Relations know at public-relations@neiu.edu.