Northeastern Illinois University welcomes a new group of alumni to its ranks today as we celebrate our May Commencement! Read about the Commencement speaker, get the link to the livestream, and join us on social media to share your well wishes for the class of 2022. All this and more in this edition of Noteworthy at Northeastern. 
Around the Commons

Hats off to the graduates 
Congratulations, class of 2022! We're excited to celebrate your achievements today at Commencement! The ceremony will take place at 2 p.m. at Credit Union 1 Arena, 525 S. Racine Ave. The in-person event requires tickets, which all participating graduates should have picked up at the Welcome Desk in Village Square on the Main Campus. Guests will also be able to watch the ceremony via livestream on the NEIU Commencement webpage. 
Share your Commencement memories and celebrate our new alumni on social media with #NEIUGrad!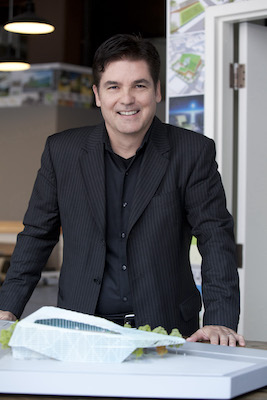 Shaping the future
Chicago-based award-winning architect Juan Gabriel Moreno is Northeastern Illinois University's May 2022 Commencement speaker. During the ceremony, Moreno will be awarded an honorary doctorate degree in recognition of his accomplishments. "Juan Gabriel Moreno's dedication to highlighting diversity by creating architecture that reflects the unique cultures of Chicago's neighborhoods is a shining example of how art and social justice can effectively collaborate to meet the needs of community members," President Gloria J. Gibson said. "Northeastern Illinois University has experienced the impact of his work as the architect of our El Centro location, which is beautiful and functional. It is a structure that is as unique as our students and fosters creativity and innovation."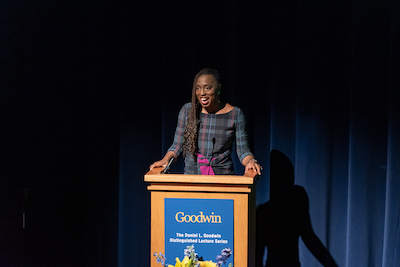 Goodwin recap
Dr. Ngozi Ezike, former director of the Illinois Department of Public Health, gave a presentation on Monday, April 25 as part of the Daniel L. Goodwin Distinguished Lecture Series. Ezike compared COVID-19 to a hurricane, noting hurricanes have five stages: warning of a tropical disturbance, tropical disturbance, tropical storm forms, hurricane, aftermath. "We are approaching a very grim, grim milestone in the U.S. of 1 million deaths in just two and a half years," Ezike said. She noted that every hurricane has an aftermath. In the case of COVID-19, that aftermath is ongoing as people deal with losses of life and livelihood, as well as mental health struggles, including the constant anxiety that is attached to the unknowns of the disease. Additionally, issues around chronic disease, racial injustice, labor shortages, and myths and misinformation were all happening at the same time. "Politics and pandemics are oil and water," Ezike said. "Politics and pandemics just don't mix." She continued, "Unfortunately, that cost a lot of lives and that, to this day, just thinking about that and saying that hurts, to think about those lives that didn't have to be lost." Photos from the event can be found on NEIU's Facebook page. The recording of "An Evening with Dr. Ngozi Ezike" is now available on NEIU's YouTube channel.
Midwestern Psychological Association
Several undergraduate Psychology students presented at the Midwestern Psychological Association Conference held in Chicago. The students and their presentations were:
Jackelyn Castaneda (faculty sponsor: Maureen Erber) "How Does Attractiveness Affect Perceptions of Interracial Relationships?" 
Veronica Chavez (faculty sponsor: Maureen Erber) "COVID-19's Virtual World: Exploring the Relationship between Virtual Interactions and Psychopathy"
Rachel Elser (faculty sponsor: Maureen Erber) "Differences in the Perception of Conflict in Same-Sex and Different-Sex Intimate Relationships"
Brian Ray (faculty sponsor: Amanda Dykema-Engblade) "The Modern Meditation: Video Game Effects on Mood and Stress"
View photos of the students with their poster presentations on NEIU's Facebook page. 
And there's more!
Associate Professor of Psychology Lisa Hollis-Sawyer's book, "Older Women Who Work: Resilience, Choice, and Change," (American Psychological Association, 2020), has received a CHOICE award for Outstanding Academic Titles, 2021. The award is given to outstanding works for their excellence in presentation and scholarship,
the significance of their contribution to the field, their originality and value as an essential treatment of their subject, and significance in building undergraduate collections.
Applying to NEIU? Use code ALUMREF (all caps) to receive a $30 application fee waiver. Learn more and apply today!
Registration for Summer and Fall 2022 classes is now open. Current and admitted students interested in taking summer classes are encouraged to talk to their academic advisor or contact the Registration Office at registration@neiu.edu or (773) 442-4040, or by visiting Enrollment Services in Room D 101.
Please note: NEIU has an COVID-19 Interim Policy in place, which requires masks to be worn on campus. 
To Do
In the Media
COVID-19 update
From April 27-May 4, 2022, two students and one employee reported positive COVID-19 tests. One employee and one student were on campus. From May 4-May 11, 2022, nine students and five employees reported positive COVID-19 tests. Three employees and four students were on campus. Since March 2020, a total of 163 employees and 455 students have self-reported to the University that they tested positive for COVID-19. 
Employees and students who feel sick should stay home. If you test positive for COVID-19, students should immediately notify Student Health Services, and employees should notify their supervisors and the Office of Human Resources. Additionally, faculty and staff are required to report positive and presumptive student COVID-19 cases and exposures to Student Health Services. When someone who has been on campus tests positive, Northeastern works with the Chicago Department of Public Health to determine the appropriate response, which differs greatly depending on the situation. We continue to follow Chicago Department of Public Health and Centers for Disease Control and Prevention (CDC) guidelines as we ensure proper protocols and preventative measures are in place for the health and safety of our students and employees. 
As of April 4, Student Health Services verified the following COVID-19 vaccination rates for Spring 2022: 
95% of NEIU employees are vaccinated; 78% of employees have received boosters
90% of students are vaccinated; 31% of students have received boosters
It is expected that all students and employees will show proof of COVID-19 vaccination or testing in compliance with the current NEIU COVID-19 vaccination policy. Noncompliance may result in disciplinary actions.
Other COVID-19 updates
Campus vaccination clinics have closed. Please review the Guidance for Coronavirus Vaccinations page to find vaccination sites. 
SHIELD Illinois COVID-19 testing remains open and available for NEIU community members and the general public.
Face masks are still required in all indoor public spaces at all NEIU locations. 
Northeastern has free surgical, KN95 and/or N95 masks available for students and employees. Masks have been distributed to offices and classrooms and are also available at the Welcome Desk at the Main Campus, the Jacob H. Carruthers Center for Inner City Studies and El Centro. 
The NEIU COVID-19 Interim Policy will remain in effect through the Spring 2022 semester.
The federal government is offering free at-home COVID-19 tests through the U.S. Postal Service. 
Stay up to date on everything regarding COVID-19 by visiting the Return to Campus website. 
Follow Northeastern on Instagram, Facebook, YouTube and Twitter! Do you have a story tip? Let the Office of Public Relations know at public-relations@neiu.edu.