Northeastern Illinois University's Black History/Heritage Month celebration continues as Shermann "Dilla" Thomas takes the stage at the Jacob H. Carruthers Center for Inner City Studies next week. Read about his visit, alumni making big news and more in Noteworthy at Northeastern.
Around the Commons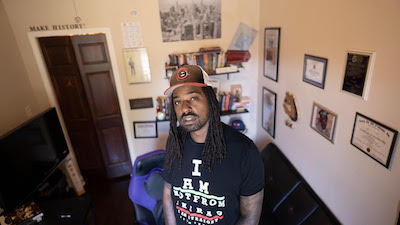 ShermaNn "Dilla" Thomas at CCICS
Urban historian and TikTok sensation Shermann "Dilla" Thomas will give a talk titled "Everything Dope about America Comes from Chicago" in honor of Black History/Heritage Month. The event, which is free and open to the public, will take place in person at 6 p.m. Feb. 22 in Donn F. Bailey Legacy Hall at the Jacob H. Carruthers Center for Inner City Studies (CCICS), 700 E. Oakwood Blvd. in Chicago. It will also be live streamed on the Chicago Mahogany Tours Facebook page. (Photo: Block Club Chicago/Colin Boyle)
Undergraduate Open House
Northeastern Illinois University's Undergraduate Open House is geared toward helping prospective students discover all the opportunities our university has to offer. Friendly, supportive staff will show you how Northeastern can empower you to reach your goals and unlock your potential. Join us from 5-7 p.m. Wednesday, Feb. 23 to learn about our more than 40 undergraduate programs, experience our campus community and find out how you can receive four years of tuition on us with the NEIU For You scholarship. At Northeastern Illinois University, we break barriers. 
Can't make it to the Open House? In-person campus tours are now available by appointment on Thursdays and our 360 virtual tour lets you explore our campus from wherever you are.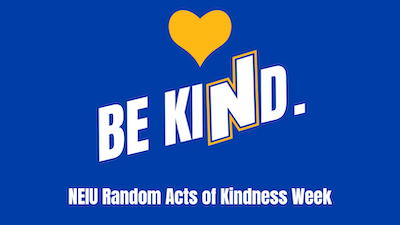 Random Acts of Kindness
At Northeastern, we believe kindness is contagious and even the smallest act of kindness can make a lasting impact. Join the NEIU Alumni Association in participating in Random Acts of Kindness activities through 11:59 p.m. Saturday Feb. 19. Whether you make a contribution to NEIU Student Emergency Fund, practice self-care, become a member of the NEIU Alumni Association, or perform your own random acts of kindness this week and throughout your daily life, let's work toward making kindness the norm!
And there's more!
Registration for the Second 8-Week Term of the Spring 2022 semester runs through March 18. If you've already been admitted to NEIU, it's not too late to complete your registration for the Second 8-Week Term of the Spring 2022 semester! 
Northeastern Illinois University, in collaboration with the Center for Teaching and Learning (CTL), initiated a new monthly series of Cafe Conversations for Northeastern faculty, staff and administrators. There are two groups: Cafe Conversations: Interrogating Whiteness in Academia and Cafe Conversations for Colleagues Who Identify as Black, Indigenous or People of Color. The next meeting for both groups takes place from 2:30-4 p.m. Friday, Feb. 25. Employees are encouraged to reach out to CTL or Executive Director of Equity, Diversity and Inclusion Shireen Roshanravan at s-roshanravan@neiu.edu or (773) 442-5404 to receive a Zoom invitation or receive information to added a session in person. 
To do

Black Heritage/History Month
The Black History/Heritage Month Committee, Angelina Pedroso Center for Diversity and Intercultural Affairs and African and African American Studies Program invite the University community to celebrate BlackHistory/Heritage Month by participating in a series of virtual and in-person events. Next week's events include:
A complete schedule and sign-up for more events is available on the Black History/Heritage Month website. 
Stage Center Theatre presents "Babel"
The Department of Communication, Media and Theatre's (CMT) Stage Center Theatre (SCT) presents "Babel," by Jacqueline Goldfinger, directed by CMT faculty member Dan Wirth, 7:30 p.m. Feb. 24-26; March 2-4; and 2 p.m. March 5. In the not-so-distant and not-too-dystopian future, science protects society against further damage from environmental and social conflict. This new play that swept the nation via the National New Play Network in 2019 begs the question: "How far will we go to perfect being human before we realize we've lost our humanity?" Capacity is limited and tickets must be reserved in advance for in-person attendance. Tickets are free for current NEIU students, faculty and staff with valid NEIU ID at the Welcome Desk on the Main Campus or at tix.com. No walk-up tickets will be available the day of the performance. Please review COVID-19 protocols prior to booking and attendance. Performances on Feb. 26 and March 5 will be live streamed through Broadway On Demand Showshare.  Current NEIU students and employees received a coupon code for the live stream via Nmail. Questions and concerns should be sent to both SCT Managing Director Sarah Fabian at sj-fabian@neiu.edu and SCT Artistic Director Adam Goldstein at a-goldstein@neiu.edu. "Babel" is presented by special arrangement with Gurman Agency, LLC.
Coming next week
In the Media
Alumnus receives U.S. Department of Justice appointment
Eddie Bocanegra (B.A. Interdisciplinary Arts and Social Work '12) was featured on "Chicago Tonight Latino Voices" to discuss his appointment to serve as a senior advisor for community violence intervention for the Assistant Attorney General in the Office of Justice Programs at the U.S. Department of Justice. 
Alumnus in new PBS documentary
Gerald Chaney (B.A. Secondary Education-English '08) was a reenactment actor in "American Masters' Marian Anderson: The Whole World in Her Hands" on PBS. The documentary explores the late singer's life and career from the Metropolitan Opera to the State Department.
Also in the media
Professor of Teaching English to Speakers of Other Languages (TESOL) Jeanine Ntihirageza was interviewed for the BBC's "Witness History" podcast discussing the 1972 mass killings in Burundi. Ntihirageza was 11 years old when her father went missing in the region.
Professor Emeritus of Economics Ed Stuart gave a virtual presentation about inflation in the U.S. economy as part of the ASCM Chicago Chapter's Economic Outlook Series on Feb. 17. 
COVID-19 update
From Feb. 9-16, 2022, five students and one employee reported positive COVID-19 tests. Two of the students and the employee were on campus. Since March 2020, a total of 130 employees and 406 students have self-reported to the University that they tested positive for COVID-19. Employees and students who feel sick should stay home. If you test positive for COVID-19, students should immediately notify Student Health Services, and employees should notify their supervisors and the Office of Human Resources. Additionally, faculty and staff are required to report positive and presumptive student COVID-19 cases and exposures to Student Health Services. When someone who has been on campus tests positive, Northeastern works with the Chicago Department of Public Health to determine the appropriate response, which differs greatly depending on the situation. We continue to follow Chicago Department of Public Health and Centers for Disease Control and Prevention (CDC) guidelines as we ensure proper protocols and preventative measures are in place for the health and safety of our students and employees. 
Student Health Services is currently verifying COVID-19 vaccination information for students and employees for this term. Data will be released in the coming weeks. It is expected that all students and employees will show proof of COVID-19 vaccination or testing in compliance with the current NEIU COVID-19 vaccination policy by Feb. 28, 2022. Non-compliance may result in disciplinary actions.
Other COVID-19 updates
Campus vaccination clinics and SHIELD Illinois COVID-19 testing are open and available for NEIU community members and the general public. 
The federal government is offering free at-home COVID-19 tests through the U.S. Postal Service. 
Free KN95 masks are available at City of Chicago alderman offices. It is recommended that residents call their alderman's office first to ensure they have supplies. Walgreens and CVS locations will also begin distributing free N95 masks provided by the federal government. 
The Illinois Department of Public Health will also distribute 225,000 free at-home COVID-19 tests to residents in vulnerable communities through Project Access
Covid Tests (Project ACT). Tests are available on a first-come, first-served basis to residents in specific Illinois ZIP codes. 
Northeastern has free surgical, KN95 and/or N95 masks available for students and employees. Masks have been distributed to offices and classrooms and are also available at the Welcome Desk at the Main Campus, the Jacob H. Carruthers Center for Inner City Studies and El Centro. 
Stay up to date on everything regarding COVID-19 by visiting the Return to Campus website. 
Follow Northeastern on Instagram, Facebook, YouTube and Twitter! Do you have a story tip? Let the Office of Public Relations know at public-relations@neiu.edu.