Northeastern Illinois University awarded tenure and promotion to associate professor to 11 members of the faculty and promoted six faculty members to professor. The 50th Chuck Kane Scholarship Golf Outing is right around the corner and one of our mural classes celebrated River Park's revitalized ecosystem with a new painting. Read about this and more in the latest edition of Noteworthy at Northeastern.
Around the Commons
Tenure and promotions
Northeastern awarded tenure and promotion to associate professor to 11 members of the faculty, who were introduced during the April 14, 2022, Board of Trustees meeting. Six members of the faculty were also promoted to professor. Congratulations to these faculty members for their professional advancement!
Fore! Scholarships
Ace this summer and join the NEIU Foundation on the green for the 50th anniversary of the Chuck Kane Scholarship Golf Outing on Monday, Aug. 1. Sign up online for one of three options: an all-inclusive day of golf, lunch, cocktails and dinner, golf and lunch only, or cocktails and dinner only. Tickets for the 50/50 raffle and bids for the silent auction are also available online. The Chuck Kane Scholarship Golf Outing is Northeastern's longest-running annual philanthropic event. It honors the memory of beloved NEIU athletic director Charles "Chuck" Kane and his commitment to student success. 
Don't golf or can't attend? Consider the following options to support this great cause:
Encourage others to participate. Remember, gifts can be designated toward any NEIU Foundation scholarship!
Give a silent auction item, bid or donate! Goods, services, tickets, fun experiences, private tours, gift certificates, art, donations of any amount and 50/50 raffle tickets support NEIU students.
Consider giving $50 for the 50th annual Chuck Kane Scholarship Golf Outing.
For more information, contact Sylvia Daniels at s-daniels4@neiu.edu or (773) 442-4231, or Heather Anderson at h-anderson6@neiu.edu or (773) 442-4236.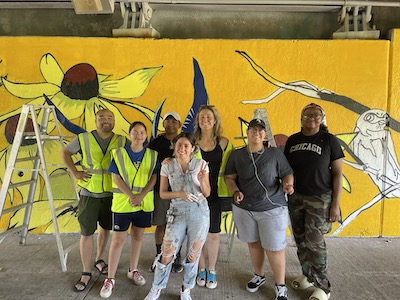 Painting the town
Northeastern students Annachristy Gonzalez, Diego Cruz, Diana Mendoza, Emily Finley, Tatiana Collazo, Erin Chumerly and Lauren Kreher (not pictured) completed a new mural in River Park underneath the bridge spanning the Chicago River at Foster and Albany avenues. Led by Art+Design instructor Chantala Kommanivanh and in collaboration with River Lab, the mural reflects the area's revitalized ecosystem. With the City of Chicago's investment to preserve the environment along the North Shore Channel Trail, many bird species, including the black-crowned night heron, downy woodpecker and red-winged blackbird, have returned to the area permanently and annually. The mural, which was approved by 40th Ward Alderman Andre Vasquez, features images of birds and native plants such as goldenrod and black-eyed Susans painted brightly with yellow to draw the attention of passersby to what surrounds them and inhabits the Chicago River. Kommanivanh has led classes in past semesters to create murals at Roosevelt High School, Mozart Elementary, Jordan Elementary, and River Park at River Lab.
And there's more!
The application deadline for domestic undergraduate and student-at-large enrollment has been extended to July 31, 2022. Use code ALUMREF (all caps) to receive a $30 application fee waiver. Apply today!
Fall 2022 registration is open.
To do
"Twister"
The Chicago Film Society presents "Twister," directed by Michael Almereyda from Vestron Pictures at 7:30 p.m. Wednesday, July 20 in the Auditorium of the Main Campus. The screening is preceded by the 1980 short film from Encyclopedia Britannica, "The Impact of Television," which will be presented on 16mm film. Tickets cost $5 with a Northeastern ID and $10 for the general public. "Twister" will be presented on 35mm film by the Chicago Film Society and is sponsored by the Department of Communication, Media and Theatre. All audience members are encouraged to wear a face mask and be socially distanced while seated.
Diversity within a Microcosm: Varieties of Expression in Japanese American Art
NEIU Libraries is hosting "Diversity within a Microcosm: Varieties of Expression in Japanese American Art," an art exhibit featuring Japanese American artists with connections to Chicago. They will show their creative endeavors, beginning with Issei in Chicago before World War II as well as Issei arriving later. The exhibit will be open during regular library hours through Aug. 15 on the main floor of the Ronald Williams Library located on the Main Campus. Come see the art of Issei photographers Jun Fujita and Shoji Osato, Issei calligraphy teacher Yoshinobu Matsumoto and Issei ink painting teacher Ryozo Ogura, and the Nisei art treasures of Mary Koga, Tak Murakami, Shinkichi Tajiri and Art Towata as well as the art of more recent teachers, Laura Kina, Joyce Nagata, Akemi Nakano Cohn and Sarah Nishiura. Enjoy the glass work of Sharon Fujimoto, jewelry of Donna Kato, porcelain work of Yukiko Sakata Nylan and many more Chicago Japanese American artists. 
COVID-19 update
From July 6-13, 2022, seven employees and five students reported positive COVID-19 tests. Two employees and two students were on campus. Since March 2020, a total of 239 employees and 474 students have self-reported to the University that they tested positive for COVID-19. Employees and students who feel sick should stay home. If you test positive for COVID-19, students should immediately notify Student Health Services, and employees should notify their supervisors and the Office of Human Resources. Additionally, faculty and staff are required to report positive and presumptive student COVID-19 cases and exposures to Student Health Services. When someone who has been on campus tests positive, Northeastern works with the Chicago Department of Public Health to determine the appropriate response, which differs greatly depending on the situation. We continue to follow Chicago Department of Public Health and Centers for Disease Control and Prevention (CDC) guidelines as we ensure proper protocols and preventative measures are in place for the health and safety of our students and employees.
Other COVID-19 updates
Northeastern Illinois University highly recommends wearing masks indoors, as Chicago has moved into the high COVID-19 transmission risk level per CDC guidelines. Northeastern has free surgical, KN95 and/or N95 masks available for students and employees. Masks have been distributed to offices and classrooms and are also available at the Welcome Desk at the Main Campus, the Jacob H. Carruthers Center for Inner City Studies and El Centro. 
Campus vaccination clinics are now closed. Please review the Guidance for Coronavirus Vaccinations page to find vaccination sites.
The federal government is offering free at-home COVID-19 tests through the U.S. Postal Service. 
Stay up to date on everything regarding COVID-19 by visiting the COVID-19 Response website. 
Follow Northeastern on Instagram, Facebook, YouTube and Twitter! Do you have a story tip? Let the Office of Public Relations know at public-relations@neiu.edu.