As we pause to reflect on all that's happened this year so far, Northeastern Illinois University expresses gratitude for all who are part of our community. We're thrilled to share the recent achievements of our students, faculty, staff and alumni. Read about all this and more in the latest Noteworthy at Northeastern. 
Around the Commons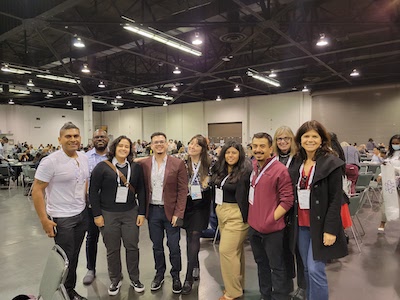 2022 Annual Biomedical Research Conference for Minoritized Scientists 
Northeastern students Christian Torres (B.S. Biology), Isaiah Thomas (B.S. Biology), Michele Ocana (B.A. Psychology), and Samantha Macksey (B.A. Psychology) presented their research projects at the Annual Biomedical Research Conference for Minoritized Scientists (ABRCMS), which was held in Anaheim, California, Nov. 9-12. ABRCMS is one of the largest professional conferences for underrepresented students in biomedical research funded by the National Institute of General Medical Sciences and American Society for Microbiology. The student presentations were highly ranked by the conference judges. Thomas and Macksey won presentation awards in the disciplines of Cell Biology and Social & Behavioral Sciences and Public Health. The students' participation at ABRCMS 2022 was funded by the NIH Maximizing Access to Research Careers (MARC) training grant, directed by Professor Emerita of Psychology Ruth (Breckie) Church, Professor of Biology Emina Stojkovic and Associate Professor of Mathematics Joseph Hibdon. Northeastern is the only university in Illinois and the only non-Ph.D.-granting institution in the entire Midwest that has a MARC grant. Besides being MARC scholars, all four students are also members of the McNair Scholars Program. Thomas and Ocana are University Honors Program Scholars as well. David Menendez (current student, M.S. Biology) and alumni Viry Leon (B.S. '22 Chemistry) and Luis Aldama (B.S. '21 Biology) were also in attendance. Viry is currently in a post-baccalaureate PREP program at the University of Chicago, and Aldama is currently a second-year graduate student in the Biophysics Ph.D. program at Harvard University. Congratulations to all!
Fall blooms
The Department of Biology invites everyone to their annual fall plant sale from 10 a.m.-4 p.m. Wednesday, Nov. 30 in Village Square. There will be plenty of indoor plants to brighten an office or home. Purchases directly support classroom and volunteer learning activities in the Biology greenhouse!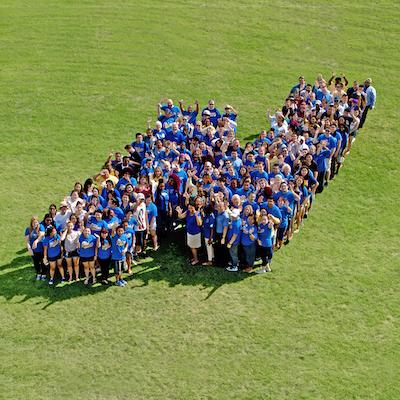 #GivingTuesday 
Tuesday, Nov. 29 is Giving Tuesday! Wear your blue and gold and share your NEIU memories on social media with #Give2NEIU. If you have the means, please also consider contributing to our Student Pantry or any of our scholarship funds, such as the Native and Indigenous Student Scholarship Fund or Student Emergency Fund.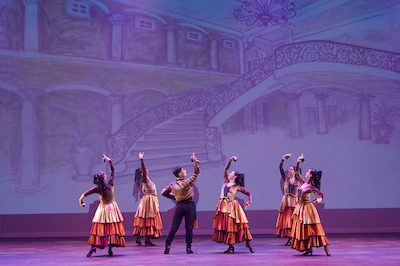 Ensemble Español
Ensemble Español Spanish Dance Theatre, in residence at Northeastern Illinois University, will present its critically acclaimed Holiday Concert at 7:30 p.m. on Saturday, Dec. 17. The performance will take place in the Auditorium on the University's Main Campus. Tickets for NEIU faculty, staff, students and all seniors and children under 12 are $20. General admission is $25.
And there's more!
To do
Native American Peoples Heritage Month
Join the Angelina Pedroso Center for Diversity and Intercultural Affairs in celebrating Native American Peoples Heritage Month throughout November. Next week's events include: 
View the Native American Peoples Heritage Month calendar and the NEIU Libraries virtual book display for more ways to celebrate. 
More to do 
In the media
One pill can kill
Interim Director of Student Health Services Jennifer Lasko and several Northeastern students were featured in a segment on FOX 32 Chicago about the risks of counterfeit prescription drugs and the Drug Enforcement Administration's "One Pill Can Kill" campaign that is touring college campuses. 
Also in the media
COVID-19 updates
In accordance with guidelines set forth by the Centers for Disease Control (CDC), Northeastern has adopted new strategies for mitigating COVID-19. Contact tracing will be conducted as needed. However, weekly reports of positive cases and vaccination rates will no longer be reported. If you test positive for COVID-19, students should immediately notify Student Health Services, and employees should notify their supervisors and the Office of Human Resources. Additionally, faculty and staff are required to report positive and presumptive student COVID-19 cases and exposures to Student Health Services. We continue to follow Chicago Department of Public Health and Centers for Disease Control and Prevention (CDC) guidelines as we ensure proper protocols and preventative measures are in place for the health and safety of our students and employees.
Stay up to date on everything regarding COVID-19 by visiting the COVID-19 Response website. 
Follow Northeastern on Instagram, Facebook, YouTube and Twitter! Do you have a story tip? Let the Office of Public Relations know at public-relations@neiu.edu.