Northeastern Illinois University's Fall 2022 classes begin Monday, Aug. 22! Learn about new and transfer student orientation and get everything you need to start the semester strong. Our TRIO Upward Bound students shined at Fiesta del Sol and two of our professors took to the international stage to highlight the importance of combating Antisemitism. Read about all this and more in the latest edition of Noteworthy at Northeastern. 
Around the Commons
Orientation
Welcome, Northeastern Illinois University freshmen and transfer students! Attending one orientation event on campus is required for all new freshmen and transfers. If you haven't participated in new student orientation, you can still sign up to attend the session on Aug. 11. Learn about how to get your student ID, finalize your course schedule, confirm your financial aid and much more. This jam-packed day will provide you with all you need to have a successful start to your time at NEIU. Lunch is included in the orientation fee. 
Books and Gear
Grab your course materials and Goldie gear from the virtual bookstore! Enter your student ID number on the homepage and the system will pull up everything you need for your courses. You can also shop by course number. New students and parents can review the virtual bookstore FAQ to learn more.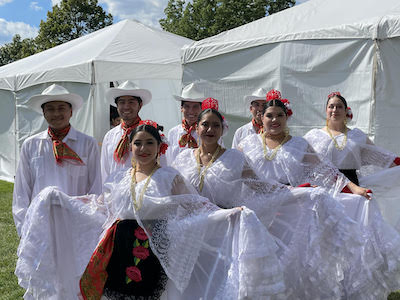 "Fiesta Folklorica"
Northeastern's Center for College Access & Success TRIO Upward Bound (UB) and Upward Bound Math and Science: Science, Technology, Engineering, Arts and Math (UBMS STEAM) high school programs performed at Fiesta del Sol's 50th anniversary festival. Fiesta del Sol is "the largest Latino festival of its kind" in the U.S. and thousands of spectators enjoyed performances from NEIU's programs as well as professional companies and artists from the Chicago area. The TRIO UB and UBMS programs showcased dances from the state of Veracruz and Sonora at Fiesta's People's Stage, which became a "Fiesta Folklorica" on Sunday, July 31 at Dvorak Park. These students, whose summer programs are hosted at El Centro, prepared for the showcase for five weeks. TRIO UB Associate Director Blanca Acevedo served as the co-chair for the festival. Congratulations to the TRIO UB/UBMS students! Visit the TRIO UB/UBMS Facebook page for more photos from the festival.
And there's more!
To do
"The Green Ray"
The Chicago Film Society presents "The Green Ray," directed by Éric Rohmer from The Film Desk at 7:30 p.m. Wednesday, Aug. 10 in the Auditorium of the Main Campus. The screening is preceded by the 1954 short film, "Private Eye Popeye," which will be presented on 16mm film. Tickets cost $5 with a Northeastern ID and $10 for the general public. "The Green Ray" will be presented on 35mm film. This event is sponsored by the Department of Communication, Media and Theatre. All audience members are encouraged to wear a face mask and be socially distanced while seated.
Japanese American Art Exhibit
NEIU Libraries hosts "Diversity within a Microcosm: Varieties of Expression in Japanese American Art," an art exhibit featuring Japanese American artists with connections to Chicago. They will show their creative endeavors, beginning with Issei in Chicago before World War II as well as Issei arriving later. The exhibit will be open during regular library hours through Aug. 15 on the main floor of the Ronald Williams Library located on the Main Campus. Come see the art of Issei photographers Jun Fujita and Shoji Osato, Issei calligraphy teacher Yoshinobu Matsumoto and Issei ink painting teacher Ryozo Ogura, and the Nisei art treasures of Mary Koga, Tak Murakami, Shinkichi Tajiri and Art Towata as well as the art of more recent teachers, Laura Kina, Joyce Nagata, Akemi Nakano Cohn and Sarah Nishiura. Enjoy the glass work of Sharon Fujimoto, jewelry of Donna Kato, porcelain work of Yukiko Sakata Nylan and many more Chicago Japanese American artists. 
In the Media
COVID-19 update
From July 22-Aug. 3, 2022, four employees and one student reported positive COVID-19 tests. One employee was on campus. The student was not on campus. Since March 2020, a total of 259 employees and 480 students have self-reported to the University that they tested positive for COVID-19. Employees and students who feel sick should stay home. If you test positive for COVID-19, students should immediately notify Student Health Services, and employees should notify their supervisors and the Office of Human Resources. Additionally, faculty and staff are required to report positive and presumptive student COVID-19 cases and exposures to Student Health Services. When someone who has been on campus tests positive, Northeastern works with the Chicago Department of Public Health to determine the appropriate response, which differs greatly depending on the situation. We continue to follow Chicago Department of Public Health and Centers for Disease Control and Prevention (CDC) guidelines as we ensure proper protocols and preventative measures are in place for the health and safety of our students and employees.
Other COVID-19 updates
Northeastern Illinois University highly recommends wearing masks indoors, as Chicago remains at the high COVID-19 transmission risk level per CDC guidelines. Northeastern has free surgical, KN95 and/or N95 masks available for students and employees. Masks have been distributed to offices and classrooms and are also available at the Welcome Desk at the Main Campus, the Jacob H. Carruthers Center for Inner City Studies and El Centro. 
Campus vaccination clinics are now closed. Please review the Guidance for Coronavirus Vaccinations page to find vaccination sites.
The federal government is offering free at-home COVID-19 tests through the U.S. Postal Service. 
Stay up to date on everything regarding COVID-19 by visiting the COVID-19 Response website. 
Follow Northeastern on Instagram, Facebook, YouTube and Twitter! Do you have a story tip? Let the Office of Public Relations know at public-relations@neiu.edu.