If you've missed attending in-person events, you're not alone. Over the next few weeks, Northeastern Illinois University has plenty for you to do! There are also a lot of hybrid and virtual events taking place. No matter your comfort level, we've got you covered, because at NEIU, you always belong. Read about events, the latest COVID-19 updates and more in this week's Noteworthy at Northeastern. 
Around the Commons
Goodwin Lecture
Former Illinois Department of Public Health (IDPH) Director Dr. Ngozi Ezike will be the eighth Daniel L. Goodwin Distinguished Lecture Series presenter on April 25. "An Evening with Dr. Ngozi Ezike" will take place at 7:30 p.m. in the Auditorium on the Main Campus. The lecture will also be livestreamed. Ezike was recently named Illinois' Woman of the Year by USA Today. It was announced earlier this week that she will also become the CEO of the Sinai Chicago health system beginning this June. The event is free and open to the public. Tickets are required as seating is limited.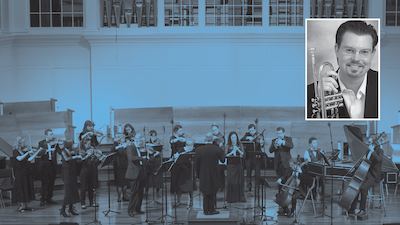 Musical gem
Camerata Chicago will perform at 7:30 p.m. April 22 in the Recital Hall as part of Northeastern's Jewel Box Series. Associate Professor of Music Travis Heath will be the trumpet soloist for this performance, which will be conducted by Maestro Drostan Hall. Internationally acclaimed cellist Wendy Warner, a Chicagoan, will accompany Camerata Chicago as soloist. Camerata Chicago is equally at home in intimate settings as well as in larger chamber music venues, performing the rich tapestry of diverse chamber orchestral repertoire that includes newly commissioned works. The ensemble is now firmly established as one of the finest chamber orchestras on the world stage and has performed frequently on WFMT, as well as in well-known concert venues such as the Art Institute of Chicago, the Harris Theater, Chicago Cultural Center, St. James Cathedral, North Park University, College Church, and St. Michael's Catholic Church, in Wheaton, Illinois. This event is open to the public. Tickets are required as seating is limited. Northeastern students and employees can receive complimentary tickets to this performance by visiting the Welcome Desk on Main Campus or referring to the coupon code shared through Nmail on April 11. 
Invest in yourself
TRIO Student Support Services will host its Spring 2022 Leading and Learning Week, April 18-22. Presentations will take place both in person and via Zoom. The theme for this week is "Invest In Yourself: Strategies for Financial, Educational, Personal and Career Success." Workshops will cover topics such as financial literacy, personal health, teacher certification, financial aid and scholarships, study abroad, advocacy, internships, personal wellness and growth. Advance sign-up is recommended, as in-person space is limited. 
And there's more!
Latonya Burris (current student, M.S.W.) was accepted into Northwestern University's 2022 Science Immersion Program where she will work on a wide array of both lab-based and social science research projects. 
Associate Professor of History Joshua Salzmann and Social Sciences Librarian Ed Remus received Superior Achievement recognition from the Illinois State Historical Society 2022 Best of Illinois History awards for their website "A Guide to Chicago City Government Records," which is hosted by NEIU Libraries.   
Applying to NEIU? Use code ALUMREF (all caps) to receive a $30 application fee waiver!
Registration for Summer and Fall 2022 classes is now open. Current and admitted students interested in taking summer classes are encouraged to talk to their academic advisor or contact the Registration Office at registration@neiu.edu or (773) 442-4040, or by visiting Enrollment Services in Room D 101.
Online voting for the 2022-2023 Student Government Association elections continues through 4 p.m. April 17. 
Please note: NEIU has a COVID-19 Interim Policy in place, which requires masks to be worn in all indoor public spaces at all NEIU locations.
To do
APIDA Heritage Month
The Angelina Pedroso Center for Diversity and Intercultural Affairs invites the University community to celebrate Asian Pacific Islander Desi American (APIDA+) Heritage Month. The Pedroso Center will offer a series of in-person and virtual events throughout April. Next week's events include: 
NEIU Libraries has compiled reading and viewing recommendations celebrating APIDA+ authors as well as works that reflect the lives and experiences of the APIDA+ community. All materials in the APIDA+ Virtual Book Display are available as e-books or online resources through the NEIU Libraries. 
To view the complete schedule and sign up for more events, visit the 2022 APIDA+ Heritage Month webpage. 
Coming next week
In the Media
Associate Professor of Political Science William Adler's Twitter reply to an April 11 tweet by former presidential candidate Andrew Yang was featured in an article in the New York Daily News. 
COVID-19 update
From April 6-13, 2022, five students and five employees reported positive COVID-19 tests. Four employees and one student were on campus. Since March 2020, a total of 147 employees and 429 students have self-reported to the University that they tested positive for COVID-19. Employees and students who feel sick should stay home. If you test positive for COVID-19, students should immediately notify Student Health Services, and employees should notify their supervisors and the Office of Human Resources. Additionally, faculty and staff are required to report positive and presumptive student COVID-19 cases and exposures to Student Health Services. When someone who has been on campus tests positive, Northeastern works with the Chicago Department of Public Health to determine the appropriate response, which differs greatly depending on the situation. We continue to follow Chicago Department of Public Health and Centers for Disease Control and Prevention (CDC) guidelines as we ensure proper protocols and preventative measures are in place for the health and safety of our students and employees. 
As of April 4, Student Health Services has currently verified the following COVID-19 vaccination rates for Spring 2022: 
95% of NEIU employees are vaccinated; 78% of employees have received boosters
90% of students are vaccinated; 31% of students have received boosters
It is expected that all students and employees will show proof of COVID-19 vaccination or testing in compliance with the current NEIU COVID-19 vaccination policy. Noncompliance may result in disciplinary actions.
Other COVID-19 updates
Campus vaccination clinics have closed. Please review the Guidance for Coronavirus Vaccinations page to find vaccination sites. 
SHIELD Illinois COVID-19 testing remains open and available for NEIU community members and the general public.
Face masks are still required in all indoor public spaces at all NEIU locations. 
Northeastern has free surgical, KN95 and/or N95 masks available for students and employees. Masks have been distributed to offices and classrooms and are also available at the Welcome Desk at the Main Campus, the Jacob H. Carruthers Center for Inner City Studies and El Centro. 
The NEIU COVID-19 Interim Policy will remain in effect through the Spring 2022 semester.
The federal government is offering free at-home COVID-19 tests through the U.S. Postal Service. 
Stay up to date on everything regarding COVID-19 by visiting the Return to Campus website. 
Top photo: Dr. Ngozi Ezike, courtesy of Illinois Department of Public Health.
Follow Northeastern on Instagram, Facebook, YouTube and Twitter! Do you have a story tip? Let the Office of Public Relations know at public-relations@neiu.edu.