Northeastern Illinois University will host "Rise Up 2: A Candid Conversation with the George Floyd Social Justice Scholarship Awardees" at 3 p.m. Monday, April 3 at the Angelina Pedroso Center for Diversity and Intercultural Affairs. 
The conversation will feature this year's award recipients—Asha Brown (Sociology) and Prentice Hills (Social Work)—and will be moderated by Professor of Counselor Education and African and African American Studies program Sharon L. Bethea, Ph.D. It is hosted by Pedroso Center Director DeWitt Scott, Ed.D. 
The George Floyd Social Justice Scholarship was established by Northeastern in 2020 as a direct response to Floyd's death and President of North Central University Scott Hagan's call to action. The scholarship is awarded to Northeastern students who are dedicated to pursuing leadership roles in the multifaceted, intersectional work of social justice. 
"We have collectively come to see 2020 as a year of reckoning," said Director of Scholarships Michelle Morrow,Ed.D. "The deaths of unarmed civilians at the hands of law enforcement, such as Breonna Taylor and particularly George Floyd's death was a catalyst for protests across the world all while dealing with a global health pandemic. These life-changing events have affected our students tremendously. The establishment of this scholarship ensures that we continue to honor the life of George Floyd. Additionally, the availability of this scholarship provides a means to recognize our NEIU students who have been activists on campus and in their communities. They are doing the work to change this world for the better."
Brown, who attended Warren Township High School and transferred to Northeastern from the College of Lake County near her hometown of Waukegan, Illinois, connects deeply with the purpose of the scholarship.
"I applied for the George Floyd Scholarship because I felt that it applied to me so directly," Brown said. "I was happy to see a scholarship directed toward Black students who fight for social justice."
For Brown, social justice is all about equality and equity for all. 
"Social justice is about bridging the gaps so purposefully created by white supremacy," Brown said. "I promote social justice in my daily life by staying educated and informed. As a student of NEIU's wonderful Sociology Department, I make it my job to know and understand the social issues that take place at NEIU and the world. I know that knowledge is the first step toward change. How can we improve systems if we don't know first how they were created? How can we change what we do not understand? As the prolific Angela Davis said, 'We have to talk about liberating minds as well as liberating society.'"
Brown and Hills both came to Northeastern because of its diversity. Hills, who attended Dunbar Vocational Career Academy, transferred to Northeastern from City Colleges of Chicago Kennedy-King College. Hills is a housing coordinator who advocates for the homeless population to receive fair, affordable housing.
"What social justice means to me is fairness as it manifests in society," Hills said. "That includes fairness in healthcare, employment, housing, and more. In a socially just society, human rights are respected, and discrimination is not allowed to flourish."
Hills applied for the scholarship because he sees it as a unique opportunity for African Americans to promote and increase social justice in communities. 
"I see this scholarship as a pathway to further my educational and career goals," Hills said. "As a housing coordinator, I truly believe everyone has that basic human right to be housed. Despite circumstances created by society beyond the individual control. It is an honor and a privilege to receive this scholarship."
During today's talk, Hills plans to discuss and define "Blackness" and what it means to be a Black person in society today.
"It's amazing to see how Black culture has evolved over the years and influenced so many lives in every aspect of society,' Hills said. "It is not just a culture it is a state of being, a way of life and a state of mind. It is intentional, with the goal of uniting Black people and showing the world what our culture is capable of, despite where we may come from or what our history or social economic status has been. As we all can see, Black culture is copied in mainstream media daily. Black culture is by far the most powerful and authentic movement that exists. It is beautiful, strong and unique."
Brown, who also attended Northeastern because of other scholarships she was offered, is hopeful even more will be done to take the financial burden off of students in the future. 
"NEIU offers an incredibly diverse student and staff population, which was extremely important to me while applying to colleges," Brown said. "I was also offered a generous scholarship, which lifted some of the financial burdens that accompany higher education. This scholarship was just one small way that NEIU directed its attention toward Black students. I look forward to seeing many more financial resources made available to NEIU's Black student population."
Top photo: Photo of the mural tribute to George Floyd with flowers cards and other signs laid in front outside of Cup Foods in Minneapolis, Minnesota as mourners pay respects in June 2020. Photo by Vasanth Rajkumar/Wikimedia Commons.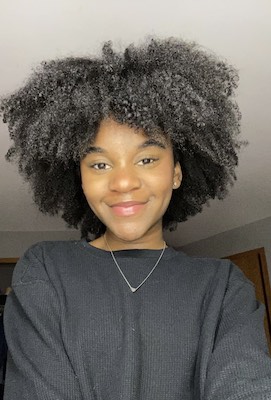 Asha Brown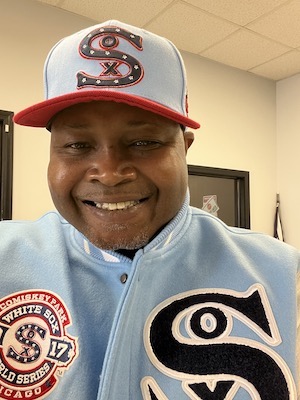 Prentice Hills