Jorge cantú
SCSE Director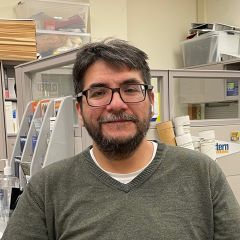 Hello! I am the director of the Student Center for Science Engagement. I received my Ph.D. from the Northwestern University Interdepartmental Neuroscience Program. My research investigates multiple aspects of embryonic development, including the molecular mechanisms that regulate cell identity, survival and morphology. 
Beyond laboratory research, I am a part of the Chicago STEM teaching collaborative to support learning practices using cross-disciplinary, culturally relevant, and universally accessible STEM pedagogy in primary and secondary education programs.
LAURA WEST
STEM Transfer Advisor
I am the STEM transfer advisor who works with students transferring from Chicago-area community colleges into science, technology, engineering and mathematics (STEM) majors at Northeastern Illinois University. I assist and support prospective, incoming and current students in the following majors: Biology, Chemistry, Computer Science, Earth Science, Environmental Science, Mathematics, Physics and Psychology.
Before I came to Northeastern, I worked with prospective and incoming transfer and first-year students at the University of Illinois at Urbana-Champaign. I also have experience as a science teacher at the middle and high school levels and as a science educator for the Peggy Notebaert Nature Museum. I received my bachelor's degree in Biology with a minor in Environmental Science and a Master's of Education in Secondary Education and Biology. In my free time, I volunteer as a canoe guide with the Friends of the Chicago River and enjoy cooking and traveling.

Agustina (TINA) chirinos
Office Manager
I am the office manager in the Student Center for Science Engagement here at NEIU. My duties include carrying out administrative functions and developing new initiatives for the unit. In addition, I perform all essential tasks related to the administration of state, local and grant budgets.
I graduated from Northeastern in 2020 with a B.A. in Anthropology. In addition, I completed an archaeological summer field school under the guidance of Dr. Rebecca Graff from Lake Forest College in 2018. Also, the other team members were a graduate student from the University of Chicago, and two archaeologists from Ireland. The team's goal was to find evidence of the Underground Railroad from a 19th century house located in the Old Irving Park neighborhood in Chicago. The house belonged to John Gray, the first Republican Sheriff of Cook County.
EXECUTIVE BOARD
The Student Center for Science Engagement (SCSE) mission of supporting student success in the sciences is an extension of mission of NEIU's STEM departments. Its work is overseen and facilitated by the SCSE Executive Board. This board is made up of the director, the dean of the College of Arts and Sciences (or designee), and an elected faculty representative from the departments of Biology, Chemistry, Computer Science, Earth Science, Mathematics, and Physics, and an advisory representative from the department of Psychology.
Membership of the current Executive Board:
Dr. Jorge Cantú (Director)
Dr. Kenneth Voglesonger (Interim Associate Dean, College of Arts and Sciences)
Dr. Elyse Bolterstein (Biology)
Dr. Samantha Brown-Xu (Chemistry)
Dr. Ahmed Khaled (Computer Science)
TBD (Earth Science)
Dr. John Kasmer (Environmental Science)
Dr. Joseph Hibdon Jr. (Mathematics)
Dr. Orin Harris (Physics)
Dr. Andrew Young (Psychology)