News & Features
Troy Harden came to Northeastern Illinois University three years ago to help launch the Master's in Social Work program, which graduated its first class of students in May 2018. While that was a satisfying moment of accomplishment for Harden, his commitment to improving Chicago's underserved neighborhoods goes far beyond the classroom.
In addition to his work at Northeastern, Harden works with several community-based organizations that seek to reduce violence in Chicago's at-risk communities. These organizations include This is My Englewood (T.I.M.E.) 21:36 (the neighborhood's zip codes); the Chicago chapter of Public Allies, a national program that helps underrepresented youth become community leaders; and the Metropolitan Peace Academy, which aims to find a long-term approach to reducing gun violence and gang activity in Chicago's nine most vulnerable communities.
"Social work in our program asks us to work with the most vulnerable in our society," Harden said. "I think we're all connected. As much as Chicago has a history of segregation, the truth of the matter is the things that impact someone on the South Side impact someone up north and vice versa."
Harden has been rewarded with multiple grants for his work in Chicago's neighborhoods. In July 2017, AmeriCorps awarded him a $31,160 grant for Public Allies to engage the 2017-2018 class of young leaders in trauma-informed mentoring and develop a service project with students in Chicago Public Schools. He also received $140,000 of a $953,000 grant from the U.S. Department of Justice Bureau of Justice Assistance for a Byrne Criminal Justice Innovation Program with T.I.M.E. 21:36. The program is in its first year of a three-year commitment.
T.I.M.E. 21:36 is part of Teamwork Englewood, which brings Englewood organizations including the Resident Association of Greater Englewood (R.A.G.E.) and the Chicago Police Department's 7th District, together to better serve its residents. T.I.M.E. 21:36 is designed to reduce crime and increase community involvement, and R.A.G.E. is a resident-driven organization with a focus on building relationships between Englewood stakeholders. Harden's role is to collect and present data for the community to analyze and determine how best to intervene to make Englewood a more peaceful neighborhood.
During a recent town hall meeting hosted by R.A.G.E., Harden's team of researchers showed that their involvement is making strides. Community members were able to view a map of Englewood and use stickers to illustrate which areas they viewed as safe and unsafe. Prior to the meeting, Harden and his team used their research to create their own map illustrating the neighborhood's safe and unsafe areas. When the maps were compared, Harden's team was pleased to see their data reinforced the beliefs of the community.
"As communities should be, participants are skeptical concerning how research is used in their respective communities," Harden said. "What we've done is attempt to educate and inform about best practices associated with community-based research. I've done a number of presentations in the community about what community-based research is, what some of the questions are that they should be asking about researchers who come into their communities, and really taking an approach to have the community hold universities and researchers accountable to engage the community in a good way."
A native of Gary, Ind., Harden earned his bachelor's degree from Chicago State University. He earned his Master of Social Work degree from Loyola University Chicago and a doctorate in education from DePaul University. As a professor, Harden is adamant about giving Northeastern students the tools they need to improve Chicago's communities.
"First and foremost when I think about education—particularly higher education, but education across the board—it's an opportunity to create a transformational space that on one end transforms the individual who is seeking the educational opportunity, but on the flip side gives opportunity for transforming whoever that student goes on to be in terms of their career," said Harden. "So, they're coming here to learn. They're coming here to be a better social worker, educator, but now they're going out and basically taking what we've offered and doing that in the community. So, in its base sense, that's the most important thing to create."
David Rivers, who earned his bachelor's degree from Northeastern and now is in the master's program, exemplifies Harden's message about Northeastern graduates making a difference in their own communities. Rivers is a case manager for four hospital trauma units: Northwestern, Stroger, Christ and Mt. Sinai. He is also working with Harden to collect observations and gather information for T.I.M.E. 21:36.
"It gives the understanding of community," Rivers said about his work with T.I.M.E. 21:36. "It gives the understanding of how things are set up, how things are run, and I get a clear view of what advocacy can mean because, from the data, I can see what's needed, what's not needed. It's almost like I'm in direct service of a community and I'm hearing their voices. So, as a social worker, that's my profession, to understand the voices of the people and work from a strength base and advocate if there's a need, I'm there to fulfill that need. Professionally, I'm getting hands-on training on how to be an efficient advocate for any population."
Rivers' childhood was similar to that of some of the individuals he now interacts with as a social worker. He was raised in a single-parent household and his family struggled. His cousin, Theresa Rivers, introduced David to her university, Northeastern, as an alternative to a life of violence.
"I was starting to drift away from the 'right way,'" David said. "I started getting involved with gangs and things of that nature. My cousin, one day, took me with her and planted that seed of that university in me, and I've always remembered that she took me there. Of course, as I grew older, it was like a shoo-in that I attend Northeastern. Before I started my undergrad, I remembered that my cousin took me there and I came on campus a couple times and would just walk around campus and imagine myself going there as an NEIU student."
Though Theresa passed away in 2004, she greatly inspired David, who anticipates earning his master's degree in May 2019 and is planning to continue his work with T.I.M.E. 21:36 for the duration of the project. David greatly respects Harden and is grateful to have crossed paths with him because Harden's mentorship has helped David become the social worker he is today.
"It's been an honor and a blessing," David said of working with Harden. "In my field of work, he's very known. It's just been a treat for me. It's been very inspiring. I've been able to excel in other areas of my life just by the mentorship that he gives, and us knowing the same people, it's mind-blowing."
This cycle of compassion, leadership and "planting seeds" is really what Harden's work is all about. He recognizes that his work can impact one person who can impact another in ways one may not think of or expect.
"We may have different viewpoints, but because we're in the same city, the same vicinity, the same world," Harden said. "We have some connections. We're all in it together."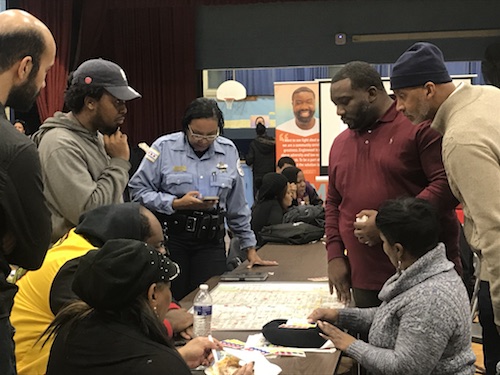 Top photo: Troy Harden
Above photo: Troy Harden (far right) and David Rivers (red shirt) view a map of Englewood and discuss their research with residents.