Nationally recognized financial expert Terry Savage will participate in a discussion titled "The Savage Truth on Money, Markets and the Economy" as Northeastern Illinois University presents the second installment of the Daniel L. Goodwin Distinguished Lecture Series on Oct. 24.
The event will begin at 7:30 p.m. in the Auditorium, 3701 W. Bryn Mawr Ave. in Chicago. It is free and open to the public, though tickets are required. Parking will be complimentary in all Main Campus parking lots during the event.
Savage writes a weekly personal finance column syndicated in major newspapers by Tribune Content Agency, and her columns also appear on Huffington Post. Savage makes frequent appearances as a money expert on CNN and other national television and radio programs, commenting on the financial markets and current economic events, and she is featured on WGN Radio and WGN-TV in Chicago with a weekly personal finance segment.
Savage is the author of four best-selling books on personal finance. "The Savage Truth on Money" was named one of the top 10 money books of the year by Amazon.com in its first edition.
Savage is a registered investment advisor for both stocks and futures. She has won numerous awards, including the National Press Club award for Outstanding Consumer Journalism, and the Outstanding Personal Finance Columnist award given by the Medill School of Journalism at Northwestern University.
Savage started her career as a stockbroker, and became a founding member and first woman trader on the Chicago Board Options Exchange. She was also a member of the Chicago Mercantile Exchange's International Monetary Market, where she traded interest rate futures and currencies. Savage now serves on the Board of Directors of CME Group, parent company of the Chicago Mercantile Exchange. She has also served on the boards of McDonald's Corporation and Pennzoil Corporation.
The Daniel L. Goodwin Distinguished Lecture Series was created in 2015 by Daniel L. Goodwin, Chairman and CEO of Inland Real Estate Group of Companies, as part of his historic $2.5 million commitment to Northeastern Illinois University. The lecture series fund provides support to bring prominent and well-respected thinkers to the University for presentations in conferences, seminars and major lectures. The lecture series kicked off in February 2017 with internationally known political pundits James Carville and Mary Matalin.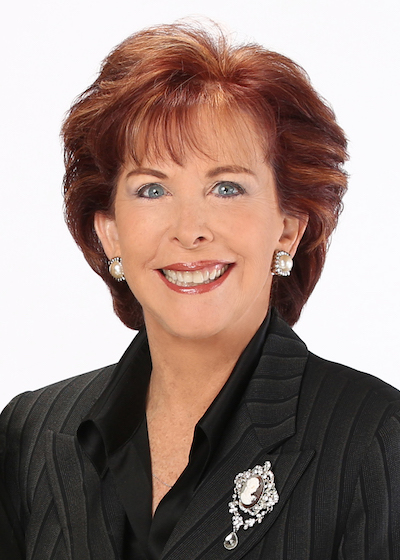 Terry Savage