Northeastern Illinois University has named Dr. R. Shayne Cofer as Interim Provost and Vice President for Academic Affairs, effective July 13, 2023. 
"Dr. Cofer's background, administrative experience and knowledge of Northeastern position him to successfully perform the duties of Interim Provost, to contribute meaningfully to stabilizing the University, bring the University community together, and to support a successful transition to a new president," said Interim President Katrina E. Bell-Jordan. 
Cofer earned a Ph.D. and M.A. in Music Education at The University of Iowa and a B.M. in Vocal and Instrumental Music Education at the University of Idaho. He came to Northeastern as an Assistant Professor in 1998, joining the Department of Music, where he served as Chair of the Music and the Dance Program from 2003-2016. Under his leadership as Chair, the Music Program was awarded accreditation from the National Association of Schools of Music (NASM) in 2009 and earned reaffirmation in 2014 of its NASM accreditation through 2024.
Cofer joined the Office of Academic Affairs in 2016 and previously served as Acting Associate Provost. He became Northeastern's Associate Provost in January 2020. Cofer has served the University in the Office of Academic Affairs under five Provosts and across multiple administrations, supporting and leading Academic Affairs in executing a series of initiatives, including Northeastern's 2017 accreditation by the Higher Learning Commission (HLC) and the University's 2022 reaccreditation process with the HLC.
Among his additional accomplishments on behalf of the Office of Academic Affairs, Cofer has represented Northeastern as a member of the Illinois Board of Higher Education (IBHE) Leadership Team, as liaison to the HLC, as well as Chair of the Council of Member Institutions to the Governing Board of the University Center of Lake County (UCLC). He has also led Academic Affairs in the area of University assessment and academic advising. He has provided oversight and support for curriculum development processes and review by the HLC and IBHE as well as primary oversight of the retention, tenure and promotion process for Northeastern faculty. He has served the Office of the President in the planning and development of the Faculty Institute since its inception in 2018. 
Cofer also demonstrated strong leadership in supporting the University's response to the COVID-19 pandemic as a member of the COVID-19 Task Force and the Academic Affairs COVID-19 Transition Team, as Co-Chair of the University's Instructional Laboratory/Studio/Experiential Learning Working Group during 2020 and the Return to Campus planning for research and creative activities in 2021.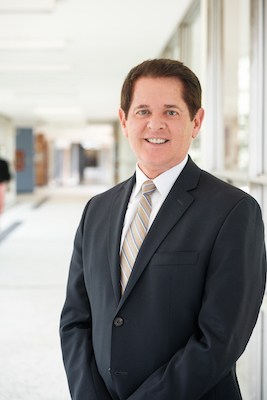 R. Shayne Cofer