David F. Unumb, who taught at Northeastern Illinois University for more than 35 years and created the Chicago radio program "Vantage Point," died on Feb. 22, 2022. He was 88 years old.  
He is survived by his sons David (Sharon) and Daniel (Lorri), daughter Caitlin, grandchildren Dave (Jess), Alyssa (Andrew), Jackie, Erik, Ryan, Christopher, Jonathan and great-grandson Orion. 
"Our Professors Emeriti are pillars of Northeastern Illinois University," President Gloria J. Gibson said. "Dr. Unumb's passing is a great loss to the NEIU community. His contributions to NEIU are still deeply felt by our faculty and alumni, who he mentored even in his retirement. I extend my condolences to them and Dr. Unumb's family."
Unumb was born in Alexandria, Minnesota, in 1933. He earned his B.A. in English Literature from Carleton College in 1955 and his M.A. in Dramatic Literature and Creative Writing from Johns Hopkins University in 1957. Unumb began his Ph.D. studies at Cornell University and completed his degree in Curriculum and Instruction at Loyola University Chicago in 1987. 
Unumb began teaching at Northeastern in 1969. Prior to Northeastern, Unumb was an instructor at Johns Hopkins University, Kent State University, Brown University and Boston University. 
Over the years, Unumb served the University in a number of roles, including Acting Dean of the College of Arts and Sciences from 1997-1999, Chair of the Department of Speech and Performing Arts (now known as the Department of Communication, Media and Theatre), Coordinator of General Education  and Acting Coordinator of the Program for Interdisciplinary Studies. He also served as Chair of the Faculty Senate and Faculty Council for Academic Affairs, among other numerous councils and committees. In addition to his faculty roles, Unumb also was an advisor for the Stage Players at Northeastern and directed more than 100 plays throughout his career in higher education. He also developed, produced and hosted a radio show focused on arts and education titled, "Vantage Point," which aired on WZRD (88.3 FM) and WTMX (101.9 FM). It had a wide range of guests, including NEIU faculty members and artists in professional theater, music and dance companies throughout Chicago. Unumb retired from Northeastern in 2007, at which time he was awarded the honor of Professor Emeritus of Communication, Media and Theatre. 
Unumb was a member of the board of the Arlington Heights Public Library for more than 20 years. When he stepped down from the board in 2017, the Chicago Tribune interviewed him about his love of literature and life in service. Arlington Heights Public Library board member Deb Smart was recently quoted in the Daily Herald calling Unumb a "visionary" who oversaw major projects for the Library to better meet the needs of the public.  
Dean of the College of Arts and Sciences Katrina Bell-Jordan was saddened to learn of Unumb's passing and noted his substantial contributions to NEIU and the Chicago community. 
"David hired me as an assistant professor in the Department of Speech and Performing Arts, and welcomed me to the Department in the Fall of 1997," Bell-Jordan said. "He went on to become a mentor, supporter and friend, and we connected at least once a year. I was fortunate that David and I had a chance to talk this past summer 2021, and it is a real gift to me. The archive of his 'Vantage Point' tapings is incredible, and his contributions to NEIU and the surrounding Chicago community through the radio program are substantial."
Chair of Communication, Media and Theatre Cyndi Moran also has fond memories of Unumb, whom she nominated for the Faculty Excellence Award in 2006.
"When I think of service to Northeastern, I think of Dr. David Unumb," Moran wrote in her nomination letter. "At a time in his career when many start to pull back from university life a bit, David continues to rise to the occasion, and set a stellar model for service…. I am proud to be in his department, and learn by his example."  
Services were held privately. 
Among the many of Unumb's "Vantage Point" episodes is a 2007 interview with Ron OJ Parson about Eclipse Theatre Company's production of Pearl Cleage's "Bourbon at the Border." Per Unumb's obituary, mourners are encouraged to see a live theater production in his honor.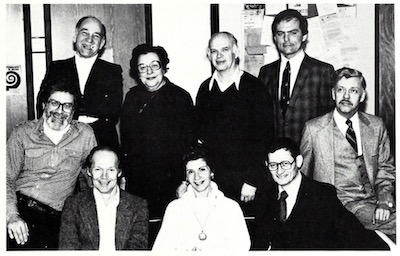 Photo: Northeastern Illinois University's Department of Speech and Performing Arts in 1982. Seated: Dr. James W. Barushok (chairperson), Richard Hesler, Marcella Velick (secretary), Dr. Bernard Brommell, Dr. David F. Unumb; Standing: Dr. Robert Walker, Gertrude Edelheit (administrative secretary), Durward Redd, Dr. David Jordan.