At Northeastern Illinois University, we believe nothing should stand in the way of achieving your goals. That's why this Giving Tuesday, we're raising funds to support our students with academic and personal needs. With Thanksgiving approaching, we're thrilled to share that our Student Emergency Fund received a much-needed boost. Read about all this and more in the latest Noteworthy at Northeastern. 
Around the Commons
Northeastern Illinois University receives $10,000 for Student Emergency Fund
Northeastern Illinois University was selected as a 2022 Progress, Accomplishment, Thriving, Hope (PATH) Scholarship recipient through the Ellucian Foundation. The award comes with $10,000 to support students facing economic hardship. "Since 2018, the Student Emergency Fund has provided emergency financial support to currently enrolled students who are unable to meet essential expenses due to temporary or unexpected hardships," Executive Director of Financial Aid, Scholarships and Student Employment Maureen Amos said. The PATH Scholarship will help replenish some of that much-needed student aid.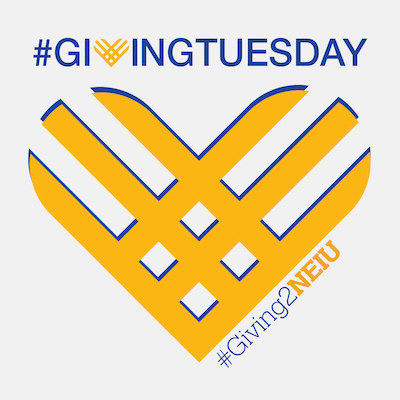 Giving Tuesday Champions
Calling all fundraisers! Giving Tuesday, a global day of supporting charities and worthy causes, is Nov. 29. The NEIU Foundation is looking for individuals to become Giving Tuesday Champions and raise funds for NEIU programs, departments or scholarships. Questions can be directed to Sylvia Daniels at s-daniels4@neiu.edu or (773) 442-4231.
And there's more!
The University will be closed on Nov. 24-25 in observance of Thanksgiving. In addition, no classes will take place on Saturday, Nov. 26.
Professor of Anthropology Russell Zanca traveled to Astana, Kazakhstan, for the Heritage Alliance of the New Silk Road workshop at Nazarbayev University, which was held Nov. 4-6. In addition to presenting as a panelist, Zanca was also invited to give a keynote address titled "Pastoralism as Heritage and Pastoralism as Present and Future: Why Study Pastoralism Today?"
To do
King of Kings: Chasing Edward Jones
The Jacob H. Carruthers Center for Inner City Studies (CCICS) hosts an exclusive Bronzeville screening of French filmmaker Harriet Marin-Jones' documentary, "King of Kings: Chasing Edward Jones" at noon on Tuesday, Nov. 22. This event is free, but sign-up is required. Passes will be scanned at the door. Winner of the 58th Annual Chicago International Film Festival Chicago Award, filmmaker Harriet Marin-Jones searches for the truth about her grandfather Edward Jones, a legendary African American who rose to the heights of financial and political prominence in Depression-era Chicago. In shaping the destiny of a city, Edward Jones could not deny his race or his community. In conflict with both the mob and the Feds, he was forced into a life on the run. Doors open at 11:30 a.m. The screening will be hosted by N'Digo founder Hermene Hartman. Following the screening, there will be a discussion with Nathan Thompson, author of "Kings: The True Story of Chicago's Policy Kings and Numbers Racketeers, an Informal History." Questions can be directed to Alex Gonzalez at a-gonzalez55@neiu.edu.
Native American Peoples Heritage Month
Join the Angelina Pedroso Center for Diversity and Intercultural Affairs in celebrating Native American Peoples Heritage Month throughout November. Next week's events include: 
View the Native American Peoples Heritage Month calendar and the NEIU Libraries virtual book display for more ways to celebrate. 
More to do
In the media
"Mom, I Don't Want War"
Northeastern Illinois University was featured on ABC7 and Fox 32 Chicago for hosting the international art exhibit "Mom, I don't want war" earlier this week. The Consul General of Ukraine H.E. Koledov Serhiy and Consul General of Poland H.E. Pawel Zyzak took part in a conversation with Northeastern faculty members about the historical context of the art, human rights and children's rights during war, and art in response to violence. 
COVID-19 updates
In accordance with guidelines set forth by the Centers for Disease Control (CDC), Northeastern has adopted new strategies for mitigating COVID-19. Contact tracing will be conducted as needed. However, weekly reports of positive cases and vaccination rates will no longer be reported. If you test positive for COVID-19, students should immediately notify Student Health Services, and employees should notify their supervisors and the Office of Human Resources. Additionally, faculty and staff are required to report positive and presumptive student COVID-19 cases and exposures to Student Health Services. We continue to follow Chicago Department of Public Health and Centers for Disease Control and Prevention (CDC) guidelines as we ensure proper protocols and preventative measures are in place for the health and safety of our students and employees.
Stay up to date on everything regarding COVID-19 by visiting the COVID-19 Response website. 
Follow Northeastern on Instagram, Facebook, YouTube and Twitter! Do you have a story tip? Let the Office of Public Relations know at public-relations@neiu.edu.