Northeastern Illinois University is thrilled to be part of a $25 million grant to study climate change. Next week is Hispanic-Serving Institutions Week, the start of Latinx Heritage Month and Alumni Weekend. Read about this and more in the latest edition of Noteworthy at Northeastern.
Around the Commons
Climate Change 
The U.S. Department of Energy (DOE) has awarded $25 million over five years to DOE's Argonne National Laboratory and a team of academic and community leaders, which includes Northeastern Illinois University, to advance urban climate science by studying climate change effects at local and regional scales. The results of this new research will inform communities to build resilience against future effects of climate change. Argonne and partners will establish an Urban Integrated Field Laboratory called Community Research on Climate and Urban Science (CROCUS), focusing on the Chicago region. CROCUS will use community input to identify questions and specific areas of urban climate change to study, ensuring that research results directly benefit local residents. "I am excited that NEIU is part of the CROCUS collaboration," Chair of the Earth Science, Environmental Science, and Physics departments and principal investigator for Northeastern on the CROCUS grant Gregory Anderson said. "The Community Research on Climate and Urban Science grant aligns with NEIU's dedication to civic engagement, social justice and scientific inquiry. This grant, and the partnership with collaborating institutions, will allow NEIU to expand and strengthen its emerging environmental monitoring program as we prepare our students to address current and new environmental challenges facing our community and the world."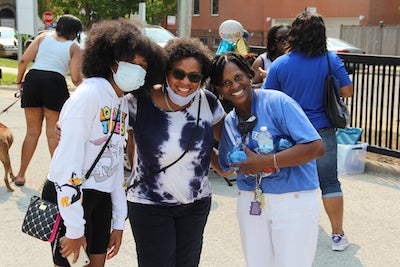 CCICS Fun Fair
Northeastern's Jacob H. Carruthers Center for Inner City Studies (CCICS) hosts its 4th Annual Fun Fair at CCICS from 11 a.m.-3 p.m. on Saturday, Sept. 10. Mix and mingle with NEIU students, alumni, current faculty and staff. Come and share good times with us, enjoy music by DJ Obatala, eat some great global food, play games and more! CCICS is located at 700 E. Oakwood Blvd. Bus service will be available departing from the Main Campus at 10:30 a.m. and departing from CCICS at 2:30 p.m. To reserve a seat for bus service, please RSVP with your full name and NEIU ID number to Alex Gonzalez at a-gonzalez55@neiu.edu.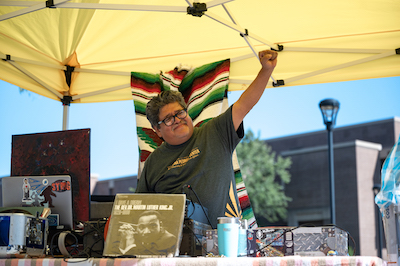 Latinx Heritage Month
Northeastern Illinois University is proud to be the longest-standing four-year public Hispanic-Serving Institution (HSI) in the Midwest. Please join the Angelina Pedroso Center for Diversity and Intercultural Affairs throughout Hispanic-Serving Institutions Week, Sept. 12-18, and Latinx Heritage Month, which begins Sept. 15, for a wide-range of activities and events. Next week's events include: 
Hispanic-Serving Institutions Week Kickoff, 1 p.m. Sept. 13
Lecture: TikTok influencer and NEIU alumnus Isaias Perez a.k.a. @TheLatinoTeacher, 5 p.m. Sept. 13
Latinx Kickoff: Aztec Ceremony "Sacred Movements from Indigenous Mexico" featuring Izayo Mazehuall, 1:30 p.m. Sept. 15
Viva México, 3:30 p.m. Sept. 15
La Copa Soccer Tournament, 9 a.m. Sept. 17
And there's more!
Assistant Professor of Sociology Juan Martinez was elected to serve as a council member for the American Sociological Association's (ASA) Section on Teaching and Learning. He will serve as the representative to four-year schools.
To do
Alumni Weekend
Golden Eagles past, present and future are invited to join the NEIU Alumni Association for NEIU Alumni Weekend 2022, Sept. 15-18! Events include:
There will be music, food and games, virtual participation options and more. Sign up today! 
Coming next week
In the Media
CROCUS 
There was a press conference about the CROCUS grant on Sept. 6. 
Also in the media
Northeastern's student-run radio station, WZRD, was featured in Chicago Magazine for its freeform approach. 
COVID-19 updates
In accordance with guidelines set forth by the Centers for Disease Control (CDC), Northeastern has adopted new strategies for mitigating COVID-19. Contact tracing will be conducted as needed. However, weekly reports of positive cases and vaccination rates will no longer be reported. If you test positive for COVID-19, students should immediately notify Student Health Services, and employees should notify their supervisors and the Office of Human Resources. Additionally, faculty and staff are required to report positive and presumptive student COVID-19 cases and exposures to Student Health Services. We continue to follow Chicago Department of Public Health and Centers for Disease Control and Prevention (CDC) guidelines as we ensure proper protocols and preventative measures are in place for the health and safety of our students and employees.
Stay up to date on everything regarding COVID-19 by visiting the COVID-19 Response website. 
Follow Northeastern on Instagram, Facebook, YouTube and Twitter! Do you have a story tip? Let the Office of Public Relations know at public-relations@neiu.edu.