Choosing your major is not always easy. At Northeastern Illinois University, when you follow your passion you might be delighted with where the road takes you! Meet a Graphic Design major who discovered his talent and brought new life to a renowned artist's work. View our upcoming events and more in this edition of Noteworthy at Northeastern. 
Around the Commons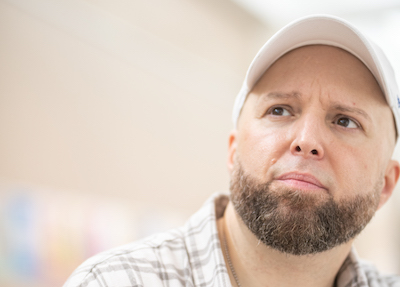 Deeply Rooted Design
When Pedro Castillo enrolled in a Typography 2 course at Northeastern Illinois University in Spring 2022, he had no idea what he was in for. With guidance from his Graphic Design instructors, Castillo not only created his own font families, but he did so by paying homage to Lorenzo Homar, a painter, master printmaker and calligrapher who, like Castillo, was born in Puerta de Tierra, Puerto Rico. "Being able to pay homage to Lorenzo Homar and his work through my own work, and to have the support of his family to do that is amazing," Castillo said. "I think if we don't explore our heritage or our culture, we won't know the obstacles that our past went through to get to where we are today. If they didn't pave the way, we wouldn't be here."
And there's more!
The University will be closed on Monday, June 20 in observance of Juneteenth.
There's still time to apply for Fall 2022! The deadline for domestic applicants is July 15. The deadline for international applicants is June 15. Use code ALUMREF (all caps) to receive a $30 application fee waiver.
First-time, full-time freshmen can qualify for the NEIU For You scholarship, which can be renewed for up to four years as long as students meet the eligibility requirements. A separate application is not required to be considered for this funding. All students need to do is apply to NEIU! 
Current and admitted students interested in taking summer classes are encouraged to talk to their academic advisor or contact the Registration Office at registration@neiu.edu or (773) 442-4040, or by visiting Enrollment Services in Room D 101. If you plan to take a summer course, register today! 
Fall 2022 registration is open. Schedule an appointment with your academic advisor to plan your course schedule. 
To Do
Sacred Movements From Indigenous Mexico
The Angelina Pedroso Center for Diversity and Intercultural Affairs welcomes Izayo Mazehualli, a Chicanx artist of Nahua and Purepecha descendancy, for "Sacred Movements from Indigenous Mexico" from 11 a.m.-noon on June 24 and July 1. Mazehualli's experiential artwork explores pre-European Mesoamerican practices in the form of ritual dance and ceremony. He currently teaches Aztec dance to inner-city youth in Chicago, and frequently travels to Mexico where he conducts anthropological research on indigenous cosmology and spirituality. This series was developed in collaboration with The Nest. All students and employees are welcome.
Haki Kino Wednesdays 
Explore Native Hawaian cultural roots with "Haki Kino Wednesdays" at the Angelina Pedroso Center for Diversity and Intercultural Affairs from 4-5 p.m on June 22 and 29. Haki kino is a form of hula dance. The workshops will be led by Lanialoha, a Native Hawaiian born and raised in the Chicago area, and a third generation descendant of the first Polynesians who migrated to the Midwest. Her grandmother, understanding the dearth of Pacific Island cultural and musical resources available in the Midwest, left Hawai`i and came to live with her family in Buffalo Grove, Illinois, to ensure the knowledge of Native Hawaiian culture, hula and music was not lost. This series was developed in collaboration with The Nest. All students and employees are welcome.
Coming next week
In the Media
American Spanish Dance and Music Festival
Ensemble Español, in residence at Northeastern Illinois University, was featured on WGN's "Around Town" and NBC5. The company will host the 46th American Spanish and Dance Music Festival through June 19 at the North Shore Center for the Performing Arts, 9501 Skokie Blvd., Skokie, Illinois. As part of the festival, there will be a symposium titled "Black and Brown Roots to Spanish and Dance Music" June 17. "Flamenco Passion," which features live music and dance, including three world premieres, will run June 17-19. A VIP event will be held on June 17. To purchase tickets and for more information visit northshorecenter.org/ee/ or call (847) 673-6300. Use discount code NEIU5 for reduced-price admission. 
Also in the news
Northeastern was mentioned in University Business for being selected as one of 40 colleges and universities to participate in the 2022 Institute on Truth, Racial Healing & Transformation Campus Centers. Northeastern is the only Illinois public university and one of two Illinois institutions in this year's cohort.
COVID-19 update
From June 8-15, 2022, one student and 13 employees reported positive COVID-19 tests. Six employees were on campus. The student was not on campus. Since March 2020, a total of 208 employees and 467 students have self-reported to the University that they tested positive for COVID-19. 
Employees and students who feel sick should stay home. If you test positive for COVID-19, students should immediately notify Student Health Services, and employees should notify their supervisors and the Office of Human Resources. Additionally, faculty and staff are required to report positive and presumptive student COVID-19 cases and exposures to Student Health Services. When someone who has been on campus tests positive, Northeastern works with the Chicago Department of Public Health to determine the appropriate response, which differs greatly depending on the situation. We continue to follow Chicago Department of Public Health and Centers for Disease Control and Prevention (CDC) guidelines as we ensure proper protocols and preventative measures are in place for the health and safety of our students and employees.
Other COVID-19 updates
Northeastern Illinois University highly recommends wearing masks indoors, as Chicago has moved into the high COVID-19 transmission risk level per CDC guidelines. Northeastern has free surgical, KN95 and/or N95 masks available for students and employees. Masks have been distributed to offices and classrooms and are also available at the Welcome Desk at the Main Campus, the Jacob H. Carruthers Center for Inner City Studies and El Centro. 
Campus vaccination clinics have closed. Please review the Guidance for Coronavirus Vaccinations page to find vaccination sites. 
SHIELD Illinois COVID-19 testing remains open and available for NEIU community members and the general public. However, hours of operation for the Main Campus have changed. SHIELD testing on the Main Campus is scheduled to continue through June; testing at El Centro and CCICS is scheduled to continue through July. 
The federal government is offering free at-home COVID-19 tests through the U.S. Postal Service. 
Stay up to date on everything regarding COVID-19 by visiting the COVID-19 Response website. 
Follow Northeastern on Instagram, Facebook, YouTube and Twitter! Do you have a story tip? Let the Office of Public Relations know at public-relations@neiu.edu.