Northeastern Illinois University has named a new Vice President for Student Affairs/Dean of Students, and Student Leadership Development has shared readings of children's books for a virtual Dr. Martin Luther King Jr. Day of Service. Read about this news and more in this week's edition of Noteworthy at Northeastern.
Around the Commons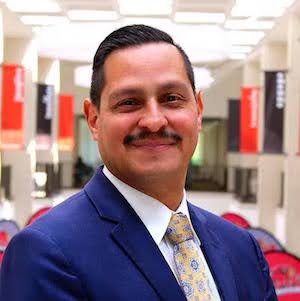 Vice President for Student Affairs/Dean of Students
After a thorough national search, Northeastern has named Dr. Terry Mena as its new Vice President for Student Affairs/Dean of Students. He will start on Feb. 22. Dr. Mena comes to Northeastern from Lamar University in Beaumont, Texas, where he served as Associate Vice President and Dean of Students. Dr. Mena is a native of Miami who was a first-generation college student. He earned a Ph.D. in Education with a specialization in Higher Education Leadership from Florida Atlantic University, a master's degree in Student Personnel Administration from Columbia University and a bachelor's degree in Criminal Justice from Northeastern University in Boston.
And there's more!
To do
Dr. Martin Luther King Jr. Day of Service 2021 
In celebration of the Dr. Martin Luther King Jr. Day of Service 2021, members of the Northeastern community, in collaboration with Student Leadership Development (SLD), recorded themselves reading culturally diverse children's books. These stories pay tribute to Dr. King and his commitment to diversity, inclusion and serving communities. SLD hopes children can hear stories that they see themselves in or opens their minds to new cultures. Please enjoy these recordings as a way of celebrating Dr. King's life and legacy as well as honoring his vision of a beloved community.
P.E. Complex
The P.E. Complex reopened on Jan. 19 adhering to strict COVID-19 guidelines, limiting the spaces and services available, and operating on a reduced schedule. The fitness center, racquetball courts and the main gym require advanced registration. Drop-in registration will be pending availability. Campus Recreation will track users in each area to monitor use and for contact tracing purposes if necessary. Members with active memberships between March 2020-January 2021 will have their membership extended for the time missed in their membership contract. The reactivation date will begin with a reservation to use the facility. No daily passes will be sold. No guests will be allowed. New members will only be able to purchase visit passes. Currently enrolled NEIU students do not require a membership to use the facility, but do still require space reservations. Specific membership questions and concerns can be directed to Martha Montes at m-montes1@neiu.edu.
Coming Next Week  
Student Support Spotlight
Student Counseling Services has provided some tips for helping individuals manage anxiety and worry they may be feeling, and listed some important resources. Students are welcome to contact Student Counseling Services to set up an appointment to talk either by phone or their online platform for teletherapy. To access NEIU's Student Counseling Services, call (773) 442-4650 or send an email to counsect@neiu.edu between 9 a.m.-5 p.m. Monday through Friday. After hours, students may also reach a counselor for more urgent consultation by calling the main number and pressing "2" during the outgoing message.
Follow Northeastern on Instagram, Facebook, YouTube and Twitter! Do you have a story tip? Let the Office of Public Relations know at public-relations@neiu.edu.