Northeastern Illinois University's Educational Leadership master's degree program has earned national recognition! Read all about the program's ranking, find out how to make nominations for the 2020 Alumni Awards and more in Noteworthy at Northeastern.
Around the Commons
Educational Leadership accolades
GradReports, an online resource that matches students to graduate programs, named Northeastern's Educational Leadership program the best in the state and 20th overall in the nation on its list of 2020 Best Colleges. Northeastern's Master of Arts in Educational Leadership provides a Principal Endorsement from the State of Illinois upon graduation that covers principal, assistant principal and all related positions.
Alumni Awards
The NEIU Alumni Association is now accepting nominations for the 2020 Northeastern Illinois University Alumni Awards. The 2020 Alumni Award winners will be honored at the Golden Gala Alumni Awards Dinner on Saturday, Oct. 17. Nominations may be submitted online through March 30 for the following awards:
Distinguished Alumnus Award
Alumni Service Award
Community Leadership Award
Outstanding GOLD Alumni Award
Future Alumni Leader Award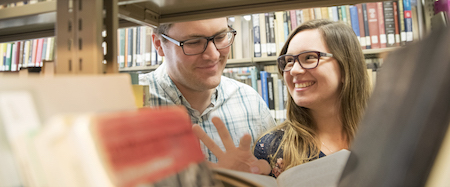 Love and learning
It doesn't take a computer scientist to recognize that Marianela and John Crissman are in love. "My horsey thing to your pawn guy," Marianela jokingly said recently in Northeastern Illinois University's Ronald Williams Library as she and John played Blindfold Chess, a game in which players imagine a chessboard in their minds and make moves on the imagined board. Chess is one of John's favorite games. In fact, they ended up playing chess in a restaurant on their first date. Now, as John and Marianela prepare to celebrate their third Valentine's Day as a married couple, they are less than three months away from earning their M.S. in Computer Science degrees together.
And there's more!
Psychology Department Chair Amanda Dykema-Engblade and Associate Professor of Philosophy Dan Milsky participated in a post-show town hall discussion of the Feb. 8 performance of "The Tasters" at Rivendell Theatre. The discussion covered the political, revolutionary and culinary implications of the play.
Professor Emeritus of Economics Edward Stuart conducted a webinar on the economic outlook for 2020 for the APICS Chicago Chapter.
In the media
To do
Coming next week!
Follow Northeastern on Instagram, Facebook, YouTube and Twitter! Do you have a story tip? Let the Office of Public Relations know at public-relations@neiu.edu.