Northeastern Illinois University is thrilled to share that it is the only four-year institution in the state of Illinois to join the Grow with Google Hispanic-Serving Institutions (HSI) Career Readiness Program! We're also welcoming a new dean of the Daniel L. Goodwin College of Education to the University. Read these stories and more in the latest edition of Noteworthy at Northeastern. 
Around the Commons
Grow with Google
Northeastern Illinois University is once again partnering with tech giant Google as it joins the Grow with Google Hispanic-Serving Institutions (HSI) Career Readiness Program. Northeastern is the only four-year institution in the state of Illinois to partner with Google on this initiative, which will help Latino students at 35 Hispanic-Serving Institutions (HSIs) across the U.S. prepare for the workforce through digital skills training and career workshops. Through a $2 million investment in the Hispanic Association of Colleges and Universities (HACU), the program will train 200,000 Latino students by 2025. "As the longest-standing four-year public institution in the Midwest federally designated as a Hispanic-Serving Institution, Northeastern Illinois University is thrilled to be a part of Grow with Google," said Interim Assistant Director of Career Development Lorena Gasca. "Northeastern believes in empowering students with the tools they need to successfully navigate their professional exploration and journey. Through this career readiness program, our students will develop skills to secure successful careers in the ever-growing and changing digital marketplace."
Thomas Philion appointed dean of the Daniel L. Goodwin College of Education 
After a national search, Thomas Philion has been appointed dean of Northeastern Illinois University's Daniel L. Goodwin College of Education. Philion earned a B.A. in English from Fordham University, and an M.A. in English and Ph.D. in English and Education from the University of Michigan. He has authored more than 20 articles and reports on topics such as teacher research, portfolio pedagogy and collaborative learning.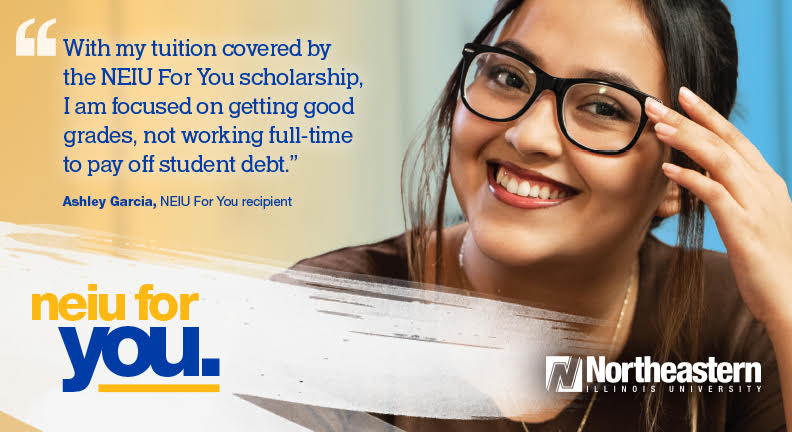 Last chance to apply for Fall 2022
There are only a few days left to apply for Fall 2022 domestic undergraduate and student-at-large enrollment. The deadline is July 31, 2022. Qualifying students are also still eligible for the NEIU For You scholarship, which may supplement tuition costs for four consecutive years of study at Northeastern! A separate application is not required for that scholarship consideration. Use code ALUMREF (all caps) to receive a $30 application fee waiver. Apply today!
And there's more!
To do
In the Media
Interim Director of Nontraditional Degree Programs and Professor of English and Women's, Gender and Sexuality Studies Timothy Barnett's statement to the Illinois Criminal Justice Information Authority Higher Education Prison Task Force was published in Prairie State Wire. Barnett discussed the Prison+Neighborhood Arts/Education Project (PNAP) and its impact on students and communities.  
COVID-19 update
From July 20-27, 2022, eight employees and two students reported positive COVID-19 tests. One student and three employees were on campus. Since March 2020, a total of 255 employees and 479 students have self-reported to the University that they tested positive for COVID-19. Employees and students who feel sick should stay home. If you test positive for COVID-19, students should immediately notify Student Health Services, and employees should notify their supervisors and the Office of Human Resources. Additionally, faculty and staff are required to report positive and presumptive student COVID-19 cases and exposures to Student Health Services. When someone who has been on campus tests positive, Northeastern works with the Chicago Department of Public Health to determine the appropriate response, which differs greatly depending on the situation. We continue to follow Chicago Department of Public Health and Centers for Disease Control and Prevention (CDC) guidelines as we ensure proper protocols and preventative measures are in place for the health and safety of our students and employees.
Other COVID-19 updates
Northeastern Illinois University highly recommends wearing masks indoors, as Chicago remains at the high COVID-19 transmission risk level per CDC guidelines. Northeastern has free surgical, KN95 and/or N95 masks available for students and employees. Masks have been distributed to offices and classrooms and are also available at the Welcome Desk at the Main Campus, the Jacob H. Carruthers Center for Inner City Studies and El Centro. 
Campus vaccination clinics are now closed. Please review the Guidance for Coronavirus Vaccinations page to find vaccination sites.
The federal government is offering free at-home COVID-19 tests through the U.S. Postal Service. 
Stay up to date on everything regarding COVID-19 by visiting the COVID-19 Response website. 
Follow Northeastern on Instagram, Facebook, YouTube and Twitter! Do you have a story tip? Let the Office of Public Relations know at public-relations@neiu.edu.