Northeastern Illinois University currently has partnerships with 42 universities around the globe. This week, we bring national and international guests to the Main Campus for timely discussions about our world and its people. Read about all this and more in the latest Noteworthy at Northeastern. 
Around the Commons
Moogega Cooper to speak at Northeastern
This year's Jean Burke Carlson and Diane Berger Ehrlich Memorial Lectureship speaker will be planetary projection specialist Moogega Cooper. The lecture will take place at 7 p.m. Wednesday, Nov. 16 in Alumni Hall. This event is free and open to the public. 
"Mom, I Don't Want War"
Northeastern Illinois University will host the international art exhibit "Mom, I don't want war" in the Student Union on the University's Main Campus, 5500 N. St. Louis Ave., now through Nov. 18 during normal building hours. "This exhibit of deeply moving works of art by children experiencing war, whether in Poland during World War II or in Ukraine at present, is a stark reminder of the horrors of war," Chair and Professor of Political Science Martyn De Bruyn said. Northeastern will also welcome Consul General of Ukraine H.E. Koledov Serhiy and Consul General of Poland H.E. Pawel Zyzak for a conversation with Northeastern faculty members about the historical context of the art, human rights and children's rights during war, and art in response to violence. The discussion will be held at 1 p.m. on Wednesday, Nov. 16 in the Golden Eagles room of the Student Union.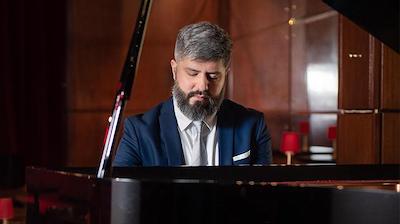 Pablo Estigarribia 
Don't miss your chance to see Latin Grammy nominee and world-renowned tango pianist, arranger and composer Pablo Estigarribia at 7:30 p.m. on Friday, Nov. 18 as part of the 2022-2023 Jewel Box Series. Like many artists of this genre, Estigarribia began his training as a classical musician and soon branched out into the world of tango and rapidly established himself as a nuanced and masterful tango performer in Germany, France, Belgium, Japan, Russia, Finland, Canada, the United States and Cuba. He has been featured in over a thousand concerts, joining Argentine tango legends like Maria Graña, Victor Lavallén, Leopoldo Federico, Nestor Marconi, Horacio Cabarcos, Emilio Balcarce and many others. Estigarribia's album Tangos Para Piano (EPSA) won the prestigious 2015 Gardel Prize for Best Tango Album by a New Artist. Get your tickets today for this intimate performance in NEIU's Recital Hall on the Main Campus.
And there's more!
To do
Native American Peoples Heritage Month
Join the Angelina Pedroso Center for Diversity and Intercultural Affairs in celebrating Native American Peoples Heritage Month throughout November. Next week's events include: 
View the Native American Peoples Heritage Month calendar and the NEIU Libraries virtual book display for more ways to celebrate. 
"The Revolutionists"
Stage Center Theatre presents "The Revolutionists," Nov. 16-18. Directed by Communication, Media and Theatre faculty member John Bliss, the play is about four very real women who lived boldly in France during the French Revolution's Reign of Terror. Tickets are free for current NEIU students, faculty and staff with valid NEIU ID at the Welcome Desk on the Main Campus or at tix.com.
More to do
In the media
COVID-19 updates
In accordance with guidelines set forth by the Centers for Disease Control (CDC), Northeastern has adopted new strategies for mitigating COVID-19. Contact tracing will be conducted as needed. However, weekly reports of positive cases and vaccination rates will no longer be reported. If you test positive for COVID-19, students should immediately notify Student Health Services, and employees should notify their supervisors and the Office of Human Resources. Additionally, faculty and staff are required to report positive and presumptive student COVID-19 cases and exposures to Student Health Services. We continue to follow Chicago Department of Public Health and Centers for Disease Control and Prevention (CDC) guidelines as we ensure proper protocols and preventative measures are in place for the health and safety of our students and employees.
Stay up to date on everything regarding COVID-19 by visiting the COVID-19 Response website. 
Follow Northeastern on Instagram, Facebook, YouTube and Twitter! Do you have a story tip? Let the Office of Public Relations know at public-relations@neiu.edu.